Calais refugee children forced to work on fruit farms and share accommodation with adults, charity claims
Safe Passage interviewed boys living in French reception centres which they describe as 'prisons'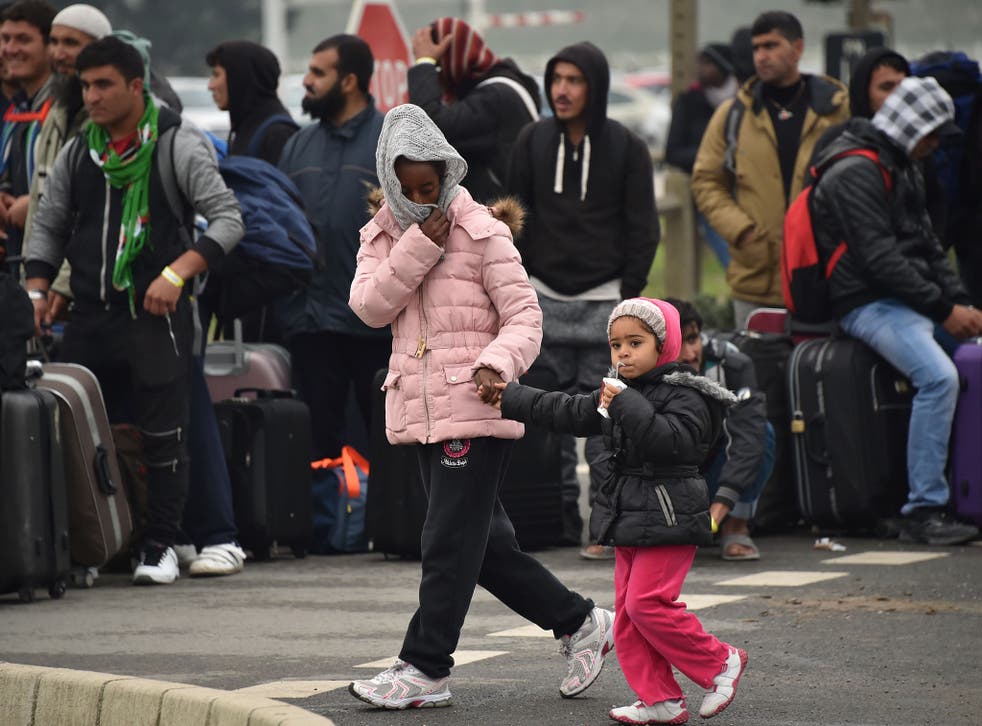 Refugee children sent from the demolished makeshift "Jungle" camp in Calais are being made to work in fruit farms, a charity has claimed.
Safe Passage, a programme run by immigration charity Citizens UK, said refugee children living in the reception centres set up to accommodate those evicted from the Calais camp last month are being forced to work on farms nearby or share accommodation with adults.
The charity said some children have begun to abscond as many are not given enough information about the progress of their asylum claims.
During the week of 14 November, 33 boys living in reception centres across the country were interviewed by telephone.
Three of the boys told researchers they had been made to work in fruit farms which provided food for supermarkets and another three said adults were living in the accommodation designed exclusively for children.
Some 15 per cent of the boys said they did not feel safe in the centre and 39 per cent said they felt they had been better off in Calais.
One children said: "It looks like a prison, we don't have any things to play with and all the time we staying in our room and it is not safe for us, we live in middle of adults, their ages are over 20 years."
Another begged for help: "Please do everything that is possible to help us. We have family in UK. We are human not animals and we are stuck here".
Calais refugee camp evacuation

Show all 15
The charity was told two boys had already run away from the centre and two more were considering fleeing with one saying "If others run away I am not going to stay".
Many said they felt they did not understand what was happening with their asylum applications and three of them had not spoken to anyone "official" (meaning a lawyer, French or UK authorities or local volunteers) since their arrival.
Nearly a quarter (24 per cent) said they had not been given clean clothes since their arrival but all said they had access to showers, hot water and at least three meals a day and only two said staff had not made them feel welcome.
Calais 'Jungle' exodus: Charity boss likens refugee treatment to Nazi persecution
Rabbi Janet Darley, Citizens UK Leader, said: "We are hugely concerned about the safeguarding of children in the CAOs in France.
"The Safe Passage team have had reports of forced labour, and unaccompanied children being made to live with adults.
"Although the CAOs are, on the whole, safe places for the children to live, they cannot be used as an excuse to delay the transfer of children to the UK.
"Every day children are separated from their families in the UK, or the opportunity to be placed with foster families, they are missing out on their childhoods."
Following the destruction of the camp there was furore among charities and campaigners after it emerged that some refugee children were sleeping in the open air as the safe space accommodation designed to look after them was reportedly full.
French authorities were criticised for not having the reception centres up and ready in time for the destruction of the camp.
So far some 350 child refugees have arrived in the UK out of the estimated 2,000 living in the camp when it closed but charities are urging the Home Office to settle at least 1,000 by Christmas.
The Home Office said it remains "absolutely committed to bringing all eligible people to the UK as soon as possible".
Join our new commenting forum
Join thought-provoking conversations, follow other Independent readers and see their replies