Calais 'Jungle' clearing: Tensions mount as refugees prepare for clash with police and government bulldozers
The French government says it is going to clear out a large swathe of the Calais refugee camp - whether there are people in it or not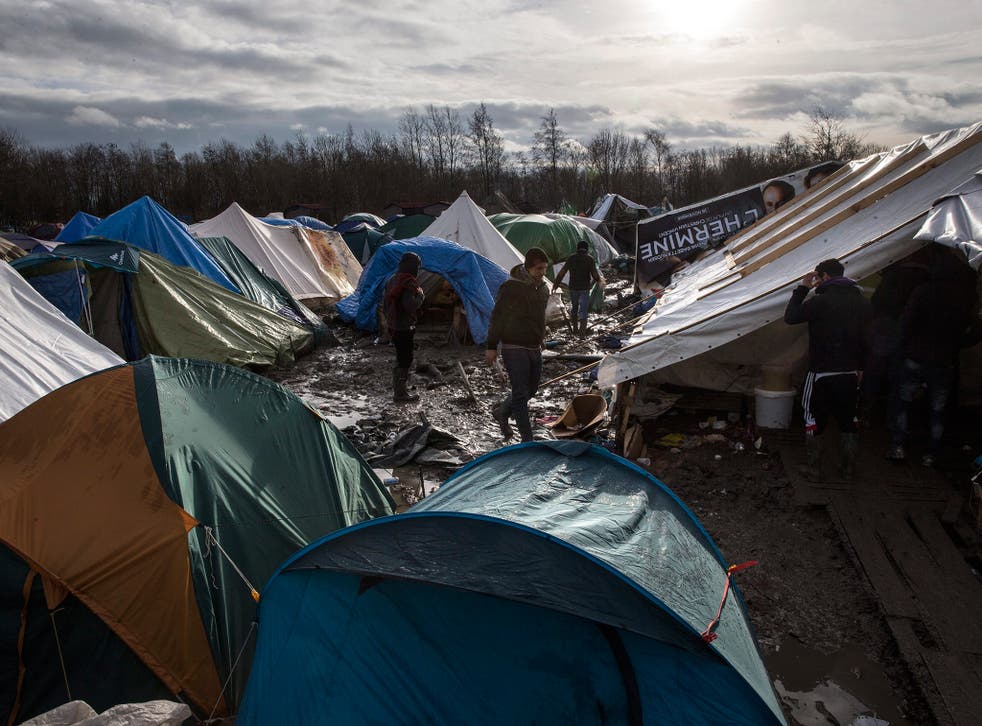 Refugees living in Calais's "Jungle" camp are preparing for an impending stand-off with French police armed with tear gas, rubber bullets and water cannons, knowing they are certain to lose.
The French government is preparing to bulldoze up to a third of the camp, ordering 2,000 people to take the few belongings they have and leave.
Those who refuse to go face a repeat of the unannounced clear-out in September last year, when refugees were woken up in their tents at 7am by police tear gas.
As they stumbled outside they were rounded up and had to watch on as their tents – along with photographs from home, vital documentation and any money they had left – were destroyed.
Inside the camps in Calais

Show all 20
Distrust between those living in the camps and the police corralling them has never been higher, with refugees at a UNHCR meeting on Wednesday claiming officers routinely hit them, fire directly at them with tear gas and "shoot them", it appears, with rubber bullets.
And contrary to reports of refusing to move into a "£20 million facility" recently installed by the government, volunteer groups say those being cleared out tonight have been given nowhere else to go.
Fascist Attacks
Described by volunteers as a "worst case scenario", the impending government clear-out has been made even harder to deal with by a relatively new threat – attacks and intimidation of refugees by right-wing groups.
Organisations under names like "Calais Libre" and "Les Calaisians en Colère" (The Angry People of Calais) have begun actively intimidating aid workers and refugees alike, and posting videos of their exploits to dedicated Facebook pages.
Some videos purportedly show members of the groups throwing rocks at camp residents, and one volunteer said he had seen a Calais Libre supporter threaten a female volunteer with a knife.
Fascist group appears to launch stones and fireworks at Calais jungle and intimidate volunteers
Kit Johnson, a 32-year-old working with L'Auberge Migrants, said a French policeman was watching the confrontation but simply told the man to "calm down" and then walked away.
And Libby, a volunteer with Calais Kitchens, told The Independent: "Volunteers have been attacked and intimidated. Some volunteer cars and vans have been targeted by burning or slashing of tyres. Five days ago a fascist group threw fireworks into the woods where people live."
"The worst day of my life"
Clare Moseley, the founder of Care4Calais, has been volunteering at the "Jungle" since August 2015, and says her biggest fear now is that tonight's clear-out will see a repeat of the running battles between police and refugees of last September.
"Last time it was very unpleasant – and it wasn't even on this scale," she said. After police had forced everyone out of the area they wanted to clear, she says, they bulldozed everything left standing and scooped it all up into skips.
"There was no warning whatsoever, and people who had hardly anything lost absolutely everything, including photographs of family they might never see again.
"Some were left sitting on the groun, rocking, while others were begging to go through the rubbish to get back their things. That was one of the worst days of my life."
Breakdown in trust in police
While groups like Care4Calais have spent this week helping refugees in the affected area move out, some have refused to go, at least partly because of a lack of trust in the authorities.
The French government has spent six months building new accommodation out of repurposed shipping containers, but it will only allow 50 refugees per day to be homed in it, and the first 400 spaces have been set aside for people who were camping on the site before the project began.
It means those affected by tonight's clear-out are unlikely to be able to get a space in the new shelters for weeks – and even if they do, many fear registering for a bed is a trick to prevent them claiming asylum in Britain.
According to the group Help Refugees, refugee community leaders raised their concerns about the police and authorities in a meeting with the UNHCR on Wednesday.
"Where is the humanity when the police tear gas me and hit me and shoot me and let fascists hurt me? All I want is asylum," one unnamed refugee was quoted as saying.
A member of the Syrian community in the camp told the UNHCR representative: "Please, if you cannot help us, don't hurt us."
'If

they resist, they risk losing everything

'
Ms Moseley told The Independent that tensions were building ahead of the clear-out "because these people have been through a hell of a lot, they are at their lowest point, and then they are told they have to move again".
"They have been given nowhere to move to," she said. "They are scared and confused, some are really angry and they have no way to act that out."
Once again, police have not said exactly when they are going to act, meaning refugees have now been told to carry any belongings they cherish with them at all times.
If it is going to be like last time, Ms Moseley believes it will happen before dawn, at around 7am on Friday, and she says she still hopes the government changes its mind.
"Failing that, it would be best if it is done peacefully," she said. "If they resist, they risk losing everything. If the police decide they are moving then they are moving, they are so well armed and there is no contest.
"It's such a dangerous situation," she said. "I don't want them to get hurt."
Join our new commenting forum
Join thought-provoking conversations, follow other Independent readers and see their replies