Catalan independence movement takes control upon parliament's return in boost for exiled Puigdemont
Spanish PM Rajoy threatens a return to direct rule if Catalonia tries to appoint a president based in Brussels
Alasdair Fotheringham
Madrid
Wednesday 17 January 2018 17:30 Comments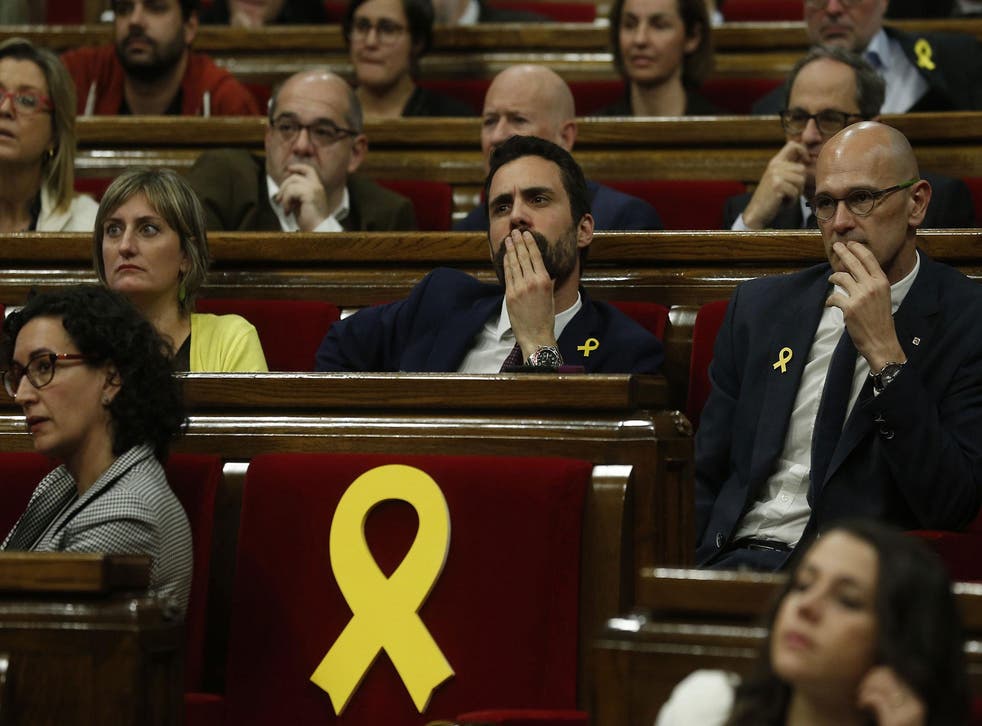 The independence movement in Catalonia regained control of the troubled region's parliament without difficulties when it assembled on Wednesday for the first time since December's elections – but their attempts to elect nationalist leader Carles Puigdemont as president-in-exile will likely not prove so straightforward.
Earlier this week Spain's Prime Minister Mariano Rajoy issued a strongly-worded warning that direct rule from Madrid will continue if Mr Puigdemont, who faces almost certain arrest if he returns to Catalonia from Belgium, attempts to govern remotely.
"It is absurd that somebody tries to become president of Catalonia whilst they're in Brussels," Mr Rajoy said.
"It's not a political or legal problem, it's a question of common sense," he added. "You cannot be sworn in as president from Brussels and without a president, article 155" – the part of Spanish legislation that permits direct rule – "would continue."
With their narrow overall majority confirmed in December's snap elections, the Nationalists won an important initial vote when Republican Roger Torrent was elected new speaker and head of its governing committee, key to deciding which legislation is voted on by parliament.
Overall, the session was much quieter than the fraught pro-independence parliamentary debates of last autumn, when the Catalan parliament last met before direct rule was applied.
But on Wednesday the eight empty MPs' seats in the nationalist benches constituted a powerful reminder of the huge underlying challenges this parliament faces in a region where pro-and anti-independence support is almost equally divided.
Three of the secessionist MPs are in jail, whilst another five, including Mr Puigdemont, are in exile, and all eight face charges of sedition and rebellion.
The missing MPs seats were bedecked with yellow ribbons, symbols of the campaign for the release of the three jailed lawmakers, including former Catalan Vice-President Oriol Junqueras. All three imprisoned MPs were permitted to delegate their votes to colleagues in parliament.
But despite their return to power, any attempt by the Nationalist-run governing committee to nominate Mr Puigdemont would place the separatists once again on a legal collision course with the Spanish government.
With the 31 January deadline to select a new president approaching, rumours are growing that Mr Puigdemont might attempt a daring return to Catalonia.
There is even speculation that he could emulate WikiLeaks' Julian Assange and seek diplomatic immunity in a foreign consulate in Barcelona, and recently Mr Puigdemont posted an enigmatic photo of people walking along the French side of the Catalan border, with the single word camins, meaning "road", written underneath.
However, a Spanish Customs house was also visible in the photo's background, an apt reminder of the considerable political, and legal, obstacles Mr Puigdemont may well now face.
Register for free to continue reading
Registration is a free and easy way to support our truly independent journalism
By registering, you will also enjoy limited access to Premium articles, exclusive newsletters, commenting, and virtual events with our leading journalists
Already have an account? sign in
Join our new commenting forum
Join thought-provoking conversations, follow other Independent readers and see their replies