Catalan independence referendum: Voters in Girona fought off Spanish riot police to head to the polls
Catalans braved rubber bullets and beatings to vote in the poll deemed illegal by Madrid
Alasdair Fortheringham
Girona
Sunday 01 October 2017 22:44 Comments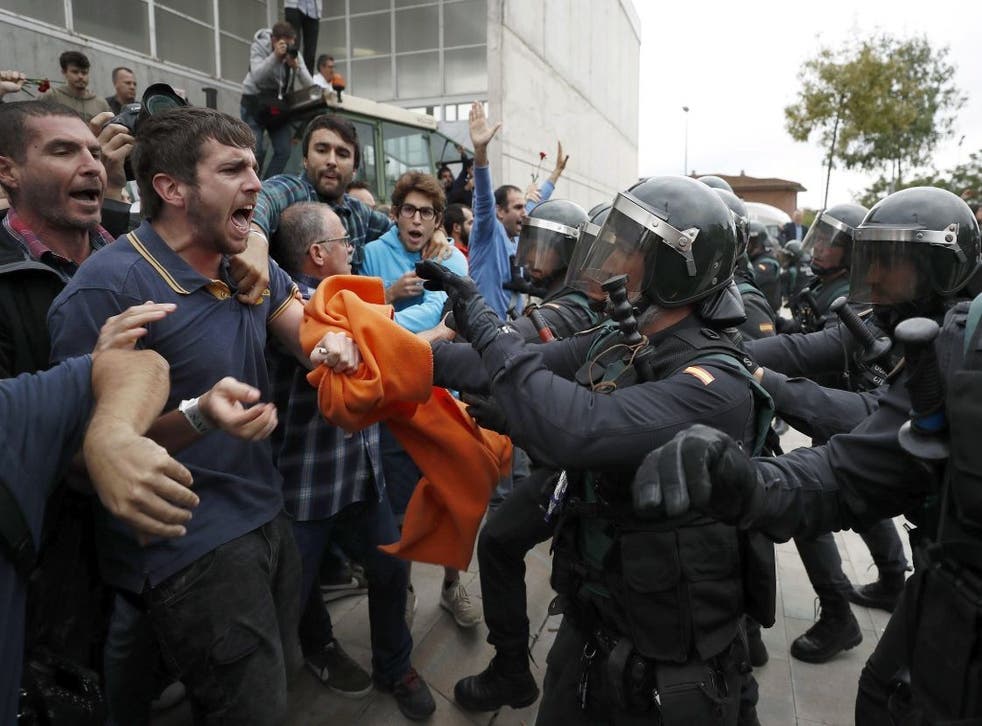 "Who was there when the police came? All of us here," says one pro-referendum supporter in his twenties, pulling back his hair to show a fresh two-inch cut at the top of his head.
The cut in question, he insists, came courtesy of a police truncheon during a charge outside the polling station a few hours before.
Standing in a group of half a dozen lookouts outside the school gates in Girona, where hundreds of people are patiently waiting to vote, the man recounts: "They blocked off the people outside the gate, including me. Then they started firing in the air, constantly. I don't know how many of them there were; maybe about five or six vans of Spanish national police.
"Then they started pulling people away from the gates, people who weren't doing anything, and after three quarters of an hour they saw that they weren't getting anywhere closer inside, so they decided to charge.
"We were scared, but we knew why we were there so we weren't going away. They finally got in through the door, and they didn't find a single urn. They were somewhere else. One of the police was so angry when that happened that his own colleagues were telling him to calm down. Finally, they went away.
"It was brutal, and it's not just happening here," he adds.
At that moment, another pro-referendum supporter tells the young man in Catalan: "The police are coming back here at seven."
Catalonia referendum protests – in pictures

Show all 10
Elsewhere in another polling station in Girona, attempts were made to keep the police out, but they, too, failed to work out.
"We were told to form up in a line to stop the police from entering," one woman in her forties, who briefly formed part of a pro-referendum committee on Girona's outskirts, said. "To stand outside the polling station and hopefully they wouldn't cross it.
"And then people were warning when the police were coming; they had a system organised watching for the vehicles.
"But they were there with batons. I didn't stay because I had to go to work. But all the ones who remained had as weapons to stop them from hitting them" – and she raises her bare hands – "were these."
Register for free to continue reading
Registration is a free and easy way to support our truly independent journalism
By registering, you will also enjoy limited access to Premium articles, exclusive newsletters, commenting, and virtual events with our leading journalists
Already have an account? sign in
Join our new commenting forum
Join thought-provoking conversations, follow other Independent readers and see their replies