Catalan referendum: Region braces for unrest over declaration of independence
Catalonia's law states that within 48 hours of a definitive vote in favour of secession, a declaration of independence must take place
Alasdair Fotheringham
Girona
Monday 02 October 2017 18:20 Comments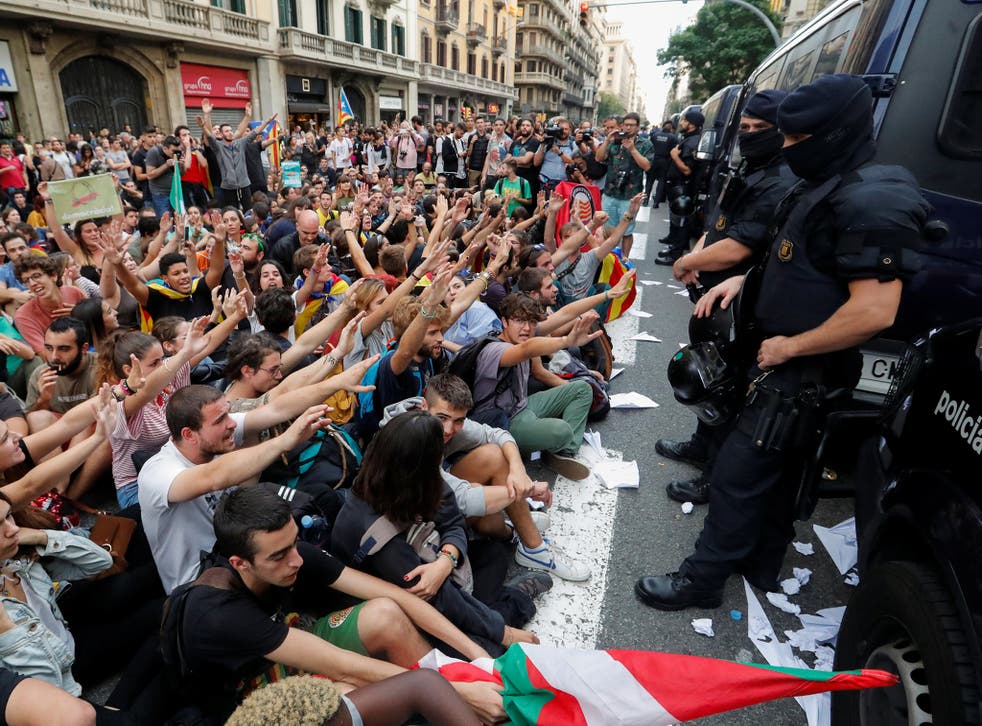 On Monday morning, pupils and parents returned to the Escola Verd primary school in central Girona under a light drizzle, with only some broken metal meshing on a playground wall remaining as evidence of the chillingly brutal police action witnessed here against voters in Sunday's banned referendum on Catalonia's future.
Used as a polling station, the school was broken into when riot police attempted to break, enter and seize a ballot box. They then trapped would-be voters in the building and lashed out with their truncheons if anyone tried to escape. "My legs are still shaking," said one witness some hours afterwards.
Although the police have gone and voting is over, Girona and the wider region of Catalonia are bracing for some more political tension to come this week, as its government prepares to make a unilateral declaration of independence, while workers will express their anger towards the Madrid government in a general strike starting on Tuesday.
With more than 90 per cent of votes in the banned referendum in favour of secession, Catalan Premier Carles Puigdemont promised the results would be sent to the regional parliament. Catalonia's referendum law states that within 48 hours of a vote being definitive a declaration of independence has to take place. This may take some time to happen, though, given a small number of postal votes are still coming in and an estimated 770,00 votes went missing during the police raids. Mr Puigdemont did not refer to the declaration again in a Monday press conference.
But for political analysts like Germa Capdevila, head of the editorial board at naciodigital.cat, Sunday's violence has increased the likelihood of Catalonia making the unilateral declaration. He believes that Mr Puigdemont's hands are tied as a consequence of the heavy-handed Spanish state police tactics in Sunday's referendum.
He told The Independent: "2.3 million Catalans voted but more than 850 were injured, two of them seriously, so it's impossible for him to argue now that the referendum has no value.
"How can you tell the people who braved the police charges that their vote doesn't count because in some polling stations the votes were seized?
"Rajoy and Puigdemont are both victims, in a sense, of their previous stances on the referendum, but after Sunday's events it is much more likely Puigdemont will make a declaration of independence."
The earliest most likely date for such a declaration is Wednesday, when the Catalan parliament is next due to be in full session.
Outside Spain, the European Commission went further than it had previously when a spokesperson said "violence can never be an instrument in politics". But the bloc has consistently stated that a separate Catalonia would be out of the Union and that it would not intervene in the crisis, a position which remains unchanged despite Sunday's events.
"The institutions in Europe will continue to support Rajoy," Mr Capdevila predicted.
"I wouldn't rule out a situation similar to Lithuania [in the early 1990s] where they were initially in limbo after declaring independence and they weren't recognised internationally.
"You'd reach the airport, that would be run by the Soviet Union and then five kilometres outside there'd be another passport control with the Lithuanian police."
Tuesday's general strike was due to run indefinitely this week and was backed by pro-independence organisations and nearly all of Catalonia's trade unions – including the regional branches of two of Spain's biggest unions, Comisiones Obreras and UGT. It could prove to be crucial in avoiding such dramatic scenarios as Lithuania's. A brief mass protest at the police violence at midday on Monday, lasting 10 minutes, received widespread support and a high attendance is expected in the series of walk-outs at schools and factories across the region.
"It is one thing to stop a lot of people voting, but another when companies, particularly the foreign ones, see their business getting hurt," argued Mr Capdevila.
"More pressure from the outside, and that means Europe, business, the trade unions and the multinationals – and there are 4,000 of those in Catalonia – could force Madrid to the negotiating table." So far, though, Madrid has flatly refused to contemplate a fully legal, binding referendum and the right wing of Mr Rajoy's ruling PP would regard such an action as a sell-out, although Pedro Sanchez, leader of the Spanish Socialist Party, did try to convince Mr Rajoy on Monday evening to open a fresh round of talks with the nationalists. "This dialogue is more necessary than ever," a Socialist Party press release said.
Among the Spanish establishment it is not just the politicians who are anticipating a difficult week. Even before the referendum King Felipe – who has called for Spanish unity – was reported to have cleared his agenda of prior appointments and will remain in Spain.
Catalonia referendum protests – in pictures

Show all 10
Meanwhile in Catalonia, there is a growing sense of anticipation, but also fear at outrage, as to what the short-term future may bring.
"I felt and still feel very angry and indignant after what I saw in the polling station on Sunday, police attacking unarmed voters, old people and children, but now there's worry mixed with hope, too," said Ferran Oto, a Catalan computer technician in his 40s who voted for independence.
"I'm very worried about how the state will react, and whether we'll be abandoned by Europe. But there's lots of desire to become an independent state and I think we're a little bit closer than we were 48 hours ago."
Register for free to continue reading
Registration is a free and easy way to support our truly independent journalism
By registering, you will also enjoy limited access to Premium articles, exclusive newsletters, commenting, and virtual events with our leading journalists
Already have an account? sign in
Join our new commenting forum
Join thought-provoking conversations, follow other Independent readers and see their replies