Madrid dispatches hundreds of soldiers to Catalonia as region vows to declare independence
Two convoys of trucks include a unit of troops battle-hardened by missions in Iraq and Afghanistan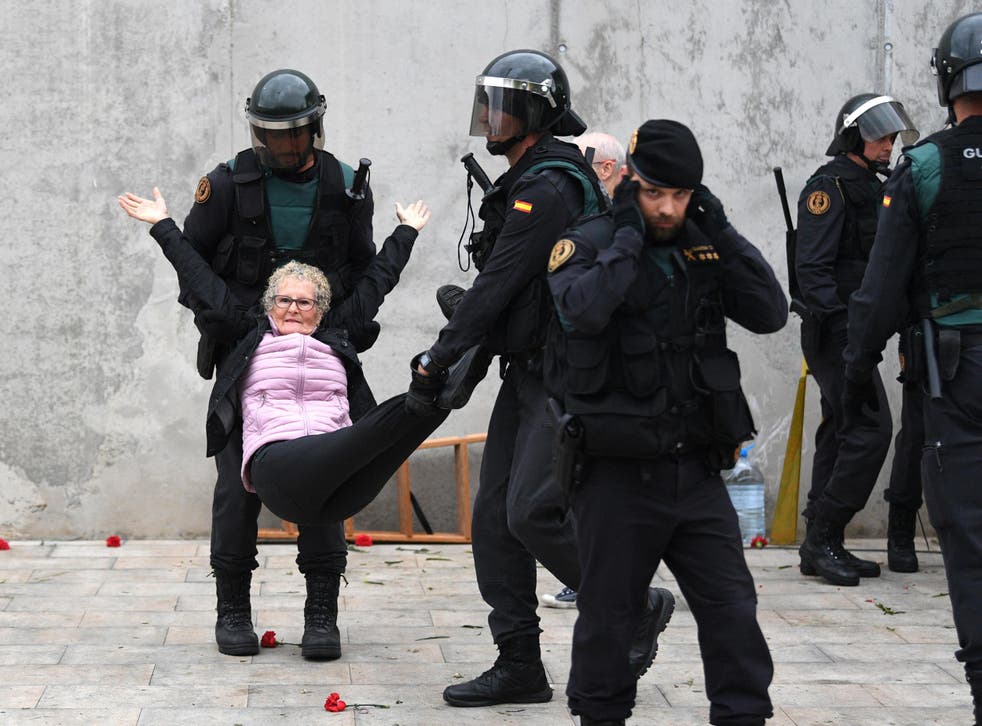 Madrid has dispatched hundreds of battle-hardened soldiers to Catalonia days before the region's leader has vowed to declare independence, Spanish media reports.
The two convoys of 20 trucks were said to be rolling towards Barcelona to support the police as tensions remain high after officers moved on voters who took part in Sunday's "illegal" referendum.
Video showed anti-riot police lashing out with batons and boots when locals tried to vote in the unofficial ballot on Catalan independence.
Images taken at polling stations showed voters being dragged by her hair and others left with head wounds.
The violence that left nearly 900 injured came after pro-independence supporters pushed ahead with the referendum despite Spain's constitutional court declaring the vote illegal.
Almost two million took part in the ballot despite the heavy handed response from police on the day, with 90 per cent agreeing that Catalonia should break from Spain, according to a local count.
The region's president Carles Puigdemont later declared that the landslide victory meant that he would declare independence for Catalonia by the beginning of next week.
Madrid deployed more than 10,000 police to Catalonia ahead of the referendum on Sunday, made up of the national police force and the Guardia Civil.
Defence chiefs last night also ordered two convoys of 20 trucks to support the police, according to a report by Spanish newspaper El Confidencial.
The exact number of troops was not revealed but is believed to be in the hundreds. They were dispatched from a military base in Zaragoza to provide logistical support to the police and Guardia Civil if further trouble breaks out.
World news in pictures

Show all 50
The two contingents which will be based outside Barcelona include troops from Spain's Group 41 regiment, which fought missions in Iraq and Afghanistan.
It came after thousands took to the streets in Catalonia on Tuesday in protest at the violence on Sunday, chanting "independence" and calling the police an "occupying force".
Register for free to continue reading
Registration is a free and easy way to support our truly independent journalism
By registering, you will also enjoy limited access to Premium articles, exclusive newsletters, commenting, and virtual events with our leading journalists
Already have an account? sign in
Register for free to continue reading
Registration is a free and easy way to support our truly independent journalism
By registering, you will also enjoy limited access to Premium articles, exclusive newsletters, commenting, and virtual events with our leading journalists
Already have an account? sign in
Join our new commenting forum
Join thought-provoking conversations, follow other Independent readers and see their replies