Catalonia's leader accuses Spanish king of following government's 'catastrophic' policies
'You have disappointed many Catalans,' Carles Puigdemont tells monarch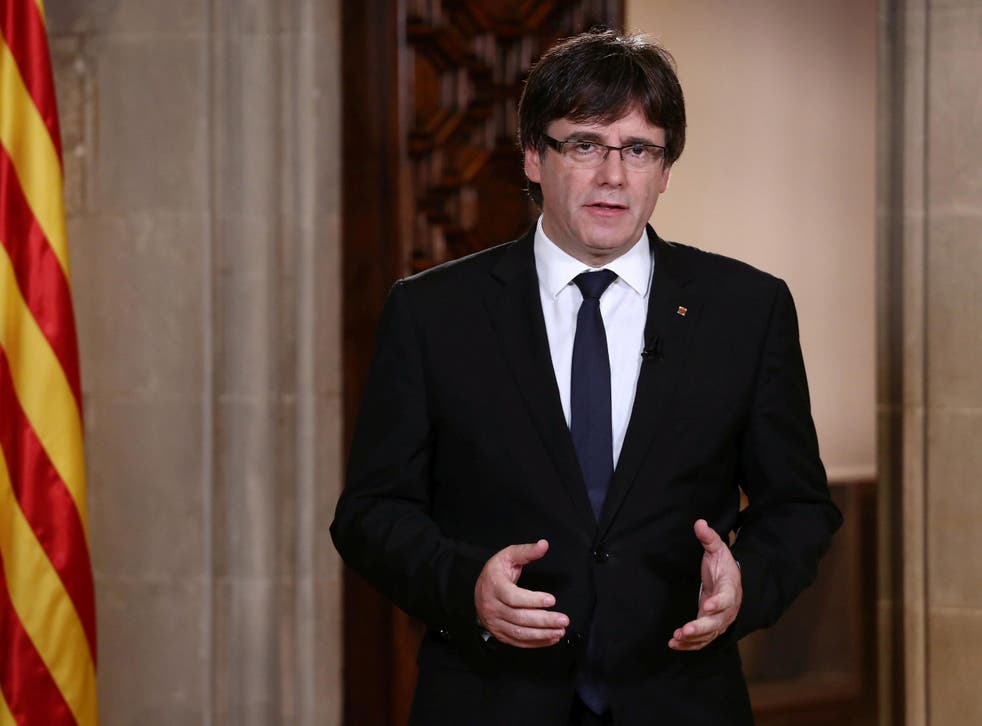 Catalonia's leader Carles Puigdemont has accused the Spanish king of following "catastrophic" policies implemented by the country's central government.
King Felipe on Tuesday accused the Catalan authorities of attempting to break the "unity of Spain", warning their push for independence risked the nation's social and economic stability.
In a televised address, Mr Puigdemont attacked the king, telling him: "You have disappointed many Catalans."
He also called Prime Minister Mariano Rajoy's government "irresponsible" for not accepting mediation in the political crisis.
"This moment calls for mediation. We have received various offers in the last hours and we will receive more. All of them know I am ready to start a mediation process," he said
"I will repeat it as many times as necessary: dialogue and agreement are part of the political culture of our people. However, the state has not given any positive answer to those offers," he said.
The Catalan parliament is expected to declare independence from Spain next Monday after a referendum that the Spanish government and courts have declared illegal.
"I am sure that in the next few days we will show the best of our country when the institutions of Catalonia will have to apply the results of the referendum," Mr Puigdemont said.
The Prime Minister's office responded to Mr Puigdemont's latest call for mediation saying: "If Mr Puigdemont wants to talk or negotiate, or wants to send mediators, he know perfectly what he first needs to do: go back to the law."
Politicians in other parts of Spain and a handful of civil groups have offered to try to bridge the divide between the two sides, but Mr Rajoy says no dialogue can take place outside of the country's constitution, which doesn't include provisions for a region to break away.
"Mr Puigdemont has been outside of the law for way too long," Rajoy's deputy, Soraya Saenz de Santamaria, said, responding to Mr Puigdemont's comments on Wednesday.
European leaders have sided with Spain and, amid fears that Catalonia's secession bid could be reproduced elsewhere on the continent, the European Union has so far refused to step in.
European Commission Vice President Frans Timmermans stressed on Wednesday the need for Spain and Catalonia to talk with each other, but said there is a "general consensus that regional government of Catalonia has chosen to ignore the law when organising the referendum."
Mr Puigdemont will address the regional parliament Monday to review the disputed vote — a session that his parliamentary supporters in the radical CUP group say they will consider the independence declaration.
Mr Rajoy's conservative government has declared the referendum illegal and invalid, and pledged to respond with "all necessary measures" to counter Catalan defiance, without revealing how it intended to do so.
Catalonia starting XI

Show all 12
Led by losses for the two main Catalan banks, Spain's main stock market index lost almost 3 percentage points in Wednesday's trading amid uncertainty over how the secession bid will proceed.
Other Spanish banks, telecommunications giant Telelefonica, fashion retailer Inditex and leading energy companies Repsol, Iberdrola and Gas Natural also suffered significant losses.
The crisis in Spain culminated on Sunday when some 900 people needed medical attention after police cracked down to try to prevent the vote.Over 400 police also had bruises.
On Tuesday, huge crowds held street protests in Catalonia, and unions staged a strike to protest the police's actions.
Associated Press contributed to this report
Join our new commenting forum
Join thought-provoking conversations, follow other Independent readers and see their replies