Catalan president launches bid to speak at parliament after Spanish court suspends it over independence fears
Mr Puigdemont's office would only say he wants to "report on the current political situation" – but he has previously vowed to use result of banned referendum to declare region's independence
Jon Di Paolo
Friday 06 October 2017 15:07 Comments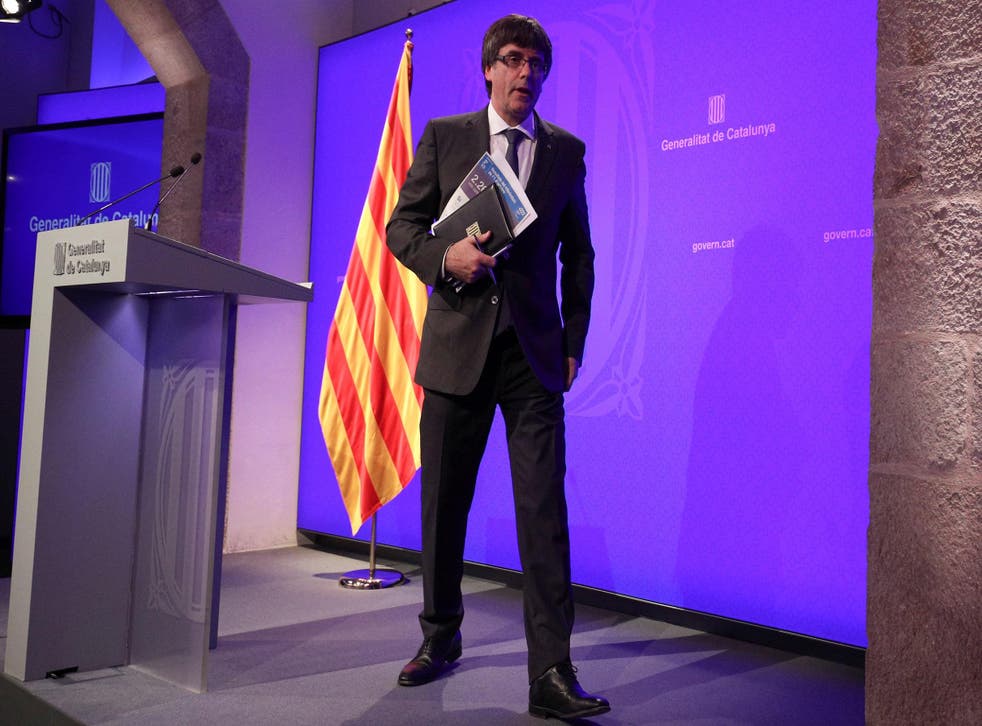 President Carles Puigdemont has asked to address Catalonia's parliament on Tuesday, after Spain suspended a session scheduled for the day before at which the region was widely expected to declare independence in direct defiance of Madrid.
Around 40 per cent of the region's 5.5 million electors voted in a referendum last weekend that Madrid had ruled illegal and deployed riot police to disrupt.
Ballot boxes were shipped in from France by night, stored in homes and improvised hiding places, then secretly shuttled to polling stations.
However, violent scenes when polls opened - including riot gear-clad officers hitting firefighters with batons and throwing voters down stairs - left hundreds injured and drew international condemnation.
Catalan officials said police had closed or raided 400 of the more than 2,000 polling stations before or during the vote but added that 2.2 million votes were cast, with 90 percent in favour of breaking away.
However, the last regional election and polls showed the 7.5 million residents of Catalonia were almost evenly divided on the issue, and many who would rather stay part of Spain are not thought to have taken part.
Nevertheless, Mr Puigdemont vowed to declare independence based on the result, after which Spain suspended a Catalonian government session for assessing the vote that had been due to take place on Monday amid speculation he would use it to do so.
Mr Puigdemont now wants to use Tuesday's planned address to "report on the current political situation", according to a brief statement by his office.
In Madrid, Spain's National Court unconditionally released two senior officers of Catalonia's regional police force and the leaders of two pro-independence civic groups who are being investigated for sedition in connection with the referendum.
The four are to be questioned again in coming days.
The case is linked to demonstrations on September 20-21 in Barcelona, when Spanish police arrested several Catalan government officials and raided offices in a crackdown on preparations for the referendum.
The four being investigated are Catalan police chief Josep Lluis Trapero, Catalan police lieutenant Teresa Laplana, Jordi Sanchez, the head of the Catalan National Assembly, and Jordi Cuixart, president of separatist group Omnium Cultural.
After being questioned for about an hour, Mr Trapero left the courthouse to applause by Basque and Catalan party representatives and insults from bystanders.
Mr Sanchez also answered questions related to his defence.
"I ask strongly that the Spanish government, the national parliament and the head of state (the king) understand that time and the hours are very important to find a debated solution and give way to a political solution," Mr Sanchez said.
Spanish authorities say the demonstrations hindered the Spanish police operation, and that Catalan police didn't do enough to push back protesters blocking Spanish police officers from leaving a building. Two police cars were vandalised and officers were caught inside the building for hours.
Spain's conservative government has refused to enter into talks on the crisis unless the Catalans drop plans for secession.
Neutral Switzerland has offered to mediate and is in touch with both sides but admits talks look unlikely to happen.
"Facilitation can only be provided if both parties request it. Switzerland is in contact with both parties, but the conditions for facilitation are not in place at this stage," a foreign ministry spokesman said.
He described the situation in Catalonia as an internal Spanish political matter and said Switzerland respected the sovereignty of Spain.
Spain's government also approved a decree that would make it easier for companies in Catalonia to move the location of their official registration out of the region.
The move will allow the relocation of Caixabank, Spain's third largest bank by assets, before next week.
Catalonia independence referendum: Riot police clash with voters

Show all 17
At least half a dozen companies, including the fifth-largest lender, Banco Sabadell, have already relocated or agreed to do so.
The moves have no immediate effect on jobs or company assets, but are seen as a blow to the Catalan government.
Agencies contributed to this report
Register for free to continue reading
Registration is a free and easy way to support our truly independent journalism
By registering, you will also enjoy limited access to Premium articles, exclusive newsletters, commenting, and virtual events with our leading journalists
Already have an account? sign in
Join our new commenting forum
Join thought-provoking conversations, follow other Independent readers and see their replies