Charlie Hebdo causes outrage with Italy earthquake cartoon depicting dead as 'lasagne'
Magazine issues second cartoon saying Italian houses were 'built by the mafia' in response to complaints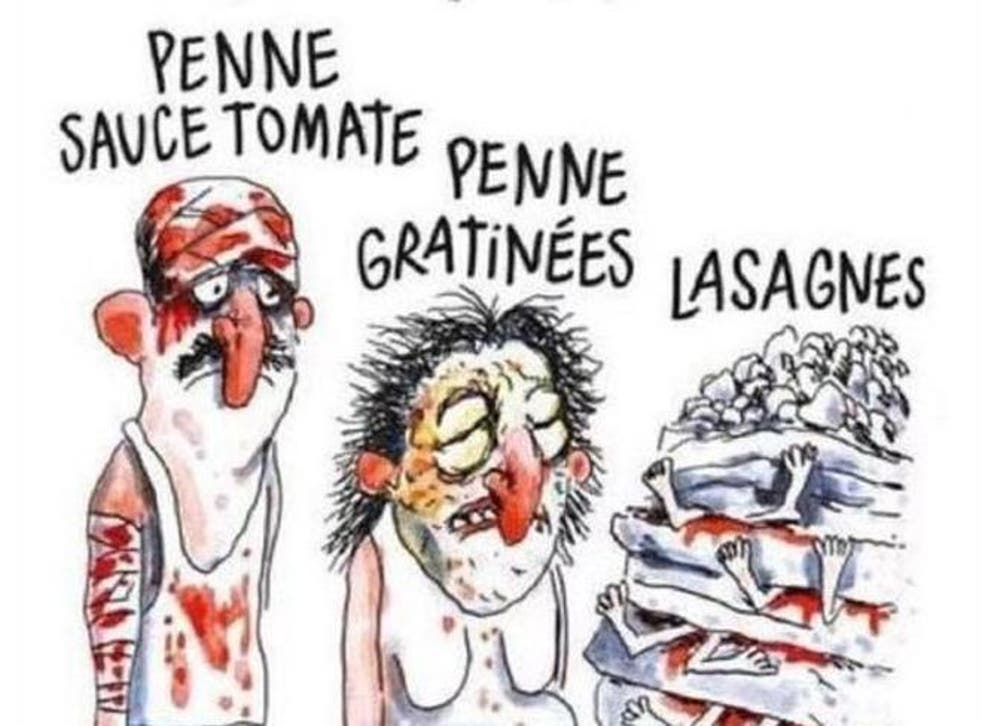 Satirical French magazine Charlie Hebdo has been criticised for publishing a cartoon portraying Italian earthquake victims as pasta dishes.
The cartoon particularly upset residents of the hardest-hit town of Amatrice, which is famous for producing a tomato-based pasta sauce.
The mayor of Amatrice, where more than 230 people died in the 6.2 magnitude earthquake, called the cartoon "tasteless and embarrassing", according to Italian news agency ANSA.
"How the f*** do you draw a cartoon about the dead?" Mayor Sergio Pirozzi said, adding he didn't believe the "unpleasant" satire reflected French sentiment.
The cartoon depicts an injured man and woman standing side by side, and next to them a pile of rubble and bodies. The man is described as "penne sauce", the woman as "penne gratin", and the pile of dead bodies as "lasagne". All appear underneath the heading "Italian earthquake style".
Social media users expressed disgust at the image, branding it outrageous, direspectful and inhumane.
The Italian Minister for Justice Andrea Orlando also condemned the images, but said he would not comment further as he believed Charlie Hebdo wanted to create a scandal and attract media attention.
The French embassy in Rome was forced to release a statement on Friday, saying the cartoon was not representative of France's attitude to the disaster.
Calling the suffering of Italian people an "immense tragedy," the embassy offered "sincere condolences" on behalf of the French people, who it said "are close to Italy in this difficult trial".
From the Charlie Hebdo attack to Nice - the moments that have rocked France
Charlie Hebdo, however, did not apologise and instead released a second offensive cartoon on its official Facebook page on Friday night, further antagonising critics.
The cartoon caption read: "Italians, it is not Charlie Hebdo that built your homes, it's the mafia!"
In pictures: Reaction to Charlie Hebdo attack

Show all 39
Charlie Hebdo is still under police protection after 10 staff members were murdered by terrorists in January 2015.
The two gun men opened fire on an editorial meeting after the magazine published cartoons depicting the Prophet Mohamed.
In January, Charlie Hebdo caused outrage when it published a cartoon suggesting Alan Kurdi, the Syrian child who was photographed lying dead on a Greek beach last summer, would have grown up to be a rapist if he had lived.
Register for free to continue reading
Registration is a free and easy way to support our truly independent journalism
By registering, you will also enjoy limited access to Premium articles, exclusive newsletters, commenting, and virtual events with our leading journalists
Already have an account? sign in
Register for free to continue reading
Registration is a free and easy way to support our truly independent journalism
By registering, you will also enjoy limited access to Premium articles, exclusive newsletters, commenting, and virtual events with our leading journalists
Already have an account? sign in
Join our new commenting forum
Join thought-provoking conversations, follow other Independent readers and see their replies