Chechnya's 'gay purge' victim speaks out over torture ordeal
Maxim Lapunov, 30, arrested, thrown into blood-soaked cellar and beaten over 12-day incarceration at hands of Ramzan Kadyrov's men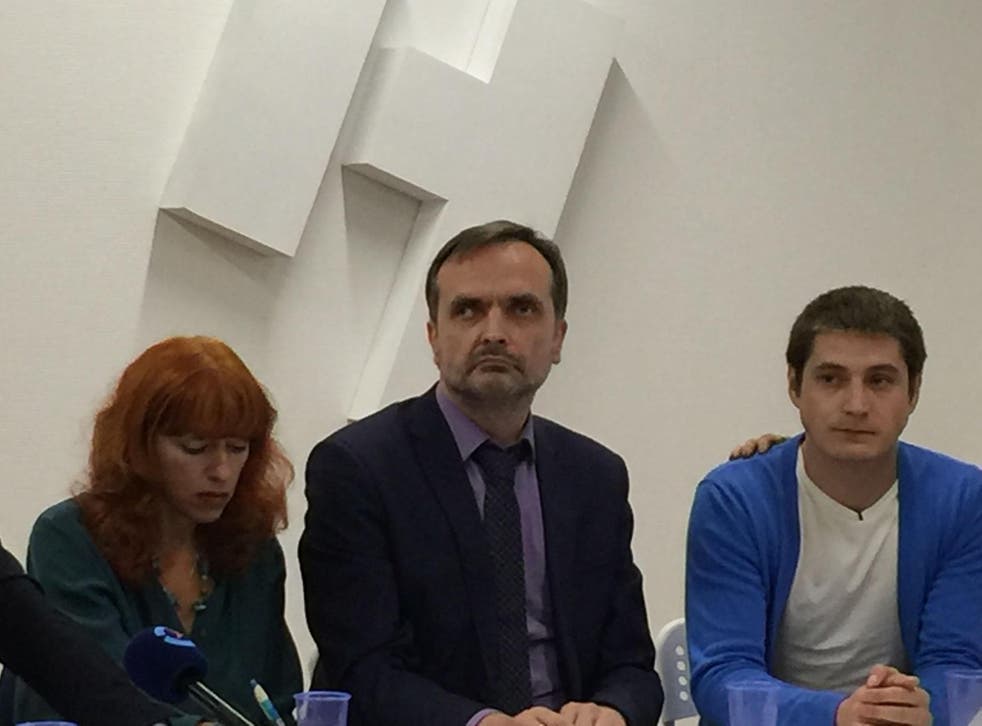 He had arrived in Chechnya on business in 2015. A small-scale entrepreneur from Omsk, Siberia, and openly gay, Mr Maxim Lapunov had little idea of what lay ahead. Two years later, he would find himself arrested, thrown into a blood-soaked cellar and repeatedly beaten during 12 terrifying days. Mr Lapunov had been caught up in the whirlwind of Chechnya's "gay purge", which would later made headlines around the world.
On Monday, he became the first witness to go public with his story. Speaking at a press conference organised by journalists and activists, the details of which were hushed at last moment, Mr Lapunov said he had been moved to act by the lack of progress made in the formal investigation, which began in April.
Speaking by his side at the conference, Igor Kalyapin, head of the Committee against Torture NGO said: "In simple Russian, there has been no investigation."
News of the arrests and disappearances of gay men in Chechnya came to light in April this year. It is believed the men were first targeted by Chechen law enforcement officials in February. They were, it is alleged, held in unofficial prisons, beaten and tortured. The campaign of arrests lasted a few weeks, before pausing, and then resuming in March.
Mr Lapunov, 30, says he was arrested on 16 March by plain clothed officers. He was, he says, released on 28 March on the condition that he did not speak to anyone about his experience, and signed a blank confession.
"The only charge they made was that I was gay," he told journalists at the press conference. "I could hardly walk. I was sure they were going to kill me, I was preparing for that."
According to Tanya Lokshina of Human Rights Watch, and author of a new report into the "purge", approximately 100 men were caught up in the actions.
Journalists have reported three men died as a direct result of the campaign, with one man killed in what is believed to be an "honour killing". Ms Lokshina said that her organisation had been unable to confirm these numbers independently. Speaking at the press conference, gay rights activist Igor Kochetkov stated that witnesses had told his organisation of at least 15 men who had been handed back to their families, and have since disappeared without trace.
Chechnya's irascible President, Ramzan Kadyrov, has responded to the claims by stating there were "no gays in Chechnya". Speaking to journalists from the HBO channel in July, he went further: "If there are any gays… take them away from us. To purify our blood, if there are any, take them."
Chechen Muslim clerics meanwhile turned their fire on journalists, threatening Elena Milashina, the investigative journalist who broke the story, with "retribution". She spent some time in hiding, but was present at today's press conference.
While Russia itself is not known to be especially friendly to LGBT communities, a vibrant gay scene exists in Moscow and St Petersburg. In the largely Muslim republic of Chechnya, however, homosexuality remains taboo.
As such, the men caught up in the anti-gay purge are at risk as much for their own families as from the local authorities. "That's what makes their situation so utterly desperate," says Ms Lokshina.
Mr Lapunov is exceptional in being the only non-Chechen believed to have fallen victim to the anti-gay campaign. He has no immediate Chechen family who would be put at risk. This is what allows him to come forward, despite the dangers, said Ms Lokhsina at the press conference. It seems that local security officials were alerted to his presence in Chechnya through links he had made with local gay men. They were apparently unaware he was not Chechen.
Human rights activists say they do not expect ethnic Chechens to follow Mr Lapunov's lead. That will not happen until adequate security guarantees have been made for victims. So far, these guarantees have not been forthcoming.
Russian authorities have been sluggish in their response, emphasising the lack of formal witnesses to the crime.
On Friday, the Kremlin's Human Rights Ombudswoman Tatyana Moskalkova made a surprise statement confirming that a man had come forward. "I confirm there is a man, a complainant," she told the Interfax news agency. "As soon as we complete our investigations, I can give more information."
The top 15 worst countries to be gay in Europe

Show all 15
It is believed Ms Moskalkova was prompted to make the statement in the knowledge of today's press conference.
In private, human rights activists say they have been impressed by Ms Moskalkova's dedication to the case. However, they say she is hamstrung by a limited mandate.
"She cannot provide guarantees – that is the remit the security services," said one, speaking off the record. "And they are less keen to help."
Join our new commenting forum
Join thought-provoking conversations, follow other Independent readers and see their replies