Chechen killing and torture of gay men 'cannot be ignored', says Nikki Haley
More than 100 men reportedly detained in secret prisons in campaign of abuse by security forces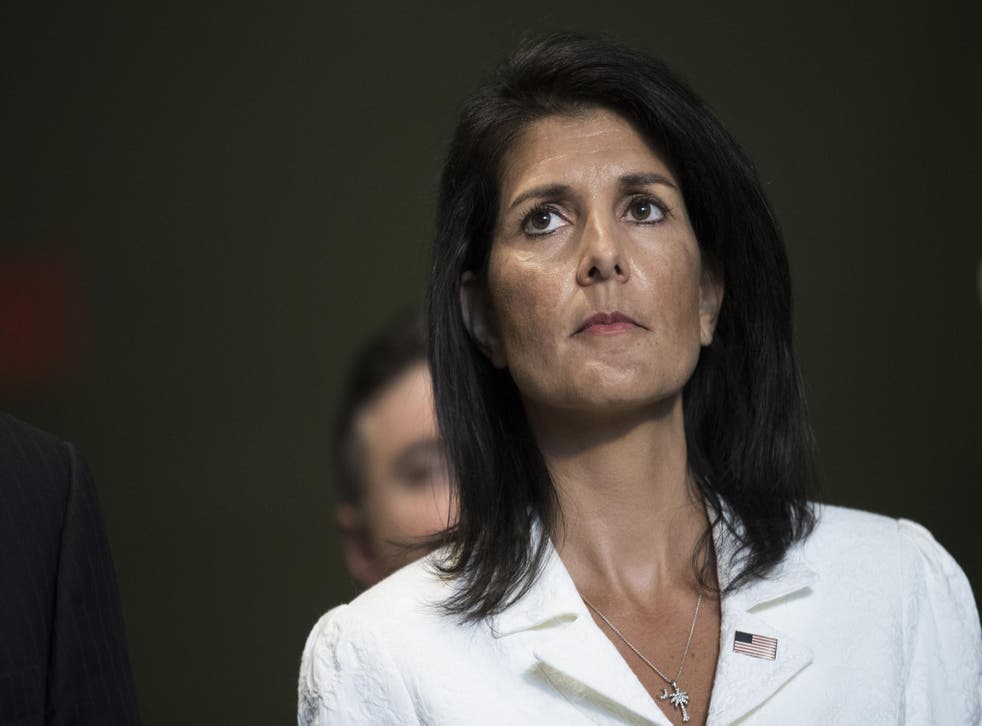 Donald Trump's ambassador to the UN has said the world cannot ignore reports of gay men being detained, tortured and killed in Chechnya, amid growing international concern.
Nikki Haley said she was "disturbed" by allegations that officials under the control of Chechen leader Ramzan Kadyrov are rounding up dozens of men on suspicion of being gay, with at least three feared to have died so far.
"If true, this violation of human rights cannot be ignored - Chechen authorities must immediately investigate these allegations, hold anyone involved accountable, and take steps to prevent future abuses," Ms Haley said.
"We are against all forms of discrimination, including against people based on sexual orientation.
"When left unchecked, discrimination and human rights abuses can lead to destabilisation and conflict."
Freed victims said they feared being "outed" by authorities and attacked or killed by relatives, after being abducted at police checkpoints.
"They started beating me with their fists and feet. They wanted to get names of my gay friends from me," one man told CNN.
"Then they tied wires to my hands and put metal clippers on my ears to electrocute me. They've got special equipment, which is very powerful. When they shock you, you jump high above the ground."
A Russian newspaper exposed a brutal campaign allegedly waged by law enforcement and security officials earlier this month, sparking angry denials from the Chechen government and ambivalence in the Kremlin.
Novaya Gazeta's staff have received threats of "retribution" for their work, which the Chechen interior ministry dismissed as an "April fools' joke".
A spokesman for Mr Kadyrov, a former militia leader and ally of Vladimir Putin, claimed the report was impossible as there were no gay people in the Russian republic.
LGBT+ rights around the globe

Show all 9
"If there were such people in Chechnya, law-enforcement agencies wouldn't need to have anything to do with them because their relatives would send them somewhere from which there is no returning," Alvi Karimov said.
Some of the more than 100 suspected gay men said to have been held in secret detention centres have undergone forced disappearances, while others were returned to their families with severe injuries after torture and humiliation.
Novaya Gazeta found that police held the men for periods ranging from one day to several weeks, mainly at an unofficial detention centre near Argun, and sometimes "outed" them to relatives who were encouraged to carry out "honour killings".
Russian investigators opened a probe into threats made against journalists over their reports, after the newspaper appealed to the Kremlin for protection following a gathering of Chechen Muslim clerics.
Chechnya's press minister demanded journalists name interviewed victims and apologise for their "filthy provocation".
Mr Kadyrov later said he had met with the region's human rights council on Sunday and proclaimed that rights have undergone a "grandiose" improvement.
He accused international organisations of conducting a "massive information attack...using the most unworthy methods, reality is distorted, attempts are being made to blacken our society, lifestyle, traditions and customs".
Mr Putin's spokesman said the Kremlin "did not have any reliable information" on the alleged abuses, which come after Russia adopted an anti-LGBT "propaganda law" 2013.
The campaign of abuse in Chechnya, which started in February, has drawn condemnation from the United Nations, the Council of Europe, the Organisation for Security and Co-operation in Europe, the EU and US.
The UN called on all men detained in the purge to be released and for Russian authorities to condemn official statements inciting hatred and violence.
"It is crucial that reports of abductions, unlawful detentions, torture, beatings and killings of men perceived to be gay or bisexual are investigated thoroughly," a group of human rights experts said.
"These are acts of persecution and violence on an unprecedented scale in the region, and constitute serious violations of the obligations of the Russian Federation under international human rights law."
Join our new commenting forum
Join thought-provoking conversations, follow other Independent readers and see their replies