Child refugees 'sexually abused by Italian men' after being picked up while sleeping homeless in parks
Charities warn that countless child asylum seekers are being abused and exploited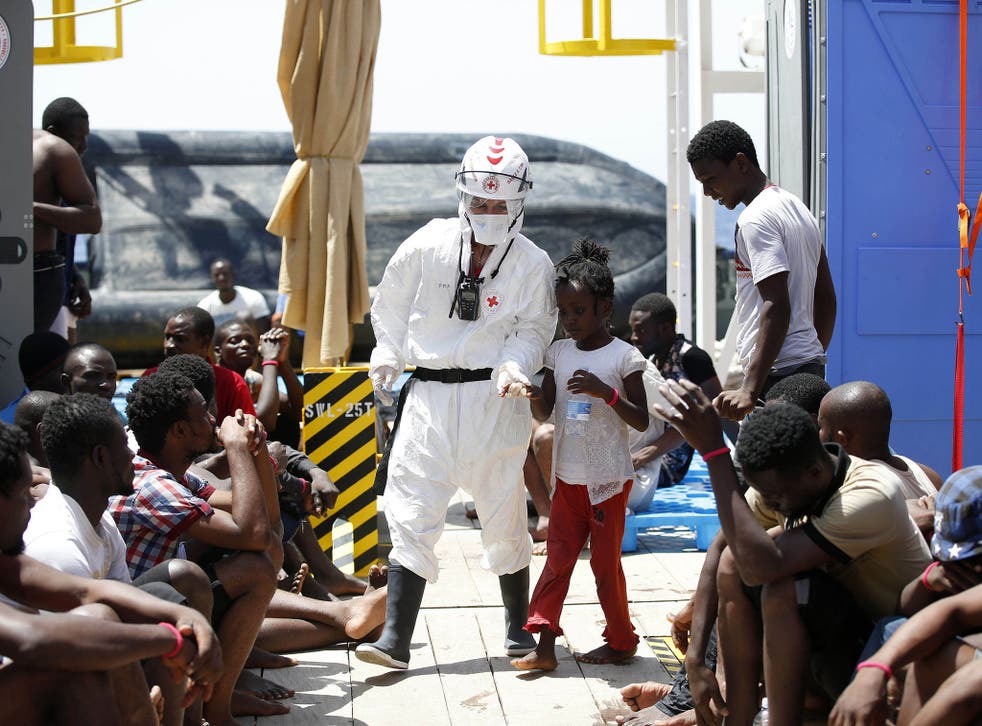 Child refugees are being sexually abused and extorted in Italy as the proportion of unaccompanied minors arriving on Europe's shores reaches record highs.
Charities have long warned of smugglers abusing children, frequently forcing girls into prostitution to repay their "debts", but teenage asylum seekers in Sicily say they have been targeted by local men.
Ermias Haile, a 16-year-old from Eritrea, has been sleeping on a building site with his friends since they arrived on the island after making the treacherous voyage from Libya.
Like many others, they left an official reception centre for young refugees in the belief they would be forced to remain in Italy after applying from asylum, leaving them alone and unprotected.
More than 10,000 child refugees disappear in Europe
Ermias and friends told Sky News an Italian man had sexually abused them after buying them drinks and offering them shelter.
"He find us in a place like this [park] and he invite us to a bar and he let us drink beer and then he take us to his home and there he give us beer," he said.
"We start drinking and then he start touching us on our body. After we leave the house, he calls us and he gives us money."
Almost 102,000 asylum seekers have arrived by sea in Italy so far this year – 15 per cent of them unaccompanied minors.
Most, such as Ermias, are picked up by rescue boats in the Mediterranean and taken to Sicily, where they are sent to local reception centres.
But many leave the comparative safety of the accommodation, travelling to other European cities and often ending up homeless or trapped at borders such as in The Jungle camp in Calais, where several rapes have been reported.
Refugee crisis - in pictures

Show all 27
Save the Children said the number of unaccompanied children has doubled in the past year, seeing vulnerable boys and girls thrown into "cycles of abuse".
Traffickers saddle girls and young women with up to €50,000 (£43,000) in "debt" for the cost of their journeys across the Mediterranean before forcing them into prostitution and hard labour to pay it off.
Boys are forced into similar schemes, subjected to child labour and criminal activity including theft and drug dealing by gangs.
Children are also at risk at overcrowded detention camps on Greek islands, where all migrants are now held until their asylum applications are decided as part of a deal between the EU and Turkish government.
Aid agencies say families are "living in fear" after fleeing violence and persecution in their home countries, with many afraid to let their children out of their sight amid rising tensions, protests and fights.
Tanya Steele, Save the Children's interim CEO, said: "It's shocking that in this day and age so many vulnerable children are being subjected to this kind of violence, manipulation and exploitation.
"They make the dangerous journey to Europe on their own seeking safety and a better life, but instead find themselves trapped in a cycle of abuse."
Former Prime Minister David Cameron responded to growing calls to house unaccompanied minors by pledging to resettle some of the "most vulnerable" refugee children in May, but none are believed to have arrived.
The Home Affairs Select Committee has warned that the UK is on course to fall short of its pledge to house 20,000 Syrian refugees by 2020, highlighting a huge backlog of asylum cases and decisions where refugees had been wrongly returned to violence and persecution.
The British Government previously restricted its scheme to asylum seekers in UN camps in the Middle East and North Africa, arguing that it did not want to encourage them to make the "lethal" sea voyage to Europe.
Join our new commenting forum
Join thought-provoking conversations, follow other Independent readers and see their replies