Chirac to ditch former protégé Sarkozy and vote for Hollande
Predecessor's switch of allegiance is blow for president, but former First Lady remains loyal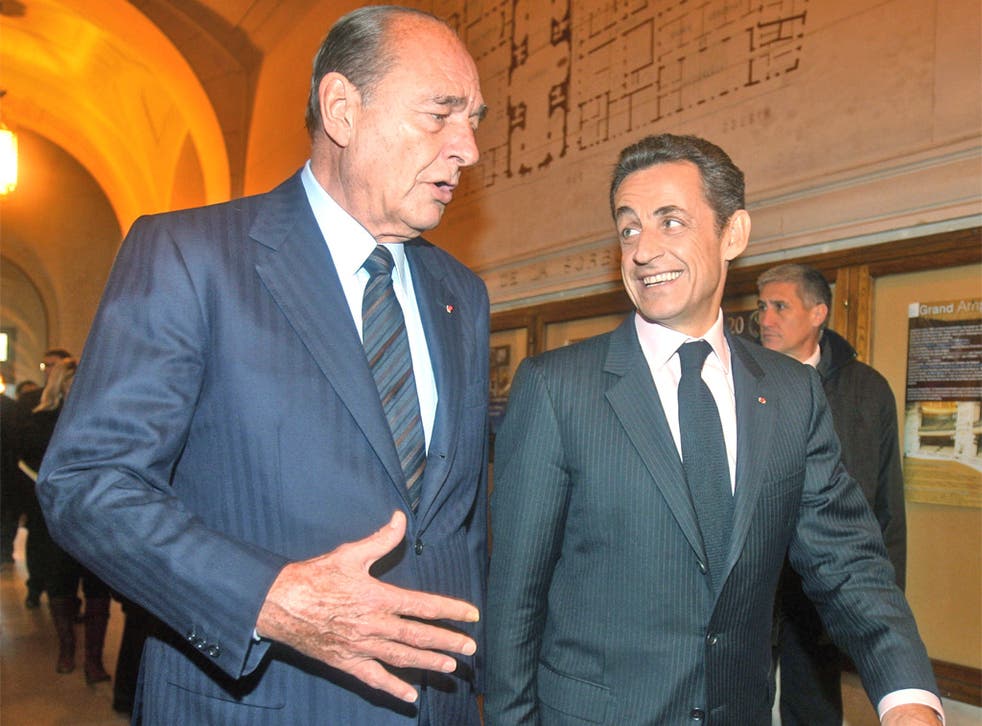 Former President Jacques Chirac will switch sides and vote for the Socialist candidate François Hollande in the French presidential election this weekend, it was reported yesterday.
Mr Chirac's friend, Jean-Luc Barré said the former President would defy the tribal taboos of French politics and vote for the Socialist challenger on Sunday rather than his estranged former protégé, President Nicolas Sarkozy.
It is believed that Mr Chirac's daughter Claude – who had a romantic entanglement with Mr Sarkozy many years ago – also intends to cross the right-left political divide and vote for the front-running Mr Hollande this weekend. So do several other members of the "Chirac Clan", including his chief political adviser, who was seen at a Hollande rally last week.
Only Mr Chirac's wife Bernadette, who is campaigning actively for Mr Sarkozy, is refusing to abandon the centre-right camp, which was dominated by her husband for more than two decades.
Asked about the switch during a radio interview yesterday, Mr Sarkozy said that it was "sad" that the former presidential "entourage" should try to "manipulate" him in this way. Mr Sarkozy suggested that Mr Chirac, 79, who is suffering from a mild form of Alzheimer's disease, was no longer capable of having an opinion. In an interview with Le Parisien, Mr Barré, a historian and the ghost writer of Mr Chirac's autobiography, said he had frequent discussions with the former President and knew that he intended to vote for Mr Hollande. "No one knows his opinions better than me," he said.
The Chirac vote for the centre-left candidate – and what seems to be a deliberate decision to place it in the public domain – is partly an act of political revenge. In 2007, Mr Sarkozy campaigned as much against his retiring boss, President Chirac, as he did against the Socialist candidate, Ségolène Royal.
Mr Chirac was reported to have told friends recently: "No one has ever bad-mouthed me publicly as much as Sarkozy did." Although Mr Sarkozy rose to national prominence through his alliance with Mr Chirac, he twice "betrayed" his former boss, according to the Chirac camp.
He supported Édouard Balladur against Mr Chirac in the 1995 presidential election. He built his own rise to the presidency from 2004 on the public and private denigration of Mr Chirac in the French press.
Mr Chirac's vote for Mr Hollande is, however, not just an act of pique, his friend, Mr Barré, said yesterday. "Chirac is a humanist, influenced by the radical-socialism of Corrèze [his fiefdom in south-west France] and the social dimension of Gaullism," Mr Barré said. "He recognises these qualities today in the candidate of the left."
Mr Chirac is said to be vituperative in private about Mr Sarkozy's performance in office. He is said to have been offended, especially, by the President's cavalier approach to the office itself and Mr Sarkozy's frequent exploitation of divisive, racial themes.
The vote for Mr Hollande is also a personal tribute to a rival who became a friend. The Socialist candidate began his political career in 1981 as a young man sent from Paris to challenge Mr Chirac in his rural fiefdom in Corrèze. Mr Hollande rose to become a local MP, mayor and president of the Corrèze council – on extremely friendly terms with both Jacques and Bernadette Chirac.
A series of eight opinion polls in the last five days has shown Mr Hollande and Mr Sarkozy neck and neck in the 10-candidate second round this weekend. Mr Hollande has regained the lead in most polls; Mr Sarkozy retains a narrow lead in others.
In the two-candidate second round on 6 May, the polls indicate a widening gap – of up to 14 points – in Mr Hollande's favour.
Join our new commenting forum
Join thought-provoking conversations, follow other Independent readers and see their replies