Christine Lagarde trial: IMF head faces court over £340m Bernard Tapie payment
The IMF managing director could face as much as one year in jail if convicted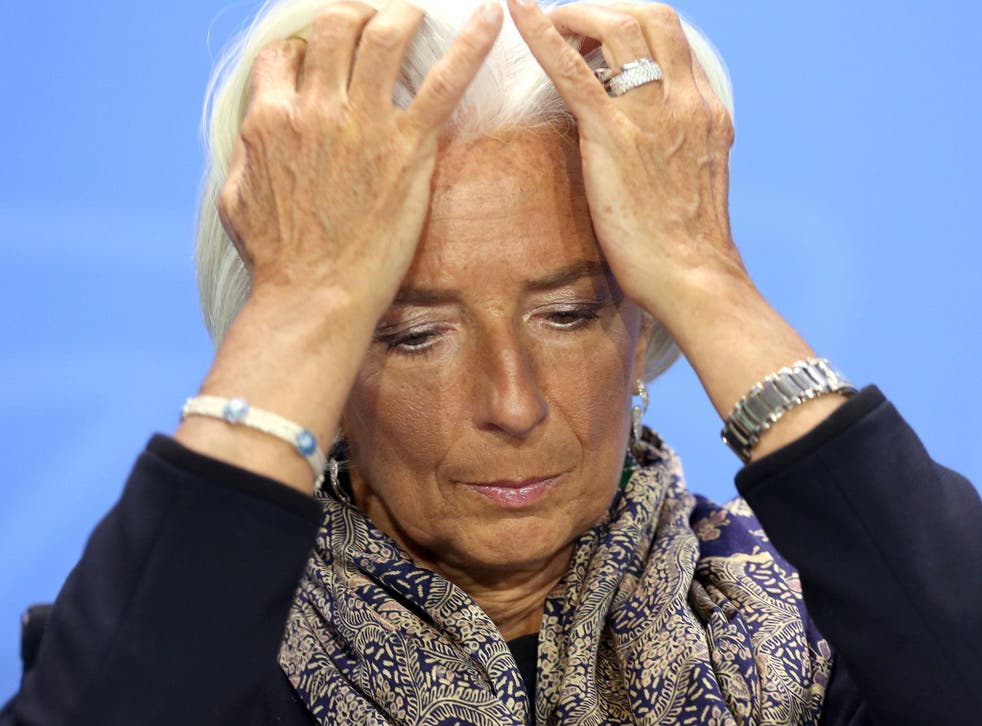 The head of the International Monetary Fund (IMF), Christine Lagarde, must stand trial in France over a payment of €403 million (now £340m, then £290m) to tycoon Bernard Tapie, a France's highest appeals court has ruled.
The court rejected Ms Lagarde's appeal against a judge's order in December for her to stand trial over allegations of negligence in her handling of the affair.
Mr Tapie, a former French football team owner and some time pop star, won €403 million in 2008 in a case against the French public bank Crédit Lyonnais, after he said the bank undervalued his stake in Adidas. Christine Lagarde signed off on the payout as France's minister of Finance at the time.
Ms Lagarde is accused of negligence with the result that public funds were misused by improperly approving the decision to allow an out-of-court arbitration in the dispute with Mr Tapie. Ms Lagarde denies any wrongdoing.
The arbitration judges later ruled in Mr Tapie's favour and ordered the state payout to him, but appeals courts have since thrown out that settlement decision.
A Paris appeals court has ordered Mr Tapie to reimburse the state, but the businessman has lodged an appeal, which is still pending.
Ms Lagarde could risk a maximum penalty of one year in prison and a fine of €15,000 euros if convicted.
She is to stand trial at the Court de Justice de la Republique, which deals with ministers accused of crimes related to their positions.
The trial will be only be the fifth in the history of the tribunal, which is made up of three judges and six lawmakers from both the lower and upper houses of parliament.
Her lawyer Patrick Maisonneuve expressed regret over the decision and said he was convinced that the trial would show she was innocent.
"I am convinced that the court will find the allegations of negligence to be without merit," he said in a statement.
Stephane Richard, Orange chief executive, was also investigated by French police in connection with the Tapie payout. He was Ms Lagarde's chief of staff when she was finance minister.
Biggest business scandals in pictures

Show all 20
In January, the International Monetary Fund has appointed Christine Lagarde for a second term as managing director, despite the threat of the trial looming over her.
Ms Lagarde, 60, who was the only candidate, was backed by the UK, Germany, China, and her home country, France, to stay on for another five years.
IMF spokesman Gerry Rice said that its executive board had been briefed on the matter and continued to have confidence in Ms Lagarde's capacity to carry out her functions.
Register for free to continue reading
Registration is a free and easy way to support our truly independent journalism
By registering, you will also enjoy limited access to Premium articles, exclusive newsletters, commenting, and virtual events with our leading journalists
Already have an account? sign in
Register for free to continue reading
Registration is a free and easy way to support our truly independent journalism
By registering, you will also enjoy limited access to Premium articles, exclusive newsletters, commenting, and virtual events with our leading journalists
Already have an account? sign in
Join our new commenting forum
Join thought-provoking conversations, follow other Independent readers and see their replies