Cologne sex assaults: Leaked report reveals extent police were overwhelmed by New Year's Eve violence
Angry women protest against 'utter incompetence' of police as number of cases from night of violence rises to 516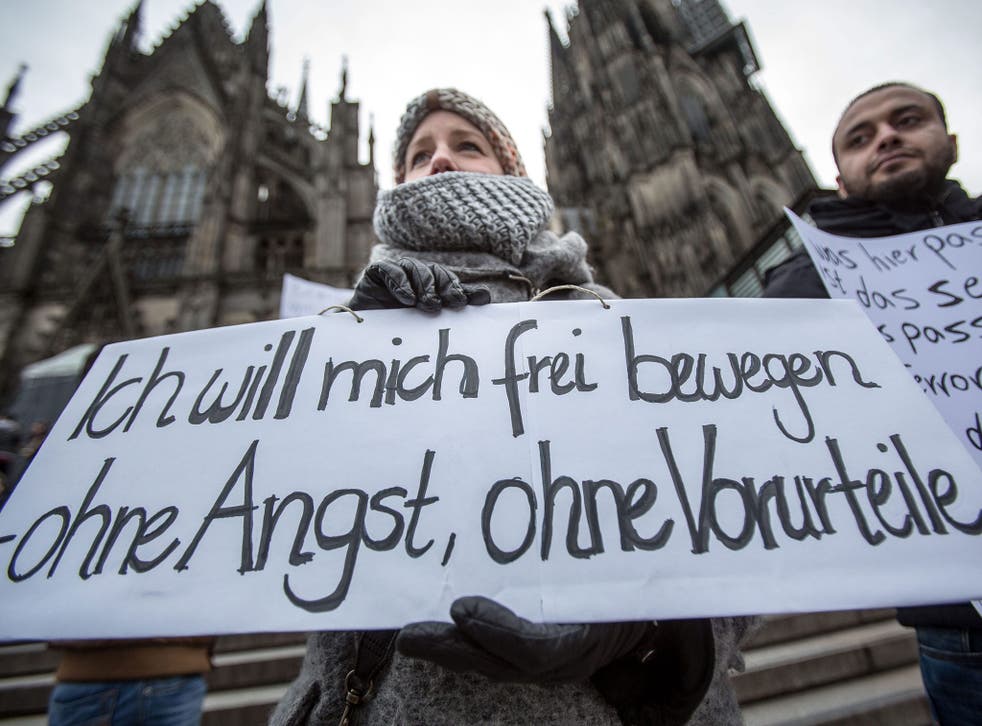 The number of women claiming to have been victims of a spate of sexual assaults and muggings in Cologne on New Year's Eve rose to 516 on Sunday, amid new evidence that police were completely overwhelmed by the violence, largely blamed on foreigners.
The figures were a rise of more than a third from the 379 cases that had been reported by Saturday. Some 40 per cent of the complaints included sexual assault and there were two reports of rape. Police in Hamburg said they have lodged 133 similar charges.
Officers deployed outside Cologne's main railway station where the attacks occurred arrested only four suspects on the night and merely took the names of 71 other possible offenders, according to a police report published by Germany's Die Welt am Sonntag newspaper.
On Sunday afternoon groups of angry women braved the cold and stood on the steps of Cologne's cathedral, opposite the railway station, to continue the protest against what they said was "utter incompetence" by the police.
"We want those responsible for the sex attacks to be brought to justice," said Laura Stöckmann, a 20-year-old Cologne textile design student who witnessed the attacks. "But so far the police seem to being doing nothing," she said.
They were joined by a group of Syrian refugees who held up placards proclaiming, "Syrians are decent people". But Abdul Rahman a 25-year-old Syrian who arrived in Germany last year, said it was "possible" that some Syrians from his asylum hostel had taken part in the violence.
Growing fury in Germany over New Year's Eve assaults on women in Cologne
The attacks have so far been blamed on gangs of predominantly North African immigrants from Algeria and Morocco who are well known to Cologne police as pickpockets and muggers who frequent the station. Many are thought to be illegal immigrants whose asylum requests have been rejected.
Federal authorities say they have identified 18 asylum-seekers among 31 suspects linked to the crimes in Cologne. Also among the suspects were two Germans, an American and others. None was specifically accused of sexual assault.
Countries where sexual violence has become a way of life

Show all 19
A leaked police account of the Cologne violence, compiled by North Rhine-Westphalia's Federal Criminal Bureau, described in harrowing detail what the female victims suffered. "The attackers stuck their fingers through the tights and the underwear of their victims, they were surrounded on all sides, grabbed and fingered," the report said. It said most attackers had "bloodshot eyes" and were probably either drunk or on drugs.
The Federal Criminal Bureau said that such a form of mass sexual molestation was hitherto unknown in Germany but that similar violence had occurred in Egypt on Cairo's Tahrir Square during the Arab Spring.
Police also published a note scribbled on a large piece of paper which had been found at the scene of the attacks with the message "I want to f***" written in German and Arabic.
On Sunday Cologne police officer who declined to be named told the German media that he and other officers had questioned around 100 suspects who were briefly detained on New Year's Eve and discovered that most were Syrian refugees who had only recently arrived in Germany. "They showed us the documents they get after they apply for asylum," he said.
Similar sexual assaults also occurred in Hamburg, Stuttgart and Bielefeld. The Justice Minister, Heiko Maas, said there was no doubt in his mind that the violence was co-ordinated. "Nobody can tell me that all this was not pre-arranged and organised," he said. Police have yet to confirm his claims.
The Interior Minister, Thomas de Maizière, has pledged to increase the number of police video cameras across Germany to deter future incidents of mass crime.
The apparent origin of many of the attackers has continued to fuel critics of Chancellor Angela Merkel's open-door refugee policies, which have enabled more than one million migrants to enter Germany over the past year.
On Saturday, she announced plans to speed up the expulsion of criminal asylum-seekers. She has refused to accede to the demands of many in her party who want an upper limit set on the influx, although she has pledged to take in fewer refugees over the next 12 months.
The Cologne attacks have also been seized upon by far-right and anti-Islamic movements to justify their virulently anti-immigrant views.
Join our new commenting forum
Join thought-provoking conversations, follow other Independent readers and see their replies