Cologne sexual assaults: Vigilante gangs attack asylum seekers after vowing to 'clean up' German city
A group of football hooligans and 'rockers' had invited people on a 'manhunt' through the city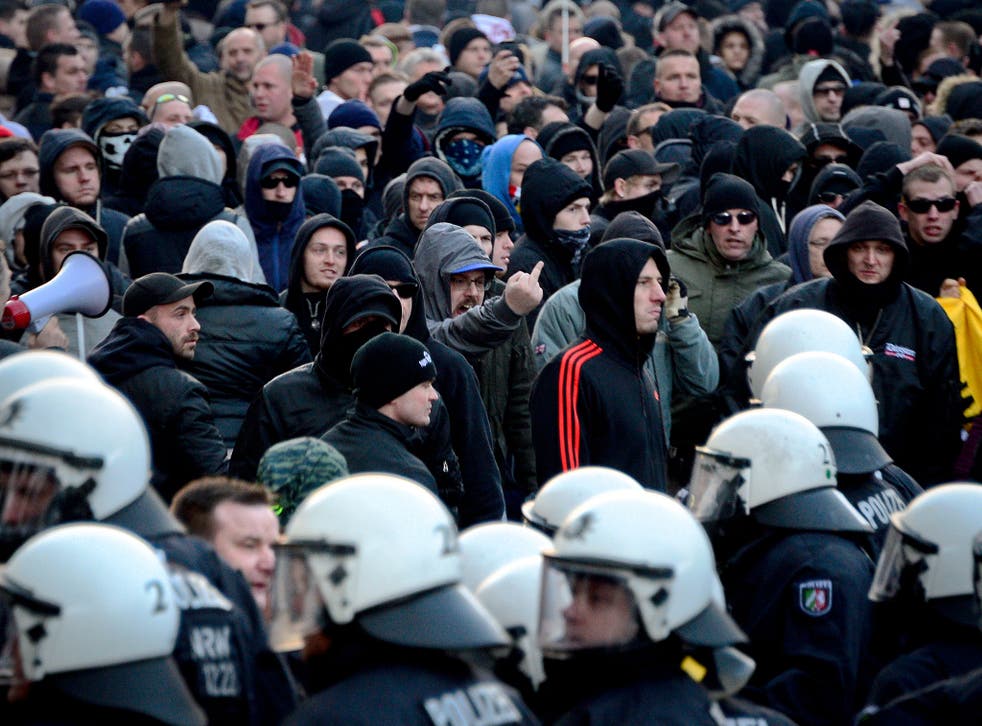 Vigilante gangs have been roving the streets of Cologne on a "manhunt" for asylum seekers as the backlash to the New Year's Eve attacks continues.
Among the 11 victims were Pakistani men beaten by a 20-strong mob and Syrian refugee targeted minutes later by a smaller group nearby.
Police said they had reinforced officer numbers in the city centre earlier on Sunday after receiving warnings about a group searching for "provocation".
It came after a Facebook page created by a gang of "rockers" and football hooligans had called for supporters to "clean up" Cologne.
Growing fury in Germany over New Year's Eve assaults on women in Cologne
Norbert Wagner, a police officer, told a news conference that a group used the social network earlier on Sunday to invite people to join them in "violence-free strolls" through the city, when in fact they planned to hunt down anyone appearing to be foreign.
Reinforcements were sent into the city centre at 4.30pm and the first attack was reported just over two hours later, when the six Pakistani men were attacked in Trankgassen shipyard. Two of the injured victims were taken to a nearby hospital and later discharged.
A 39-year-old Syrian man, who had recently arrived in Germany, was beaten on a street just metres away at 7pm by a group of five attackers but did not need hospital treatment.
Police are investigating the incidents as grievous bodily harm but have made no arrests and continue to appeal for witnesses to come forward and send in any photos or videos of the attacks.
Among Sunday's victims were six Pakistanis, three Guineans and two Syrians.
Witnesses reported another man of African origin being attacker, but his identity was unclear because he had not contacted authorities.
Patrick Fels, from Cologne's National Socialism Documentation Centre (NS-Dok), told the International Business Times that in an between far-right groups including Pegida movement and local groups of football hooligans and "rockers", has emerged in recent years.
"Previously hooligans would fight other hooligans from opposing teams, but since the first Pegida activities in 2014 we see that many of these people are beginning to join political demonstrations and be more active there," he said.
One of the most prominent football-related groups on the far-right scene is Hooligans Gegen Salafisten (HoGeSa), which has been linked to the English Defence League (EDL) and claims to fight the rise of extremist Salafism in Europe.
On Saturday, thousands of protesters from anti-immigration group Pegida (Patriotic Europeans Against the Islamification of the West) and counter-demonstrators had taken to the streets of Cologne.
Police deployed a water cannon and pepper spray in attempts move Pegida supporters from a square where they threatened to clash with anti-fascist groups.
The city has seen waves of protests, including against sexual violence, since scores of women were sexually assaulted and robbed near the cathedral and main railway station on New Year's Eve.
Thomas de Maiziere, the German interior minister, condemned Sunday's revenge attacks and warned against a broader backlash against refugees following the events in Cologne, which have deepened opposition to Angela Merkel's refugee policies.
More than 550 criminal complaints have been made concerning New Year's Eve far and 45 per cent of cases relate to sexual offences, according to the latest update from Cologne Police.
A 19-year-old Moroccan man was arrested on Saturday after being found carrying a mobile phone stolen at Cologne Central Station on the night.
At least 23 suspects have so far been identified by a 100-strong team dedicated to the case.
Ralf Jäger, the interior minister for North Rhine-Westphalia state, claimed most of the suspects were of North African origin and travelled from other cities.
"To label certain groups, to stigmatise them as sexual criminals, would not only be wrong, it would be dangerous," he added. "Those people who make a direct link between immigration and violence are playing into the hands of right-wing extremists."
Additional reporting by Reuters
Join our new commenting forum
Join thought-provoking conversations, follow other Independent readers and see their replies