A continent on edge: Paris attacks leave Europe on terror high alert as police in five countries arrest more than twenty extremist suspects
Belgium reveals that latest jihadist plot targeted police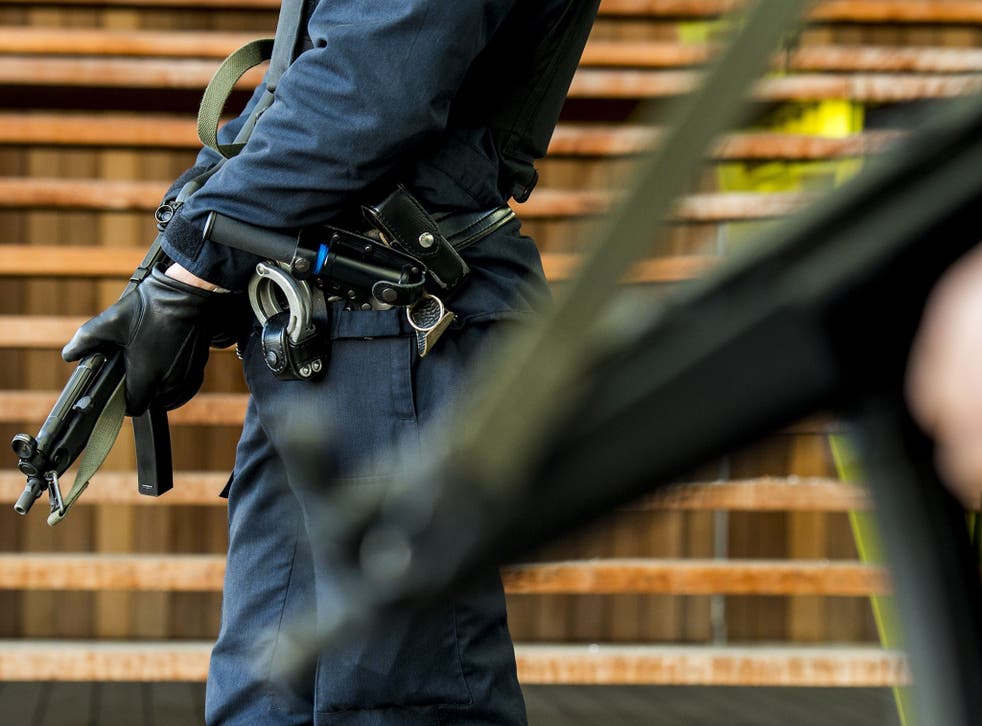 Fears of new jihadist attacks deepened across Europe yesterday, as police in five countries arrested more than 20 terrorist suspects.
The arrests were made in the wake of a shoot-out in Belgium between police and suspected jihadists, and last week's Paris attacks which left 20 people dead. Nerves in France were further tested by two terror alerts yesterday.
Among the arrests was one at Stansted Airport in Essex where counter-terrorism officers seized an 18-year-old woman as she flew into the country. She was suspected of "preparation of terrorist acts" and membership of a proscribed organisation. Police refused to say where she had flown from but the arrest is believed to be linked to Syria. In another development, security was stepped up around Jewish communities.
In Belgium 13 people were held after the shoot-out which left two suspects dead in a police raid on Thursday night in Verviers, near the German border.
Yesterday Belgian authorities said they had foiled a plot, with just hours to spare, in which terrorists dressed as police would have attacked officers on the streets and in police stations with assault rifles and other weapons.
In pictures: Counter-terrorism raid in Belgium

Show all 10
The two men who were killed – and a third who was wounded – were Belgian nationals who are believed to have returned recently from fighting with Isis in Syria.
No link has been found with last week's attacks on Charlie Hebdo magazine and a Jewish supermarket in Paris.
Separate arrests were, however, made in Charleroi in southern Belgium, as part of the investigation into how Amedy Coulibaly – one of the three French Islamist terrorists killed a week ago – obtained his weapons.
A dozen people were also arrested in France yesterday in a series of dawn raids on the homes of known associates of Coulibaly.
In Berlin, police arrested two men suspected of recruiting fighters for Isis in Syria and Iraq. Authorities said that there was no direct link with the French attacks or the arrests in Belgium.
In Ireland, police arrested a suspected French-Algerian militant at Dublin airport as he tried to enter the country using a false passport. The man was on a European watch list after expressing support in social media for last week's attacks, authorities said.
The US Secretary of State, John Kerry, visited Paris yesterday to make amends for the failure of any senior US official to attend the epic "march against hatred" in the French capital last Sunday.
Mr Kerry placed wreaths outside the offices of Charlie Hebdo, where 12 people died on Wednesday last week, and at the Hyper Cacher supermarket where four people were murdered on Friday last week. "Today, I wanted to be here, at home with you, among you," said Mr Kerry, speaking in French. "I really wanted to come here and share a hug with all of Paris, with all of France."
Mr Kerry also had talks with President François Hollande, who later addressed the whole of the diplomatic corps. The President called on the European Union, and especially the passport-free Schengen area, to "toughen" its controls on people arriving from outside the region. He said at the next EU summit meeting on 12 February he would press for a European database to allow the instant arrest in any EU country of suspected jihadists coming from or going to join the ranks of Isis.
The dozen people arrested in the inner suburbs of Paris yesterday are suspected of giving "logistical" support to the Jewish supermarket killer, Coulibaly, and possibly also to the Kouachi brothers. Investigators are anxious to discover, above all, where the three gunmen got their huge cache of weapons.
The atmosphere in France remained tense. The Gare de l'Est railway station in Paris was closed due to a bomb alert which came to nothing. A heavily armed gunman surrendered after holding two hostages in a post office in Colombes, just west of the French capital.
He was described by police as an "unbalanced" individual, who was protesting against the break-up of a relationship with a girlfriend. His two hostages were released unharmed.
Join our new commenting forum
Join thought-provoking conversations, follow other Independent readers and see their replies