Costa Concordia captain Francesco Schettino launches last-ditch plea bargain
Schettino says he saved many lives on Concordia as he faces 20 years in jail at manslaughter trial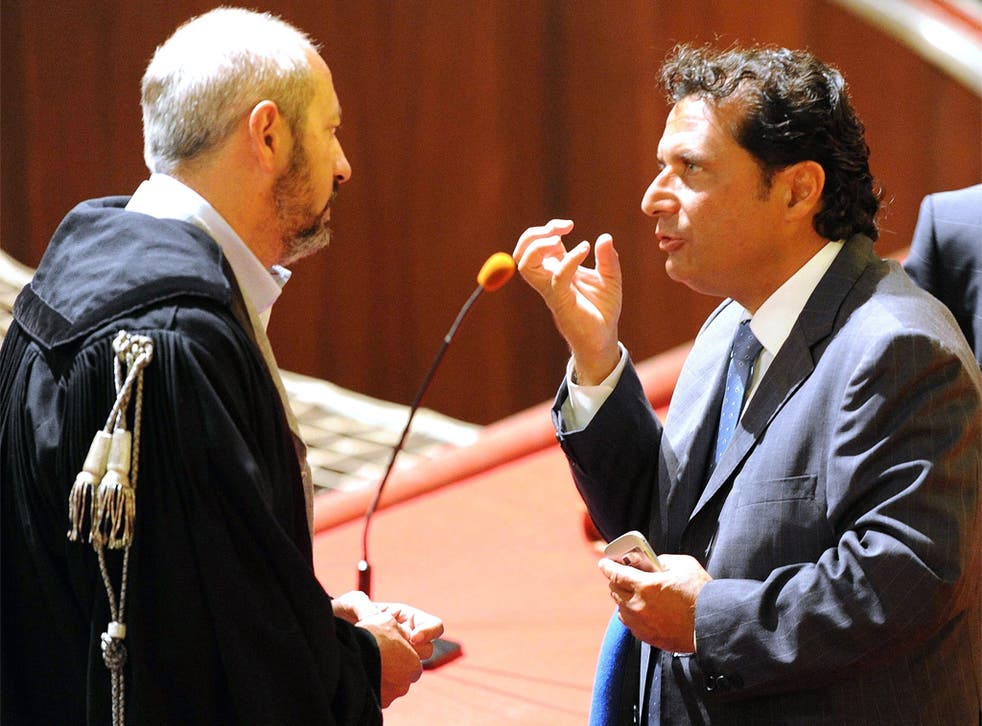 Lawyers for Francesco Schettino, captain of the stricken Costa Concordia cruise liner, launched a last-ditch attempt to secure a plea bargain as he appeared in court for the start of his trial on charges related to the disaster which killed 32 people.
Mr Schettino faces up to 20 years in prison if he is convicted of multiple manslaughter, causing a shipwreck and abandoning ship before his passengers, after crashing the vessel into rocks close to the shore of Giglio, an island off the Tuscan coast, in 2012.
As the trial began in earnest following a lawyers' strike last week, the chances of Mr Schettino's plea bargain – which asks that he serve three years and five months – being accepted appeared remote. Prosecutors have already rejected a previous deal with 52-year-old Mr Schettino.
Francesco Verusio, a prosecutor, told the court yesterday: "That Schettino is guilty, is not in doubt. The only thing left to determine is how long his sentence will be." Plea bargains have been accepted however, from the five other officials indicted – four ship's officers and Roberto Ferrarini. the crisis co-ordinator of the vessel's owners, Costa Cruises.
The Moldovan dancer Domnica Cemortan, whom the captain was entertaining on the bridge when the liner crashed, appeared in court yesterday to offer moral support to Mr Schettino. Ms Cemortan, 26, a former hostess with Costa Cruises, is demanding "between €200,000 and €300,000" from the company for the damage to her reputation after it became known that Mr Schettino, who is married with young children, had wined and dined her aboard the Concordia. She is also challenging the company's refusal to hire her again.
Before entering the theatre-turned-courtroom in the town of Grosseto on Italy's west coast yesterday, Ms Cemortan, who has previously said that Mr Schettino's actions on the night of the disaster helped save many lives, told reporters: "Schettino is not the only one responsible. I want the truth to come out." The main arguments in the trial are expected to begin later this week.
Mr Schettino says his reaction to the crash prevented much greater loss of life, despite Mr Verusio claiming the accused had steered the giant vessel "like a canoe". Prosecutors say Mr Schettino hit rocks while performing a risky, show-boating manoeuvre.
Mr Schettino insists his premature departure from the scene of the accident occurred because he fell into a lifeboat and was unable to get out again. But marine safety experts have told preliminary hearings there might have been no loss of live had the captain ordered the immediate evacuation of the vessel, instead of waiting for more than an hour.
It also emerged today that the John Eaves law firm in the US will begin to sue Costa's US parent company Carnival Corp on 23 July. Lawyers are looking at punitive damages, as well as individual compensation payments for passengers and crew members.
Register for free to continue reading
Registration is a free and easy way to support our truly independent journalism
By registering, you will also enjoy limited access to Premium articles, exclusive newsletters, commenting, and virtual events with our leading journalists
Already have an account? sign in
Register for free to continue reading
Registration is a free and easy way to support our truly independent journalism
By registering, you will also enjoy limited access to Premium articles, exclusive newsletters, commenting, and virtual events with our leading journalists
Already have an account? sign in
Join our new commenting forum
Join thought-provoking conversations, follow other Independent readers and see their replies