David Cameron in Germany: Prime Minister and Angela Merkel call for urgent action to make EU 'competitive and flexible'
Prime Minister discussed the need for reforms to the single market at the German Chancellor's guest residence at Schloss Meseberg
Liam O'Brien
Saturday 13 April 2013 18:16 Comments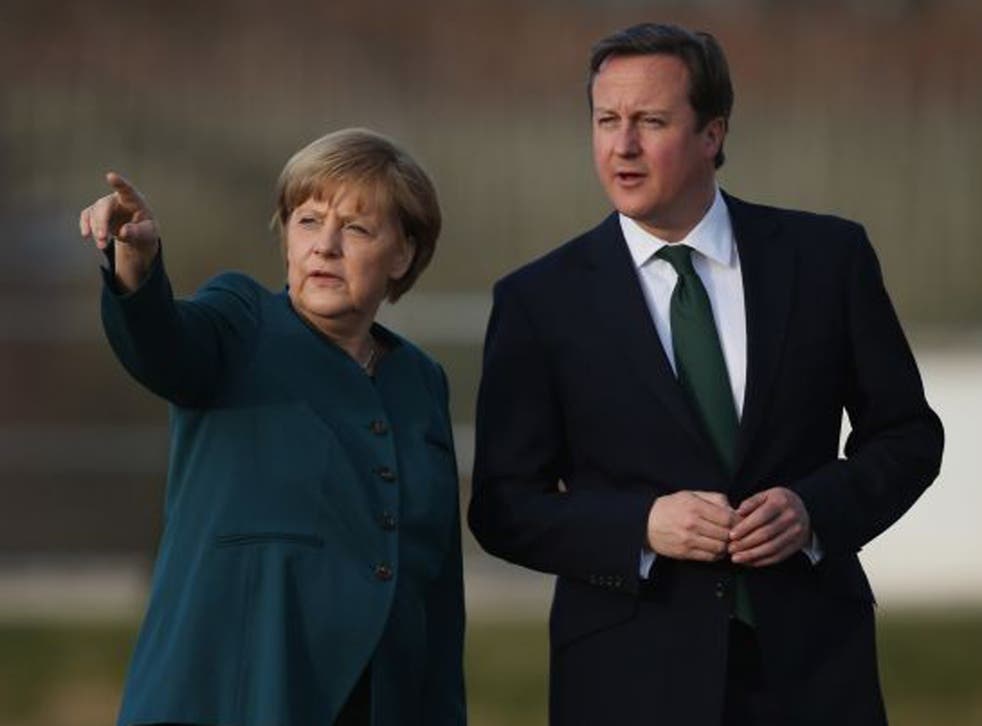 David Cameron and Angela Merkel have called for "urgent" action to make the European Union more "competitive and flexible", Downing Street has said.
The Prime Minister discussed the need for reforms to the single market at the German Chancellor's guest residence at Schloss Meseberg.
Officials said the two leaders agree that the EU treaties would have to be changed, which Mr Cameron is banking on to renegotiate the UK's position in the EU, although no agreement was reached on what form the changes would take, or when they would take place.
"They both agree that further changes to the treaty will be needed in the future. What and when are issues that are obviously still to be decided," one official said.
Ms Merkel is anxious that Britain should remain in the EU and has made no secret of her concerns about Mr Cameron's plan to stage a referendum on continuing membership if the Conservatives win the next general election in 2015.
A Downing Street statement said: "On the EU, the PM set out his approach to European reform, following on from his speech in January. They agreed on the urgent need to make Europe more competitive and flexible and talked about ways to achieve this. And they discussed how we can work together in the run-up to the May and June European councils to make further progress."
Mr Cameron and Ms Merkel also agreed that they need to show "global leadership" in tackling tax evasion and tax avoidance.
While Germany is still resisting pressure from Britain and France to lift an EU arms embargo to allow equipment to go to the Syrian rebels, both leaders concluded that the "moderate" elements of the opposition to the Assad regime need to be strengthened.
Putting on a united front, Ms Merkel invited the Prime Minister to bring his wife and three children to stay at the Baroque palace. The Chancellor gave the Cameron children presents: Florence received a teddy bear, Nancy a painting set and Arthur some Lego. The Camerons presented Ms Merkel and her husband with a Denby tea set.
Register for free to continue reading
Registration is a free and easy way to support our truly independent journalism
By registering, you will also enjoy limited access to Premium articles, exclusive newsletters, commenting, and virtual events with our leading journalists
Already have an account? sign in
Join our new commenting forum
Join thought-provoking conversations, follow other Independent readers and see their replies