David Cameron wins 'no Greek bailout' battle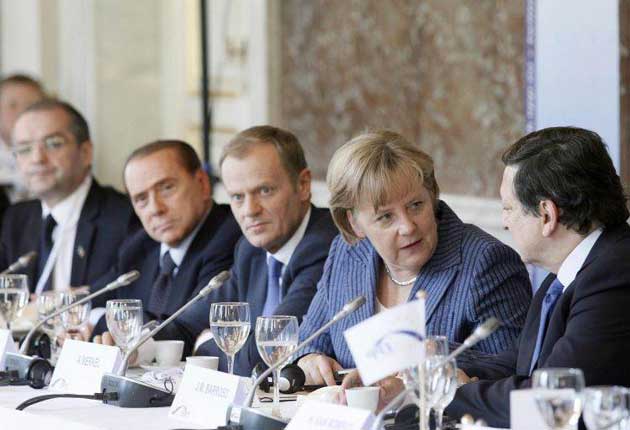 Britain claimed victory over Germany last night after a power struggle over whether UK taxpayers should contribute to a planned second European Union bailout for the ailing Greek economy.
At a two-day summit in Brussels, EU leaders showed "solidarity with strings" by telling George Papandreou, the Greek Prime Minister, they would release the latest €12bn (£10.65bn) of the €110bn aid agreed last year to help Athens avoid defaulting on its loans – but only if the Greek Parliament backs his government's tough austerity measures in a critical vote next Tuesday.
David Cameron vowed to oppose any British contribution to a further €120bn bailout for Greece due to be finalised next month. But Angela Merkel, the German Chancellor, came under strong pressure from her own Parliament to ensure the second package draws on a €60bn EU fund to which Britain contributes 12 per cent.
Although she has reassured Mr Cameron she will seek to prevent UK involvement, German officials signalled that Britain could be forced to play its part. Decisions on the European Financial Stability Mechanism (EFSM) are taken by qualified majority voting – so Mr Cameron could not veto a move to include Britain.
A working dinner last night at which EU leaders discussed the economy was overshadowed by the turmoil in Athens. Mr Cameron argued successfully that the second bailout should be funded by the 17 members of the eurozone – like the first package – rather than all 27 EU nations.
Late last night Hermann van Rumpuy, the EU Council President, confirmed that Britain would not have to contribute to the second EU package for Greece.
Although the UK could still have to find its share of the International Monetary Fund's new loan guarantees for Athens, Downing. Street sources hailed the EU leaders' decision to restrict Europe's second bailout to members of the eurozone. "We welcome this. It is the right outcome for British taxpayers," one said.
Ms Merkel previously assured Mr Cameron she would not seek a British contribution if he backed a change to EU treaties to create a permanent EU emergency fund to operate from 2013. But German politicians claim that has been overtaken by an obligation under German law for the fund to be called upon.
The EU leaders issued a statement opening the door to a second rescue package if Greece took urgent action in the coming days. Crucially for Mr Cameron, they agreed that the programme would be "jointly supported by its euro area partners and the IMF in line with current practices.".
Speaking in Prague en route to the summit, the Prime Minister said: "Britain was not involved in the first bailout of Greece, that was something done by eurozone members... As we are not members of the eurozone, we have not been involved in these discussions at all. So it would be quite wrong now to ask us to contribute."
At last night's dinner, Mr Cameron warned fellow EU leaders that the time had come to "go for growth". He proposed a raft of measures to cut the burden of red tape on small firms caused by EU regulations.
The Prime Minister warned Europe would fall further behind the rest of the world unless it tackled its structural problems – and said Britain was "leading by example" by cutting its deficit.
Other EU leaders urged Greece's centre-right opposition party to drop plans to vote against the austerity measures. Fredrik Reinfeldt, the Swedish Prime Minister, said it was "important that no Greek political leader tells the Greek people that they have a shortcut".
But Antonis Samaras the opposition leader, rejected pleas for a cross-party consensus, saying his country's Socialist Government was calling for more taxes in an economy in [an] unprecedented recession.
He said: "We need corrected policy measures to ensure the economy recovers and we can pay back our debt."
Join our commenting forum
Join thought-provoking conversations, follow other Independent readers and see their replies