World leaders take part in 'refugee role play' at Davos summit
The simulated workshop creates an emotional connection with the refugee crisis "far more lasting than data and rhetoric", say organisers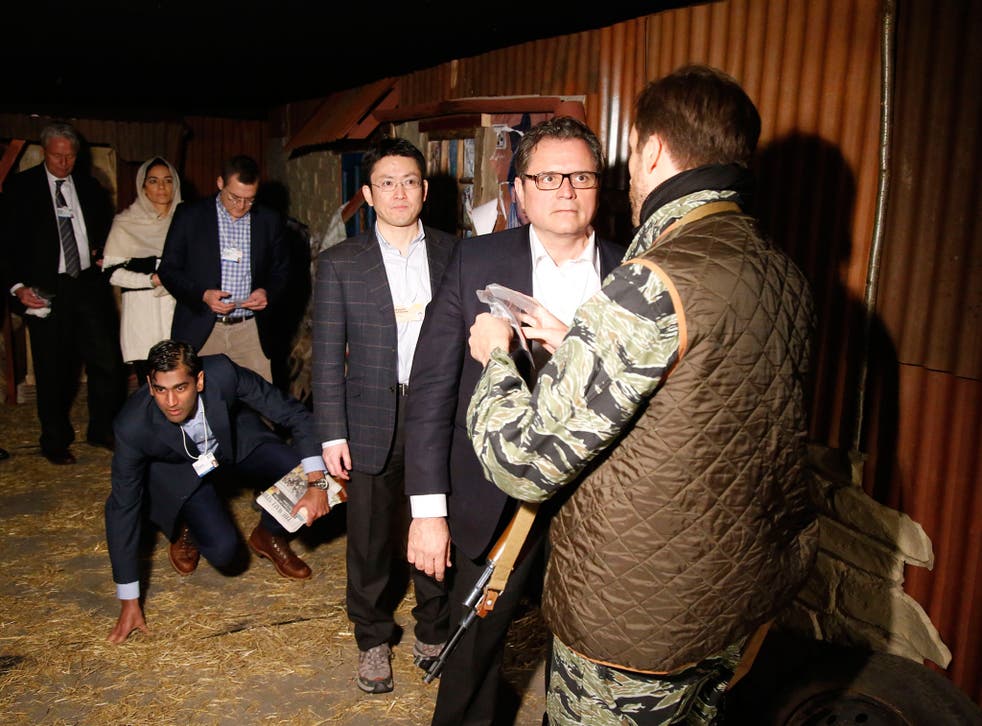 Europe's refugee crisis has been debated at Davos World Economic Forum by the great and the good, almost none of whom have experienced being without shelter, safety or food, at the mercy of foreign authorities.
But 'A Day in the Life of a Refugee', a simulated 75-minute workshop run by the non-profit Crossroads Foundation for some of Davos' 2,500 delegates, aimed to "re-create some of the struggles and choices [refugees] face to survive" .
Participants, who included the Turkish Prime Minister's wife and the US Ambassador to Switzerland, had to trade food for valuables, fill out identity papers and endure orders from uniformed soldiers with fake weapons.
"Dead bodies, gunfire and orders shouted in foreign languages can unsettle participants, and lead to a deeper empathy of the challenges of real refugees", a Crossroads Foundation spokesman told The Local.
"Participants are finding that the emotional connection with the crisis is far more lasting than data and rhetoric."
US Ambassador to Switzerland Susi G Levine called it "an intense, powerful way to build empathy". Her workshop group, which included the Turkish prime minister's wife Sare Davutoğlu, had to "use ID cards, cover our hair (for women), experience abuse, ensure sensory overload, feel humiliated and more", she wrote on Facebook, adding "I highly recommend doing it".
Some of the people portraying soldiers were former refugees, she said.
Crossroads Foundation hopes that the scenario, informed by displaced persons and aid workers, highlighted how the "military arrogance, corruption, disempowerment and frustration" endured by refugees need solutions from global leaders.
"Many participants come out of the simulation crying," Crossroads' senior spokesman David Begbie told Deutsche Welle. "Empathy is the key to a better world," he said, "then action can follow."
As the foundation says on its website, "you cannot understand a man until you have walked a mile in his shoes".
More than a million refugees arrived in Europe last year. During the first three weeks of January this year, 35,000 have entered Europe compared to 1,600 during the whole of last January.
Register for free to continue reading
Registration is a free and easy way to support our truly independent journalism
By registering, you will also enjoy limited access to Premium articles, exclusive newsletters, commenting, and virtual events with our leading journalists
Already have an account? sign in
Register for free to continue reading
Registration is a free and easy way to support our truly independent journalism
By registering, you will also enjoy limited access to Premium articles, exclusive newsletters, commenting, and virtual events with our leading journalists
Already have an account? sign in
Join our new commenting forum
Join thought-provoking conversations, follow other Independent readers and see their replies