Denmark approves controversial refugee bill allowing police to seize asylum seekers' cash and valuables
Human rights groups also objected to measures delaying family reunifications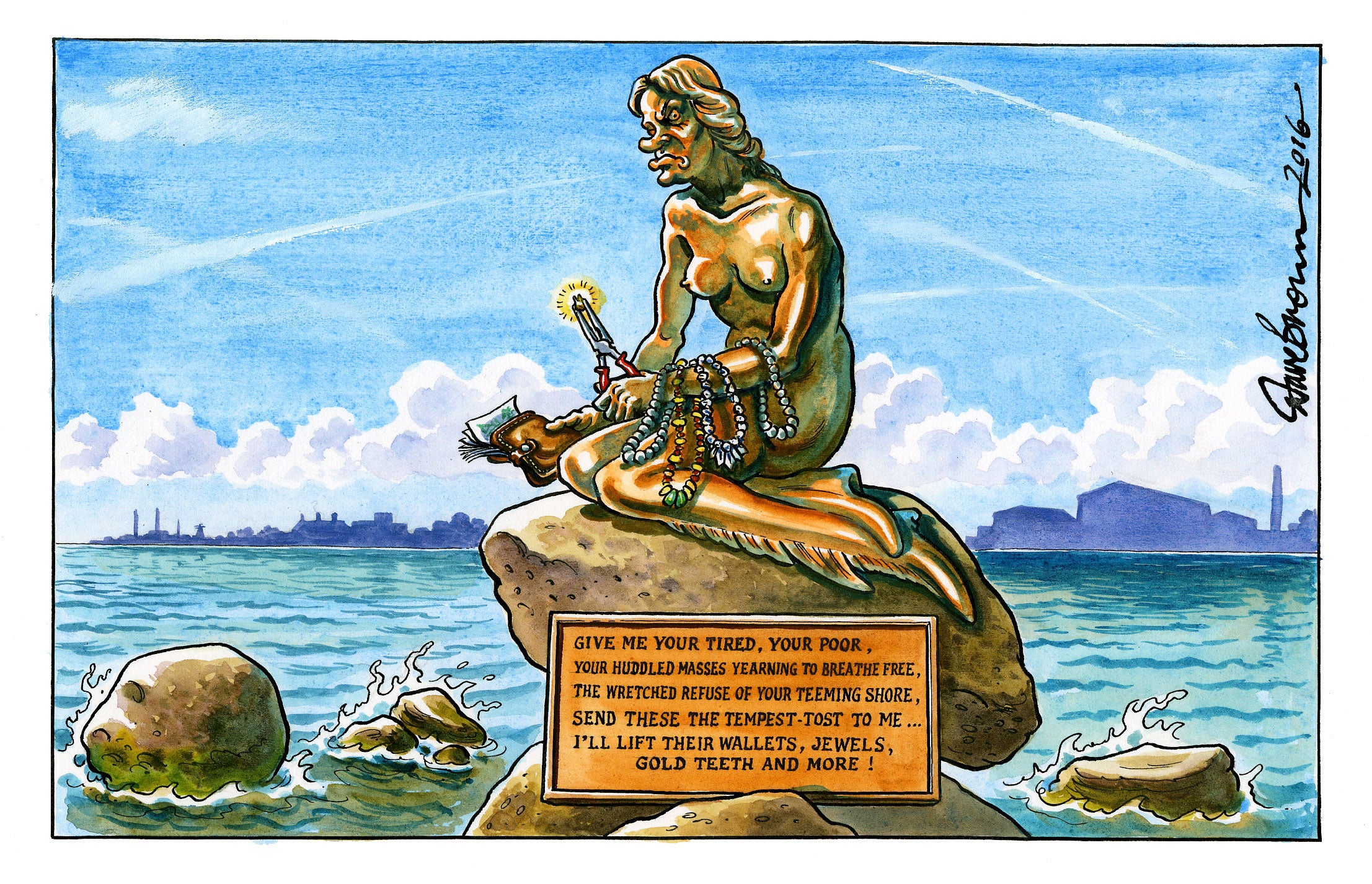 The Danish parliament has approved a controversial law allowing authorities to seize refugees' cash and valuables, and delay them being reunited with their families.
After more than three hours of debate, the minority Liberal Party government's bill was adopted by 81 votes to 27, with the support of the opposition Social Democrats and the anti-immigration Danish People's Party (DPP). One politician abstained and 70 others were absent.
Martin Henriksen, immigration spokesman for the populist DPP, used the debate to call for an extension of the border controls that have currently been introduced on a temporary basis.
"We are talking about a real exodus," he said. "We need tighter immigration rules."
Opponents criticised the legislation for tightening Denmark's laws and called for a common European solution to the refugee crisis.
"This is a symbolic move to scare people away," argued Johanne Schmidt-Nielsen, of the opposition left Red-Green Alliance.
Prime Minister Lars Lokke Rasmussen previously called the proposals the "most misunderstood bill in Denmark's history" in the wake of international criticism.
The United Nations warned the measures would "fuel fear and xenophobia" but Danish politicians claimed they were "about creating equality between migrants and Danes".
Denmark: launches anti-migrant ad campaign
Arriving asylum seekers will be allowed to keep up to 10,000 kroner (£1,000) in cash and valuables but anything above that will be seized to pay for their stay.
Denmark's original proposals set the threshold at 3,000 kroner (£300) for cash and "tangible assets of considerable value" but it was increased in the wake of international criticism.
Authorities also exempted sentimental items like wedding rings after comparisons were made to the treatment of Jews by Nazi Germany during the Holocaust.
The current figure is in line with welfare rules for Danes, who must sell assets worth more than 10,000 kroner (£1,000) before they can receive state benefits.
A spokesperson for the Danish government confirmed that body and luggage searches will be carried out but said asylum seekers will "always be able to keep assets which are necessary to maintain a modest standard of living, e.g. watches and mobile phones".
"Those people who can manage by themselves shouldn't have assistance from the state," migration minister Inger Stoejberg said.
But critics have accused Denmark of seeking to "send a message" to refugees as the country seeks to slow arrivals.
The country received 21,300 asylum applications last year, one of the highest rates per capita in the EU, and has introduced tougher border controls alongside neighbouring Sweden.
Tuesday's bill includes several other measures regarding asylum seekers, including raising the waiting period before refugees can apply for their families to join them from one year to three.
The legislation also allows officials to consider "integration potential" in resettlement cases, cut temporary residence permits to two years and increase administrative fees.
Refugee crisis - in pictures
Show all 27
Nils Muiznieks, the Council of Europe Commissioner for Human Rights, wrote to Denmark's immigration minister to oppose the property seizures.
"I believe that such a measure could amount to an infringement of the human dignity of the persons concerned," he said.
The family reunification delays have also been heavily criticised, with Denmark being accused of violating the European Convention on Human Rights.
Jonas Christoffersen, the director of the Danish Institute for Human Rights, told Al Jazeera: "The right of refugees to be reunited with their family is protected by numerous international conventions ratified by Denmark.
"We believe the government is overstepping international law by implementing this bill."
Amnesty International said the country had started a "race to the bottom" as support for refugees continues to wane across Europe.
"To prolong the suffering of vulnerable people who have been ripped apart from their families by conflict or persecution is plain wrong," John Dalhuisen, its Europe and Central Asia Director said.
"This is a sad reflection of how far Denmark has strayed from its historic support of international norms enshrined in the Refugee Convention.
"European states must stop this dismal race to the bottom and begin to meet their international obligations, by upholding refugees' human rights and dignity. Anything less is a betrayal of our common humanity."
Additional reporting by agencies
Join our commenting forum
Join thought-provoking conversations, follow other Independent readers and see their replies