Denmark refugee bill: Everything you need to know about law allowing police to seize asylum seekers' cash and valuables
The controversial bill is expected to be approved in the wake of international opposition
Lizzie Dearden
Tuesday 26 January 2016 11:01 Comments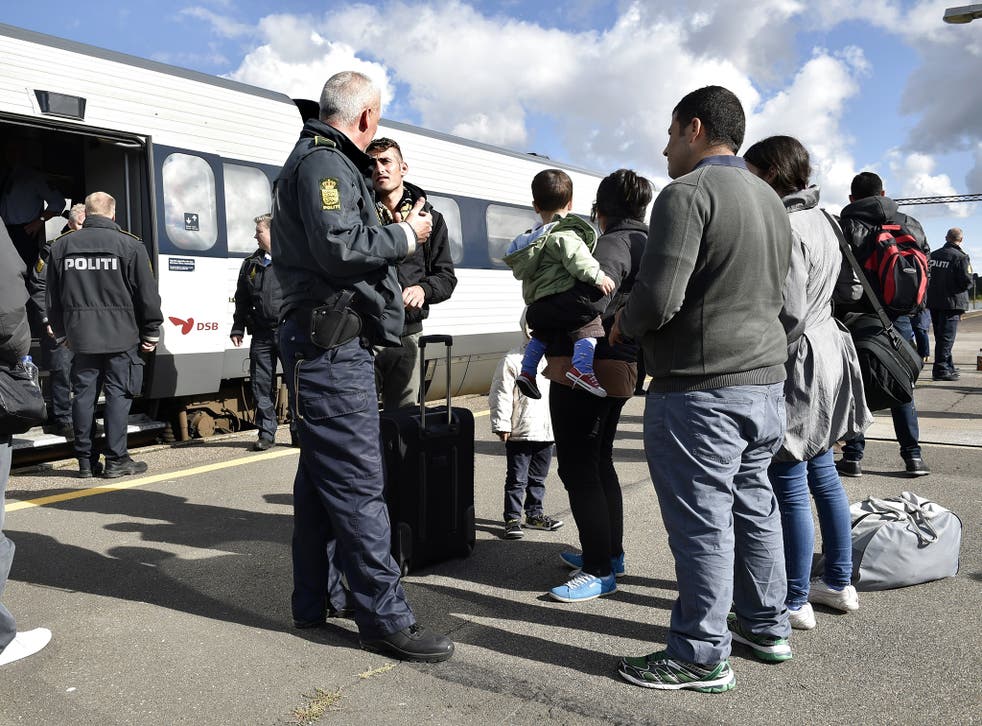 Politicians in Denmark are expected to vote today on a controversial law that would force refugees to hand over cash and valuables and delay family reunifications.
The bill has provoked international debate since it was announced last month, with the United Nations warning it would "fuel fear and xenophobia" but Danish politicians claiming it is "about creating equality between migrants and Danes".
What does the bill propose?
Arriving asylum seekers would be allowed to keep up to 10,000 kroner (£1,000) in cash and valuables but allow anything above that to be seized to pay for their stay.
The original proposals set the threshold at 3,000 kroner (£300) for cash and "tangible assets of considerable value" but it was increased in the wake of international criticism.
Authorities have also exempted sentimental items like wedding rings after comparisons were made to the treatment of Jews by Nazi Germany during the Holocaust.
"The Danish Immigration Service shall ensure that asylum seekers receive the necessary support while their asylum applications are being considered," a statement in December said.
"The support includes basic maintenance, health care and accommodation."
A spokesperson for the Danish government confirmed that body and luggage searches would be carried out but said asylum seekers will "always be able to keep assets which are necessary to maintain a modest standard of living, e.g. watches and mobile phones".
The bill would bring in several other measures regarding asylum seekers, including raising the waiting period before refugees can apply for their families to join them from one year to three.
The legislation would also allow officials to consider "integration potential" in resettlement cases, cut temporary residence permits to two years and increase administrative fees.
Why is the government trying to do it?
Prime Minister Lars Lokke Rasmussen has called the plan the "most misunderstood bill in Denmark's history".
Members of the Danish government have said the measure merely intends to cover costs for food and lodging.
"Those people who can manage by themselves shouldn't have assistance from the state," migration minister Inger Stoejberg said.
Anders Vistisen, an MEP from the right-wing Danish People's Party, said Danes who suddenly become unemployed are also expected to sell their most valuable possessions to receive state support.
"The new law is about creating equality between migrants and Danes, so that everyone under the welfare system has the same possibility to receive public benefits," he told The Local.
A spokesperson for the government said it was in line with current laws that asylum seekers with sufficient funds to support themselves should not also receive support from the Immigration Service.
But critics have accused Denmark of seeking to "send a message" to refugees as the country seeks to slow arrivals.
The country received 21,300 asylum seekers last year, one of the highest rates per capita in the EU, and has introduced tougher border controls alongside neighbouring Sweden.
Has there been any opposition?
Yes, the bill has been highly controversial both within Denmark and internationally.
A Danish MEP defected from the Liberal Party immediately when it was announced, saying the move showed his former party were pandering to right-wing populists.
"It cannot be right that we have to accept that they take the last bits of jewellery and the last dignity from refugees when they arrive to Denmark," Jens Rohde said.
And he was not alone in his criticism. Nils Muiznieks, the Council of Europe Commissioner for Human Rights, wrote to Denmark's immigration minister to oppose the law.
"I believe that such a measure could amount to an infringement of the human dignity of the persons concerned," he said, adding that he was also deeply concerned at parts of the law that would delay refugees joining their families.
Video: Danish government launches anti-migrant campaign
The UN refugee agency (UNHCR) said the bill would "fuel fear and xenophobia".
In its report on the legislation, it said the proposals were "evidently aimed at conveying a message to make it 'less attractive' to seek asylum in Denmark, and is a deeply concerning response to humanitarian needs".
The UNHCR also highlighted that the valuables refugees entering Demark have managed to retain are "precious" and "often represent the only assets he or she managed to save before the flight from persecution or war".
An online petition entitled "No to state confiscation of asylum seekers' valuables" had gathered more than 16,700 signatures by the day of the vote.
Plans to delay family reunification have also been heavily criticised, with Denmark being accused of violating the European Convention on Human Rights.
Jonas Christoffersen, the director of the Danish Institute for Human Rights, told Al Jazeera: "The right of refugees to be reunited with their family is protected by numerous international conventions ratified by Denmark.
"We believe the government is overstepping international law by implementing this bill."
Are any other countries doing the same?
Yes – two are so far and more could follow.
German authorities have started confiscating jewellery, valuables and cash from refugees entering from Austria.
Joachim Herrmann, the Bavarian interior minister, said anything worth more than €750 (£570) can legally be seized in his state.
"The practice in Bavaria and the federal rules set out in law correspond in substance with the process in Switzerland," he added.
In neighbouring Baden-Württemberg, asylum seekers can only keep money and valuables worth €350 (£265).
Swiss authorities recorded 112 cases where assets over 1000 francs (£690) were confiscated from asylum seekers last year, when around 45,000 refugees arrived in the country.
The state secretariat for migration said anyone who leaves voluntarily within seven months of arrival can take their money and belongings back.
How are refugees reacting?
Mehran Ziai, a Kurdish asylum seeker from Iraq, told NPR he would have avoided Denmark if he had known about the law.
He said Hungarian border guards had taken his phone, clothes and about $130 (£90) in cash, sot there was nothing left to take.
"I had no choice but to come to Europe but maybe I wouldn't have come to Denmark, because I see now they don't like refugees here," he added.
"Maybe I would have gone to Sweden or Norway or another country."
Additional reporting by agencies
Register for free to continue reading
Registration is a free and easy way to support our truly independent journalism
By registering, you will also enjoy limited access to Premium articles, exclusive newsletters, commenting, and virtual events with our leading journalists
Already have an account? sign in
Join our new commenting forum
Join thought-provoking conversations, follow other Independent readers and see their replies