Dortmund bus attack 'may have been carried out by right-wing extremists who attempted to frame Islamists'
Investigators also examining possibility explosives came from German military stocks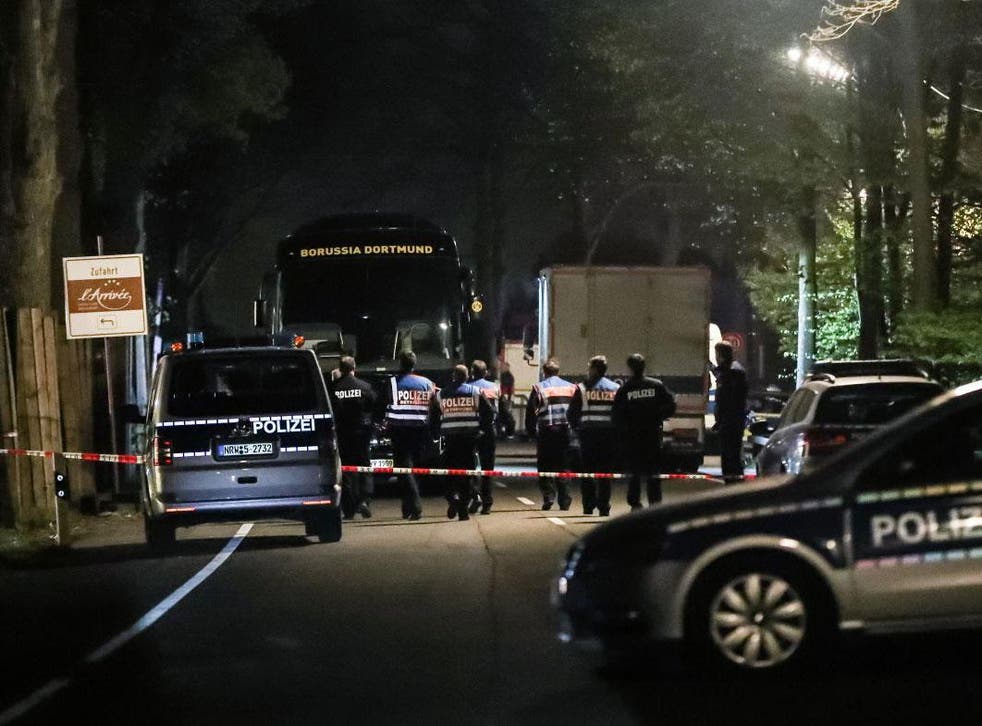 Prosecutors are investigating whether right-wing extremists may have bombed a football team bus in Germany and then attempted to frame Islamists.
Investigators are also exploring the possibility that the explosives used in the bombing originated from the country's military.
"The explosives in the pipe bombs, which were filled with metal pins, might have come from the stocks of the German armed forces but that's still being checked," newspaper Welt am Sonntag cited a source involved in the investigation as saying.
Three identical letters found at the scene of Tuesday's attack claimed they were carried out "in the name of Allah", calling on Germany to withdraw its reconnaissance planes from Syria.
Suspicion immediately turned to Isis but no claim of responsibility was issued by the terrorist group, with a second claim emerging from a left-wing radical group online not considered credible.
Borussia Dortmund Team bus attack

Show all 8
A third claim has now been sent to the German newspaper Tagesspiegel, from a far-right group claiming it was behind the triple bombing in Dortmund and threatening further attacks.
The anonymous email included references to Adolf Hitler and railed against multiculturalism, saying the bombing was the "last warning" before "coloured blood will flow" on 22 April.
That is the date of huge left-wing demonstrations planned at the Alternative für Deutschland (AfD) convention in Cologne, protesting against the populist party's alleged racism, xenophobia and neo-Nazi links.
Federal prosecutors said they were examining the email amid speculation that the original letters may have been a ploy to frame Islamists and divert investigators from the true perpetrators, while stoking tensions.
"The overall circumstances lead us to believe it's most likely that the perpetrators have a right-wing background," an investigator told Bild.
Frauke Köhler, a spokesperson for the prosecutor's office, confirmed that "significant doubts" had emerged over the letters left at the scene of the bombing but did not give further details.
The documents, which were written in German, opened with the Islamic bismillah – a phrase meaning "in the name of Allah, the most gracious, the most merciful" that is commonly invoked in the original Arabic.
Borussia Dortmund Team bus attack

Show all 8
The letters specifically demanded the withdrawal of German Tornado reconnaissance jets from Syria and the closure of Ramstein Air Base, which houses the US Air Force, adding that until those aims were met "all disbelieving actors, singers, athletes and celebrities in Germany and other Crusader nations are on the death list of the Islamic State".
The letters do not fit with patterns seen in previous Isis-linked terror attacks in Germany and across Europe, where the group's supporters have commonly recorded themselves pledging allegiance to Abu Bakr al-Baghdadi or sent messages to militants directly.
Most claims are generic, citing calls to action by Isis propagandists to kill the "kuffar" around the world and offering no conditions or prospect of negotiation, and are followed by an official claim by the group.
Ralf Jäger, the interior minister for North Rhine-Westphalia, described the letters as "unusual" and a state security committee meeting heard that left and right-wing extremism, as well as Islamism, were being investigated as possible motives.
Isis has remained silent on the Dortmund bombing, while one of its former fighters arrested in connection with the case has not been charged with involvement.
Prosecutors said Abdul Beset A, a 26-year-old Iraqi man, led a unit of Isis fighters carrying out abductions and killings in Iraq in 2014 before travelling to Turkey and then onwards to Germany early last year.
He has maintained contact with Isis members from the country, investigators said, but no link to the Dortmund plot has been found.
With no suspects in custody, investigators are looking into all possibilities, including that Isis supporters may have chosen to act without coordination with the group.
There is also doubt over a claim of responsibility purporting to be from a far-left group that was published by the Indymedia website but later taken down because "neither its content nor language pointed to a left-wing background".
The post claimed Borussia Dortmund's team bus was attacked as a "symbol of BVB's policy", which did not deal with racists, Nazis and right-wing populists severely enough.
"After an initial assessment there are considerable doubts about the authenticity of this claim," the federal prosecutor said.
Players were heading to their stadium for a Champions League match against AS Monaco on Tuesday when three explosions hit at about 7.15pm local time (6.15pm BST).
The devices, loaded with shrapnel, were hidden in hedges and had a blast radius of more than 100 metres, prosecutors said.
Spanish player Marc Bartra and a police officer escorting the bus on a motorbike were injured but safety glass on the bus and luck prevented further casualties.
Dortmund played their delayed first leg quarter-final match against Monaco the following day and were hosting Eintracht Frankfurt in the Bundesliga on Saturday, amid heightened security.
Register for free to continue reading
Registration is a free and easy way to support our truly independent journalism
By registering, you will also enjoy limited access to Premium articles, exclusive newsletters, commenting, and virtual events with our leading journalists
Already have an account? sign in
Register for free to continue reading
Registration is a free and easy way to support our truly independent journalism
By registering, you will also enjoy limited access to Premium articles, exclusive newsletters, commenting, and virtual events with our leading journalists
Already have an account? sign in
Join our new commenting forum
Join thought-provoking conversations, follow other Independent readers and see their replies