Drones deployed to keep migrants and refugees out of Channel Tunnel amid warnings of post-Brexit surge
Eurotunnel said increasing attempts were expected ahead of expected migration restrictions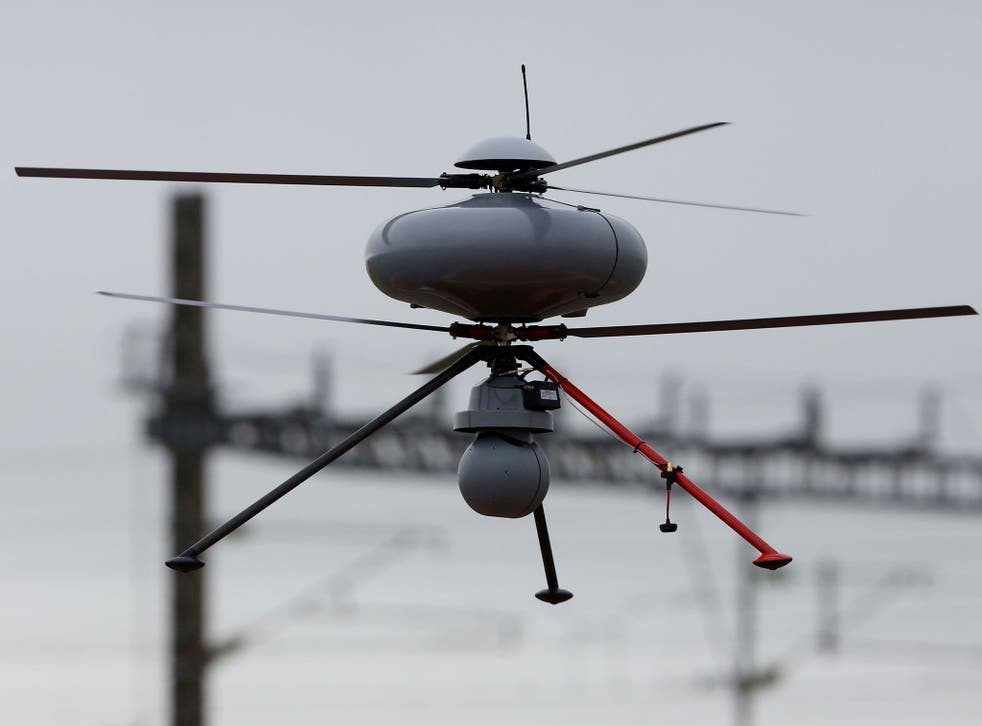 Drones equipped with thermal imaging cameras are being deployed on the French side of the Channel Tunnel to track asylum seekers attempting to cross to the UK.
Eurotunnel said the measure had been under consideration since the refugee crisis intensified last year but the deployment today comes amid speculation that there could be a renewed rush by migrants living in Calais following the vote for a Brexit.
The company, which operates the 30-mile tunnel between Britain and France, demonstrated two drones in rain and high winds on Monday.
A spokesperson for Eurotunnel told The Independent they will be deployed to respond to alerts on the railway tracks where asylum seekers have been hit by trains and electrocuted attempting to reach England.
"We already have 500 other cameras and fences with motion sensors, as well as additional security guards of our own and the gendarmerie, and if any of those other security measures alert that that there is a presence we will send up the drones to over-fly the area and use either their ordinary or thermal imaging cameras," he said.
"We can survey the situation and then decide on any intervention."
The surveillance drones will be unable to go into the tunnel itself but will work in the 18 mile secure zone surrounding its entrance in France.
"We always felt that an overview would be a beneficial development as part of a raft of measures we will continue to develop," the spokesperson said.
"We want to make sure we stay ahead of the curve in case there is any increase in numbers in the future."
Jacques Gounon, the firm's chief executive and chairman, warned that the vote for a Brexit gave migrants a "clear signal" that the Anglo-French border would become "a huge wall, similar to the Berlin Wall, almost impossible to overcome".
He told Press Association: "This could generate an additional new migrant pressure, in order for such people, desperately, to reach the UK before Brexit is enforced.
"So I do think and I'm afraid that we could have an increased migrant pressure during this summer, as a consequence of the Brexit."
The number of refugees crossing from Libya to Italy routinely increases with calmer weather in the summer months, with more than 64,000 migrants arriving over the central Mediterranean Sea so far this year.
Immigration was a key battleground in the EU referendum campaign, with Nigel Farage unveiling a controversial Ukip poster showing a queue of hundreds of immigrants arriving in Europe with the slogan Breaking Point.
Ahead of Thursday's vote there was speculation over whether a Brexit would cause France to back out of a treaty that allows both nations to carry out border checks on the opposite site of the Channel, meaning British authorities can prevent people crossing by train or ferry before they reach English soil.
Demolition of France's 'Jungle camp' continues
"The day this relationship unravels, migrants will no longer be in Calais," French finance minister Emmanuel Macron said in March, suggesting "the Jungle" camp could move to the UK.
Mr Gounon said Eurotunnel did not support any change to the current arrangement but the mayor of Calais suggested that the Touquet agreement of 2003 should be renegotiated.
Natacha Bouchart told French broadcaster BFM TV: "The British must take on the consequences of their choice.
"We are in a strong position to push, to press this request for a review and we are asking the president to bring his weight (to the issue).
"We must put everything on the table and there must be an element of division, of sharing."
The Channel Tunnel and the roads surrounding it have been repeatedly closed by asylum seekers attempting to run inside or stow away on lorries heading to Britain.
In pictures: Calais crisis

Show all 15
Abdul Rahman Haroun, a Sudanese refugee, was arrested in Folkestone last year after dodging trains and power lines walking the entire length of the tunnel.
He was prosecuted under Victorian legislation for "obstructing an engine or a carriage using a railway" and handed a nine-month prison sentence last week.
A survey of refugees living in the Jungle carried out earlier this year by Médecins Sans Frontières (MSF) found that more than 80 per cent of its 6,000 inhabitants were aiming to reach Britain.
An unknown number of asylum seekers have been suffocated, run over, hit by trains, electrocuted in the Channel Tunnel and drowned in desperate attempts to swim to England.
Anglo-French efforts to bolster border security continue, including the investment of millions of pounds on fencing at Coquelles and extra perimeter barriers.
But rising number of refugees are still flocking to camps in Calais, according to census figures released by Help Refugees and L'Auberge des Migrants.
Volunteers said the number of unaccompanied children has risen by almost a third in one month, and that the largest group of migrants were from Afghanistan, followed by Sudan.

Join our new commenting forum
Join thought-provoking conversations, follow other Independent readers and see their replies