Dutch diplomat beaten in Moscow flat in tit-for-tat attack - with 'LGBT' written on mirror
Assailants' motive may be gay rights issues after drawing of a heart was found at the scene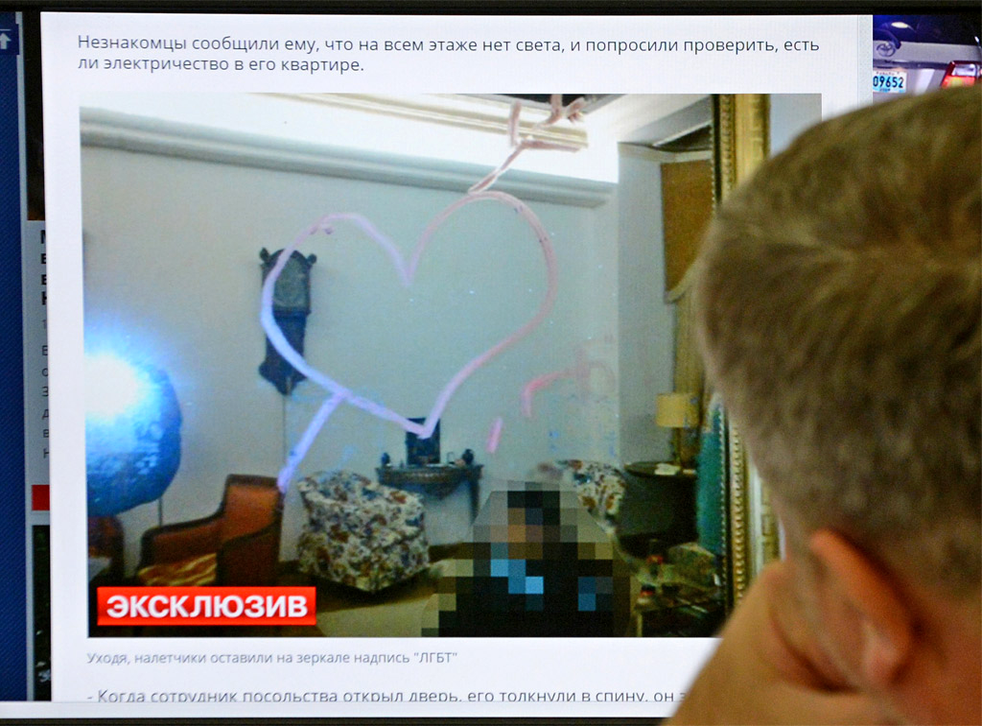 A Dutch diplomat has been beaten by two men in his Moscow flat, further straining relations after police in the Netherlands detained and allegedly beat a Russian diplomat this month.
Citing a law enforcement source, state news agency RIA Novosti reported that an aide to the Dutch ambassador had told police that unknown attackers beat him and left behind a drawing of a heart containing the letters "LGBT" (lesbian, gay, bisexual and transgender). Dutch foreign minister Frans Timmermans then wrote on his Facebook page, confirming that the diplomat had been attacked and "slightly injured" by intruders in his home and was now recovering. He also said he had summoned the Russian ambassador for an explanation.
The Russian Foreign Ministry identified the diplomat as Onno Elderenbosch, the Dutch deputy chief of mission at the Moscow embassy. In a statement later that day, it said foreign minister Sergei Lavrov had called Mr Timmermans to assure him that "competent Russian agencies" were investigating the attack.
The Investigative Committee had previously said it was investigating the incident. Russian news reports said the attackers were disguised as electricians who came to check the fuse box, forcing their way in when Mr Elderenbosch opened the door.
In response to Tuesday's attack, Dutch politicians have clamoured for King Willem-Alexander to cancel a planned visit to Russia next month.
Tensions between Russia and the Netherlands flared after Dmitry Borodin, the Russian embassy's second-ranking diplomat, said he was beaten by police at his home in The Hague on 5 October and briefly detained. President Vladimir Putin demanded an apology, which was soon offered by Mr Timmermans, who nonetheless said he "understands" the police's actions. Dutch media reported the police were responding to complaints from his neighbours that Mr Borodin was drunk and abusing his children.
Mr Borodin's arrest sparked a protest outside the Dutch embassy in Moscow led by nationalist Duma deputy Vladimir Zhirinovsky.
Meanwhile, Russia's food safety watchdog, which in the past has wielded import bans as a form of political pressure, threatened last week to ban imports of Dutch dairy products and tulips.
The burgeoning diplomatic row takes place during the Russian prosecution of 30 people from Dutch-registered Greenpeace ship Arctic Sunrise, including two Dutch citizens, on piracy charges. The Netherlands brought legal proceedings against Russia under United Nations maritime law earlier this month.
The LGBT heart allegedly left by the attackers also seemed designed to raise tensions over gay rights. Moscow gay activist Nikolai Alexeyev said the beating was a "mockery" of the Netherlands and its liberal attitude towards sexual minorities.
Four Dutch filmmakers making a documentary about gay rights were detained in Murmansk this summer and deported.
The souring of relations comes during the Netherlands-Russia Year 2013, a series of events meant to celebrate the ties between the two countries.
Navalny barred from elections
A Russian court has upheld opposition leader Alexei Navalny's embezzlement conviction, barring the street protest leader from running in elections. He was, however, spared jail time by the court, which suspended his five-year sentence.
Navalny had indicated he would like to stand in the Moscow City Duma elections next year. The anti-corruption blogger said he would appeal the decision.
In July, Navalny was convicted of embezzling timber worth 16m rubles (£310,000) from a state timber company in the Kirov region. In an unusual move, he was then released pending an appeal and allowed to run for mayor in Moscow, where he exceeded expectations to receive 27 per cent of the vote last month. Some have speculated that this show of support prevented the regime from imprisoning him.
In typically brash remarks after the verdict, Navalny promised to continue his political activities, posting on Facebook that he would not "shy away from every protest for fear of a violation that will turn the suspended sentence into prison time."
Alec Luhn
Register for free to continue reading
Registration is a free and easy way to support our truly independent journalism
By registering, you will also enjoy limited access to Premium articles, exclusive newsletters, commenting, and virtual events with our leading journalists
Already have an account? sign in
Register for free to continue reading
Registration is a free and easy way to support our truly independent journalism
By registering, you will also enjoy limited access to Premium articles, exclusive newsletters, commenting, and virtual events with our leading journalists
Already have an account? sign in
Join our new commenting forum
Join thought-provoking conversations, follow other Independent readers and see their replies