Geert Wilders brands Mark Rutte 'prime minister of the foreigners' as Dutch elections loom
Right-wing candidate expected to finish in second place in Netherlands vote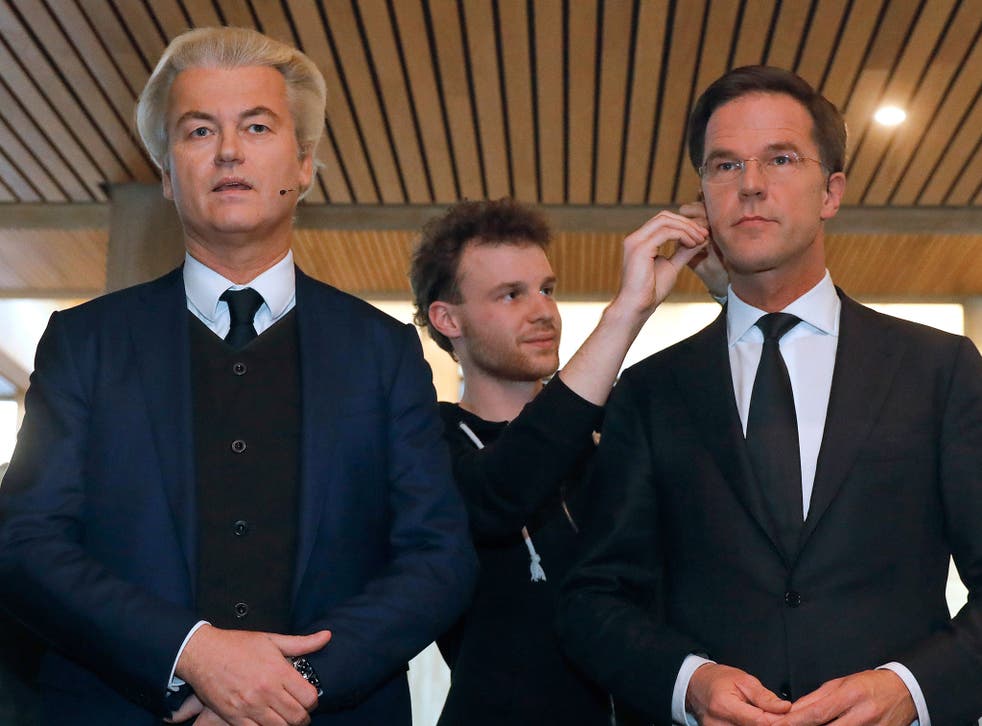 ​Far-right politician Geert Wilders has accused Prime Minister Mark Rutte of prioritising the needs of asylum seekers and immigrants over the Dutch themselves in a bitter televised debate held two days before polls open in the Netherlands.
The populist, anti-Islam candidate also repeated his calls for the Turkish ambassador to be deported amid an ongoing diplomatic row with Ankara that threatens to overshadow Wednesday's elections.
Speaking during a head-to-head debate broadcast live on Dutch TV, Mr Wilders branded his opponent the "prime minister of foreigners".
"We need to chose for our own people, for our own parents, and not for the asylum seekers," he said.
"You are not the prime minister of the Netherlands, but of the foreigners."
He accused Mr Rutte of scaremongering over Brexit, saying the UK was "doing better than the rest", and claimed that Dutch prisoners enjoyed more rights than the elderly population.
The Dutch PM responded that Mr Wilders was using "voodoo numbers" on immigration and again ruled out forming a coalition with the far-right Party for Freedom (PVV), which is considered by other parties as too toxic to go into government with.
Mr Rutte dismissed his rival's plan to close borders and mosques and ban the Koran as "fake solutions".
"While we are focusing on the causes of the refugee crisis, you're wasting all your attention on your Koran police," he said.
Dutch anti-Muslim politician Geert Wilders reacts to hate speech trial
Both men lead parties that proclaim varying degrees of anti-immigrant sentiment, and both are tipped to emerge with extra seats after the row with Turkey and rioting by ethnic Turks in Rotterdam at the weekend.
A snap survey found Mr Rutte's pro-business VVD party on track to win 27 seats in the 150-seat parliament, with 18 per cent of the vote – up three since pollster Maurice De Hond's most recent survey.
Mr Wilders' Freedom Party was in second place with 16 per cent, or 24 seats – an increase of two seats.
Each appears to have received a boost from Dutch voters anxious about immigration amid simmering Dutch-Turkish tensions.
PVV has little chance of forming a government since other parties have ruled out a coalition, but a victory by Mr Wilders win would send shock waves across Europe.
Register for free to continue reading
Registration is a free and easy way to support our truly independent journalism
By registering, you will also enjoy limited access to Premium articles, exclusive newsletters, commenting, and virtual events with our leading journalists
Already have an account? sign in
Register for free to continue reading
Registration is a free and easy way to support our truly independent journalism
By registering, you will also enjoy limited access to Premium articles, exclusive newsletters, commenting, and virtual events with our leading journalists
Already have an account? sign in
Join our new commenting forum
Join thought-provoking conversations, follow other Independent readers and see their replies