Dutch moped riders face being banned from cycle paths over safety concerns
Moped riders can currently use the Netherlands' cycle lanes if they have a small engine and travel at less than 15mph
Senay Boztas
Saturday 21 November 2015 23:04 Comments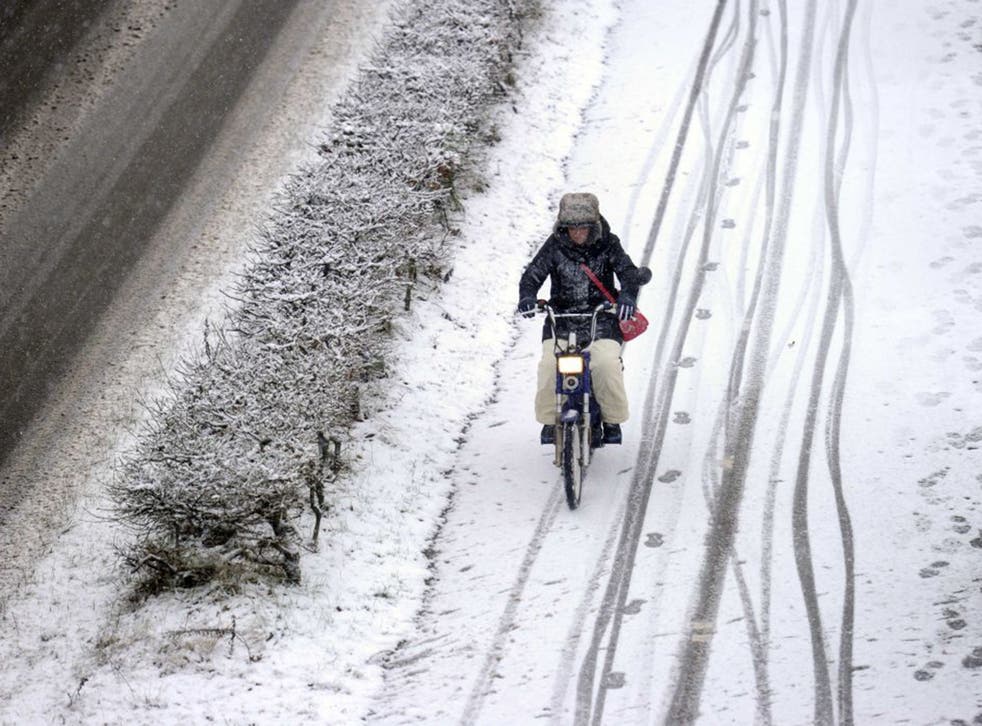 It's a war that could only happen in the bike-mad Netherlands: as cyclists and mopeds battle for space along the 22,000 miles of cycle paths, riders are seeing red.
Moped riders can use the country's cycle lanes if they have a small engine and travel at less than 15 miles an hour, much to the chagrin of many cyclists who see them as a menace.
As mopeds – known as snorfietsen, literally "moustache bikes" – become increasingly popular across the Netherlands, there are concerns about the number of accidents that involve them. The battle has now come to a head, with transport minister Melanie Schultz going ahead with plans to allow local areas to ban mopeds from cycle paths – pushing them on to the road – meaning the riders will have to wear helmets, currently not a requirement.
"Amsterdam has done much research in recent years on how moped riders cause nuisance and danger on bike paths," Ms Schultz wrote in a briefing to the Tweede Kamer, the Dutch parliament. "Bicycle riders, crossing pedestrians (especially disabled ones) and local residents have a problem with the noise, smell and behaviour of moped riders, 80 per cent of whom exceed the speed limit." Her report added that although only 1 per cent of journeys are made by mopeds, they make up one in six road accidents involving serious injuries.
The motion will be voted upon by MPs next month, but most parties are now thought to be in favour. Amsterdam, the Dutch capital, has seen scooter numbers rise by 275 per cent since 2007, and hopes to be the first city to introduce a ban.
The Fietsersbond association, which speaks for the Netherlands' 13.5 million cyclists, is delighted. Saskia Kluit, its director, said: "We are incredibly happy. "There are a lot of accidents between mopeds and cyclists."
Ms Kluit was also quick to play up the environmental advantages of bicycles. "[Mopeds] also reduce the air quality, which is an issue in Dutch cities," she said.
"It is healthier and better for the environment to cycle."
Pieter Litjens, the deputy mayor of Amsterdam with responsibility for transport, is also in favour. "This is great news for the city," he said. "Our bike lanes have become more and more crowded in the last years, and we now have the possibility to improve traffic safety on them. In the next few months, we'll work on a policy to safely move mopeds from bike lanes to the road, including the obligation to wear helmets."
Not everyone is happy. Paul de Waal, a spokesman for the Bovag trade association, which represents moped shop owners, believes that greater enforcement of the current rules would be a better solution.
"We suspect that [the proposed changes] will just make the roadways unsafe, because there is a massive difference between the mopeds going at 15mph and traffic going at 30mph," he said. "It is a curious idea that wearing a helmet will solve the problem.
"People think that mopeds are ridden by 16-year-olds, but in fact most are bought by people of 50 and older. The real solution is better traffic policing and making sure that everyone knows the rules."
Register for free to continue reading
Registration is a free and easy way to support our truly independent journalism
By registering, you will also enjoy limited access to Premium articles, exclusive newsletters, commenting, and virtual events with our leading journalists
Already have an account? sign in
Join our new commenting forum
Join thought-provoking conversations, follow other Independent readers and see their replies