Elena Kotova: a corrupt Russian banker or an innocent pawn in a global power struggle?
She had a glittering career at a top European bank. Now she languishes in a Russian psychiatric hospital accused of soliciting bribes
Mary Dejevsky
Monday 29 April 2013 18:24 Comments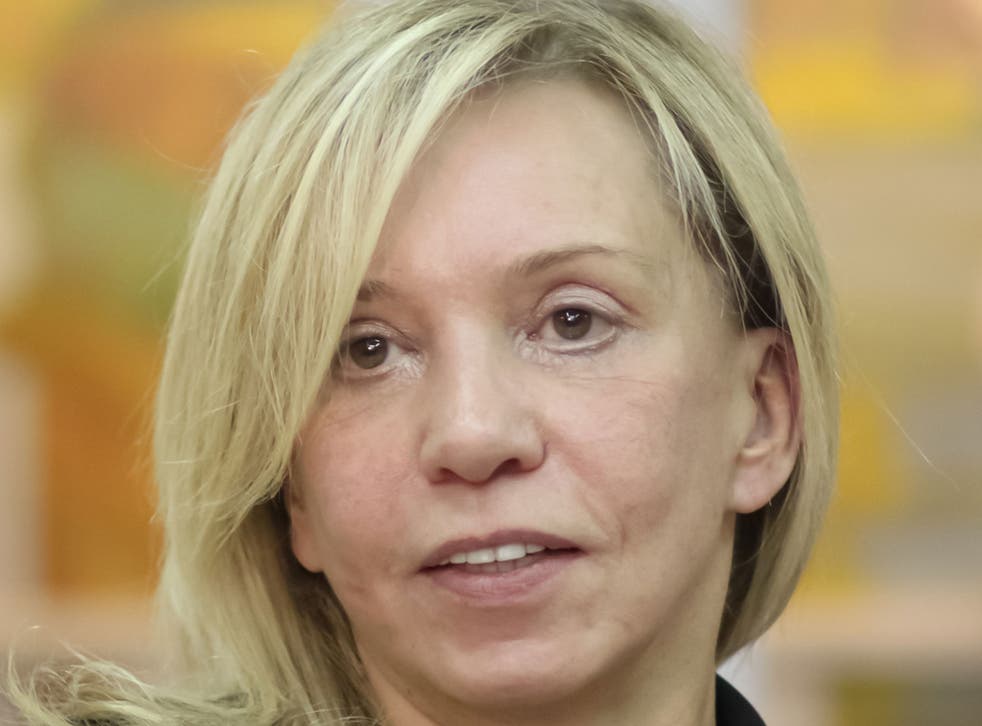 Well before it opened in 1991, the European Bank of Reconstruction and Development was making headlines for the lavishness of its building, popularly dubbed Jacques Attali's castle after the first president whose brainchild it was. Over 20 years, though, the Bank, just north of Liverpool Street station in London, has mostly kept itself to itself, its staff quietly beavering away at providing loans for projects across the European Union and beyond.
While it likes to advertise the good it undoubtedly does, there are some subjects it prefers not to talk about. And one of them is the departure of its former top Russian official, Elena Kotova. Ms Kotova, who was executive director for Russia on the bank's board of directors from 2005 to 2010, has been in Moscow since she resigned, or was sacked – pick your version – in January 2011. Last month she was committed to a Russian psychiatric hospital, supposedly for tests.
Her difficulties began in the summer of 2010 when she was placed under internal investigation by the bank, apparently for corruption. The report was finished in November, and a month later the bank referred her case to the City of London Police – a rare instance of the EBRD having recourse to the British criminal justice system. It also sent her file to the authorities in Russia whose appointee she was. Several things then happened. The diplomatic immunity she had enjoyed as a senior employee of the bank was lifted, with the acquiescence of the Russian government. Criminal investigations were launched in both countries; her passport was confiscated and her bank accounts frozen. In January she was charged in Moscow with attempting to solicit a €1m (£840,000) bribe. Her recent committal to the Kashchenko hospital was ordered by a Moscow court. She was given an hour's notice of the hearing.
Even by the standards of Russian caprice, the trajectory of Elena Kotova's fall, from favoured official with a jet-set lifestyle to psychiatric patient, has been precipitous. I met her in Moscow last October. I had been keen to talk to her because the scanty reports that had reached the media piqued my curiosity. This was, after all, Russia's top official at the EBRD who had left under suspicion of corruption. That would be a huge scandal by any standards yet the actual facts, in so far as they had been reported, seemed to leave many questions without answers.
When I met her at a Moscow hotel, she said she was running short of money because she had no access to her UK funds. She could not travel and saw her husband, son and grandson only rarely. She seemed, understandably, unsure which way to turn, but not unbalanced.
Now there are many reasons why you might not immediately warm to Ms Kotova. She is not your average Russian prisoner of conscience. She is not a Pussy Rioter, or a campaigner for democracy or against corruption. Until her enforced parting with the bank, life had been kind to her; she had ridden the wave of opportunities open to the most ambitious individuals in post-Soviet Russia. At 58 she is elegant, good-looking and highly educated with all the appearance of being a fully paid-up member of Russia's new elite.
As Soviet Communism collapsed she had a knack of being in the right place. In 1991 she was involved in the privatisation of Moscow's housing stock. She went from there into banking, first in Russia, then as a government nominee in Washington, at the World Bank and the IMF. The early 2000s saw her back in Moscow as vice-president of Russia's Foreign Trade Bank, from where, in 2005, she was parachuted to her country's seat on the board of the EBRD. She was reappointed to a second term in 2008.
For the best part of 20 years she had the world at her feet. She holidayed in sought-after places; she has a flat in Mayfair and two houses in the US, in addition to two flats in Moscow. In common with most members of Russia's international elite, she had at least one offshore bank account.
Of her work at the EBRD, she told me she was always highly professional. It was not after all her first senior banking job. Her role, she said, was to represent, and lobby on behalf of, Russia – which is one reason why, she said, she found the bribery allegations strange. Her position gave her no authority or discretion about which projects received loans.
To me, and to others she has spoken to, she admitted one mistake, which she called "foolish". A condition of her appointment at the bank was that she declared any outside business interests. She omitted to mention a shell company in Switzerland into which she had – as she told me – combined her Russian property business and other concerns to keep them separate from her work and her bank salary. An insider view, from Russia, is that this was common practice among Russians who worked in government or international organisations and was seen as a fairly unusual mark of honesty as it showed an understanding of the need to keep the personal and the professional apart. Others might suspect her motives, and her non-declaration would obviously be seen less indulgently in the West – as it was by the bank where a ban on outside interests means just that.
As I understand from her, it was the fact that she had kept business interests and not declared them to the bank while in London that prompted her resignation – or sacking – not any conclusions of the investigation. Whether or not there was a conflict of interests – and she insists there was not – what she did constituted a clear breach of the rules. Once it came to light, she had little choice but to resign.
But you don't have to like Ms Kotova – though I did – to sense that something very fishy, if not downright malicious, has been going on. So far as can be pieced together – and the EBRD will not release the findings of its intern al probe; the City of London Police will give no details of their investigation, and I have not had access to the relevant Russian authorities – the formal charge, which she denies, is that she solicited a €1m bribe from a Canadian entrepreneur in return for approving an EBRD loan of €95m for an oil and gas project in Russia.
She says she first suspected something might be wrong in the spring of 2010 when her office computers kept crashing. It is her view that the bank's compliance office initiated an investigation into her before she was officially informed about it, which would be a breach of her rights.
She and her UK lawyer have identified other peculiarities of the bank's investigation. They find it strange that, as part of what was an internal investigation, the EBRD brought in a top-flight US lawyer, Mark Mendelsohn, who was known for his expertise in money-laundering. Was there really a shortage of such expertise, she asks rhetorically, in London?
Ms Kotova also claims any evidence against her is purely circumstantial. This might explain another strange aspect: that the criminal investigation in UK, and the single charge she faces in Moscow, relate only to soliciting a bribe, not to receiving one, which suggests there is no evidence of any money changing hands.
She argues that several parts of the story, such as the existence of her Swiss shell company, are open to different interpretations. The fact that she left London before any criminal investigation was opened, she says, was not to escape, but because she had already planned a holiday in America. That she then returned to Moscow without passing through London was on the insistence of the Russian authorities. She also believes the supposed evidence against her – communications with a Russian-born Canadian who owns a Canadian-registered company – can be read in a different way from the one that places her in the dock, as someone perhaps expecting to pay a bribe, rather than solicit one. A more conspiratorial view might speculate that she was the victim of a sting operation that was designed to smoke out corruption at the bank.
Ms Kotova's theory, in so far as she has one, is that she fell victim to internal politicking, where she was judged to have been too successful in representing Russian interests, so that "too much" (40 per cent) of its investment money went to projects in Russia. She also suspects that her ambition to be considered for the soon-to-be vacant post of EBRD vice-president was unwelcome to the powers-that-be. She clearly did not get on with the then new president of the EBRD, Thomas Mirow. The post subsequently went to a Czech national, Jan Fischer.
If the central objective was to prevent Russia obtaining a seat at the top table, however, that leaves the question of why such a seasoned international investigator was brought in to question her and why, once she had left the bank, criminal investigations were launched in both countries. According to one theory, the EBRD felt the need to demonstrate that this was a one-off and that any suspected corruption would be treated with due seriousness.
What is striking, however, is that in leaving London for Moscow, via the US, Ms Kotova has gone in the opposite direction to many Russian bankers. London sometimes seems to be awash with Russian millionaires who have made their money in banking – the latest was Andrei Borodin, former president of the Bank of Moscow – who are accused of embezzlement in their home country and successfully claim asylum in the UK on the grounds that they will not be given a fair trial in Russia. In travelling the other way, Ms Kotova at the very least seems naïve. Either that, or she is innocent.
In the meantime, you cannot accuse her of idling. As well as studying all the legal papers, she spent her enforced leisure renovating her Moscow flat, trying to set up a design consultancy, starting a blog, and writing three chicklit-ish novels. The latest of which, Newton's Third Apple, concerns a female Russian banker who is framed by a foreign security service in cahoots with the international bank she works for. Although the characters have fictitious names, I doubt it could be published in Britain without attracting the expensive attention of libel lawyers.
The book is set between the US and Germany, Russia and the UK, with plenty of secret service involvement. In many respects, it clearly offers her theory of what happened and why. Harder to divine, of course, is where the facts stop and the fiction starts. So far, the biggest difference is that the book has a happy ending, and – as exemplified by the sharp downward turn taken by her life since the start of this year – there is no such guarantee in real life. The penalty for the crime she is charged with is seven years in a Russian jail.
Register for free to continue reading
Registration is a free and easy way to support our truly independent journalism
By registering, you will also enjoy limited access to Premium articles, exclusive newsletters, commenting, and virtual events with our leading journalists
Already have an account? sign in
Join our new commenting forum
Join thought-provoking conversations, follow other Independent readers and see their replies