Battle to save Canada trade deal with EU amid concerns over implications for Brexit
Negotiations collapsed after the Belgian state of Wallonia refused to support the free trade pact, with the troubled deal highlighting how difficult Brexit talks could be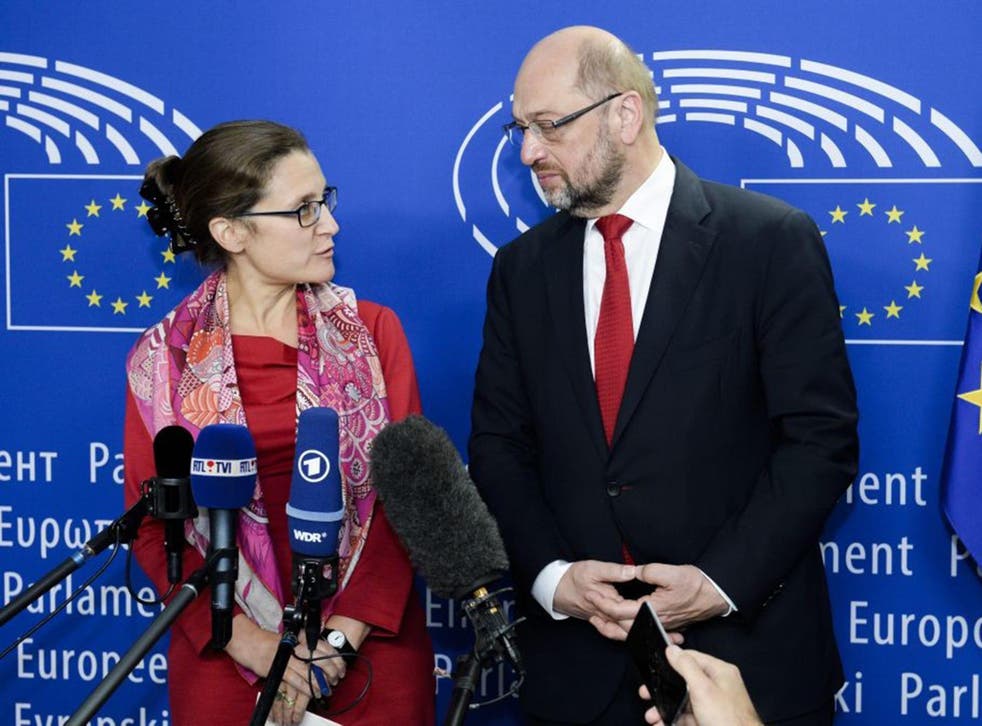 Canadian and European officials are desperately trying to save a free-trade deal between the country and the EU, after a small Belgian region blocked the pact despite it being due to be signed next week.
French-speaking Wallonia, smaller than Wales and home to just 3.5 million people, opposes the Comprehensive Economic and Trade Agreement (Ceta) deal and its intervention threatens to scupper seven years' worth of negotiations. The delay has raised concerns about how difficult negotiations between the UK and the EU over Brexit could prove to be.
The Walloon regional parliament defied the rest of the EU to block the pact between he EU and Canada by refusing to agree to Belgium signing the deal. All 28 EU governments support the pact, but Belgium cannot give assent without backing from its five sub-federal administrations.
In a sign of the importance of getting the Canada deal signed, the European Parliament president Martin Schulz met the Canadian trade minister Chrystia Freeland and Paul Magnette, the head of the Walloon government, on Saturday.
On Friday, Ms Freeland fought back tears as she spoke to journalists, saying it was "impossible" to reconcile the differences with Wallonia.
By Saturday morning, the leaders were cautiously optimistic the issue could be resolved in a short amount of time. "I think it's worth taking a little more time," said Mr Magnette, adding that he still saw "some small difficulties".
World news in pictures

Show all 50
Mr Schulz said he was hopeful that a compromise could be found to clear the way for Thursday's planned EU-Canada summit where the deal was to be signed by Canadian Prime Minister Justin Trudeau.
"To my eyes, there is no problem we cannot resolve," Mr Schulz said. He added that negotiations had been completed with Canada and that any further issues "are for us Europeans to solve".
Ms Freeland said: "The ball is in Europe's court and it's time for Europe to finish doing its job." She said she was heading back to Canada but hoped to return with the Prime Minister to sign the CETA accord.
Supporters of Brexit have long highlighted the glacial pace of EU trade negotiations as a reason to leave, claiming that bilateral deals between the UK and other countries would be far simpler to sign.
But those in favour of retaining close trade links with Europe warned that the problems being experienced by Canada could be an omen for the tortuous negotiations the UK will face in thrashing out a post-Brexit agreement with Brussels.
Tory MP Andrew Murrison, who campaigned for Brexit, said: "This is precisely why the EU as a trade bloc will fail and why UK is right to leave."
His fellow backbencher James Cleverley said: "The population of the EU is 500 million people, Canada has 36 million and the governments of both wanted a trade deal. It has been seven years in the making but was scuppered by Wallonia regional government in Belgium. Wallonia has a population of 3.6 million people. This collapse goes to the heart of the EU's problem."
But Labour MP Ian Austin said: "The EU-Canada trade deal is in crisis and the Canadians have walked out, which shows how tough these things are."
His Labour colleague Steve Reed tweeted: "Belgian province blocks EU-Canada trade deal, any tiny EU country can do same to UK thx [thanks] to Brexit."
Proponents of the Canada deal say the it would yield billions in added trade through tariff cuts and other measures to lower barriers to commerce. At the same time, the EU says it will keep in place the region's strong safeguards on social, environmental and labour issues. The Walloon government have concerns that the Ceta deal would undermine labour, environment and consumer standards and allow multinationals to crush local firms.
Other officials have expressed their anger at Wallonia's actions. "Europe cannot be held hostage because of internal political games in the Walloon region," said Manfred Weber, leader of the EPP Christian Democrats, the biggest group in the European parliament.
The troubled talks will also raise questions for the proposed Transatlantic Trade and Investment Partnership (TTIP) agreement between the EU and US, which has also proved controversial.
However, on Friday Prime Minister Theresa May insisted that the model for Brexit would not replicate any other deal.
"From the UK's point of view, we're not looking to replicate a model that another country has. We're not looking to adopt another model that somebody else has in relation to their trade with the European Union," she said. "Obviously, we've got negotiations ahead. Those negotiations will take time, as I say, there will be some difficult moments.
"It will need some give and take. But I'm optimistic that we can achieve a deal that is right for the UK because I actually think the deal that's right for the UK will also be right for the European Union."
Press Association contributed to this report
Register for free to continue reading
Registration is a free and easy way to support our truly independent journalism
By registering, you will also enjoy limited access to Premium articles, exclusive newsletters, commenting, and virtual events with our leading journalists
Already have an account? sign in
Register for free to continue reading
Registration is a free and easy way to support our truly independent journalism
By registering, you will also enjoy limited access to Premium articles, exclusive newsletters, commenting, and virtual events with our leading journalists
Already have an account? sign in
Join our new commenting forum
Join thought-provoking conversations, follow other Independent readers and see their replies