French parliamentary elections: Emmanuel Macron to expand power with landslide at the polls
'What's extraordinary is that both traditional parties are being swept away,' said one expert
James McAuley
Paris
Saturday 17 June 2017 13:33 Comments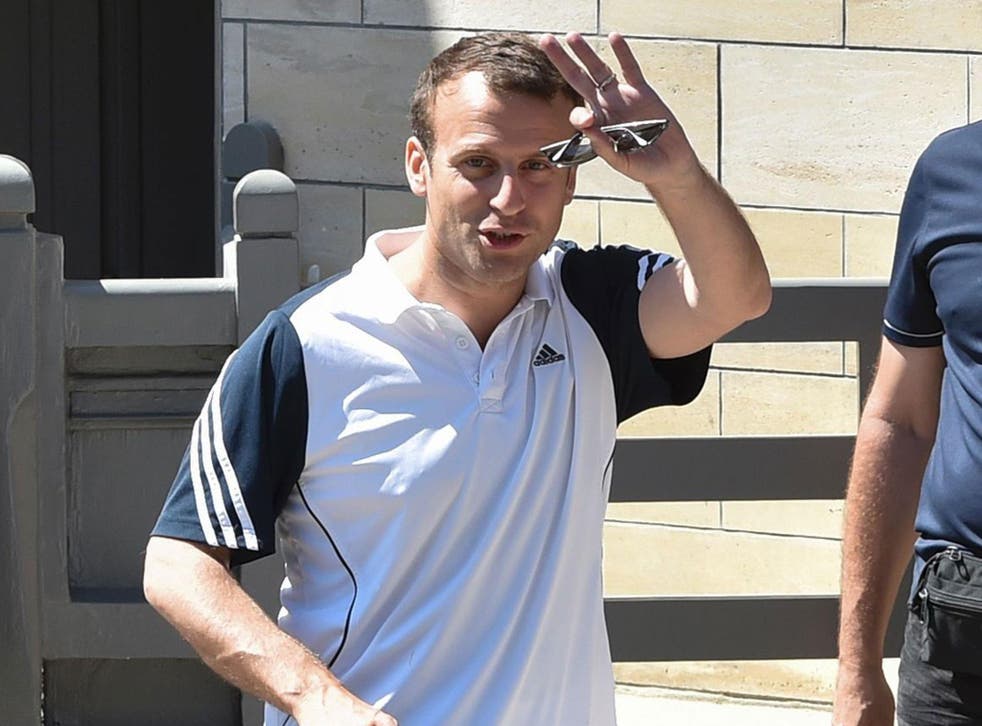 One is a female bullfighter. Another is an acclaimed mathematician who likes to dress like the Mad Hatter. Half are women, many are minorities and most are not career politicians.
These are the candidates of En Marche! (Onward), the party created a little more than a year ago by newly elected President Emmanuel Macron. It is now poised to sweep tomorrow's final round of parliamentary elections and fundamentally recast French political life. Macron, 39, France's youngest head of state since Napoleon Bonaparte, has promised a "revolution," and Europe's third-largest economy may be about to get one.
Macron rose from relative obscurity to score a landslide victory in the presidential election in May, becoming the first winning candidate in decades to come from neither the traditional centre-right nor centre-left parties. But now, something even more momentous is happening: Macron is leading a total overhaul of an ossified political system.
In a scenario that would have been unimaginable scarcely a year ago, the centrist, pro-European party of the new president is slated to win an absolute majority in parliament. En Marche! is projected to win at least 400 of 577 total seats, according to polls.
France is no stranger to electoral landslides: François Mitterrand scored one for the Socialists in 1981; Jacques Chirac did the same for the centre-right Les Républicains in 2002. But not in modern French history has an independent candidate with relatively little political experience so quickly assembled such a strong mandate to govern.
"What is extraordinary is the speed with which it's happened," said Sudhir Hazareesingh, a professor of French politics at Oxford University. "What's also extraordinary is that both traditional parties are being swept away."
The centre-right Les Républicains, the party of former presidents Jacques Chirac and Nicolas Sarkozy, is likely to win between 85 and 125 seats, polls suggest. The Socialists, once a bedrock of French and European politics, are unlikely to top 40 seats.
There is an asterisk to Macron's success: Abstention was at a record high in the first round of voting, suggesting that many French citizens were not inspired to vote for anyone.
Macron – who has always been careful to position himself above partisanship, even as a former economy minister in a Socialist administration – has tapped into the anti-elitism that is a core theme of populist politicians, Mr Hazareesingh noted.
During the election campaign, extremist candidates such as Marine Le Pen on the far right and Jean-Luc Mélenchon on the far-left drew support by promising to throw out the existing political elite.
Although Mr Macron, as an outspoken advocate of the European Union and of certain market reforms, is not exactly a populist, he effectively used elements of that anti-system pitch during the campaign, Mr Hazareesingh said.
"Behind his success was always the idea that he was going to renew not just the presidency, but also the political elite on the whole. And when you look at the parliamentary candidates he's chosen, it is a spectacular renewal."
The legislative candidates in Macron's movement come from a diversity of backgrounds. In a country where powerful politicians often hold onto their districts for decades, the new party has distinguished itself by fielding relative political novices.
Gender parity has been a goal for Macron, and half of those on his party's ticket are women. It is notable that many of his movement's candidates have African and Middle Eastern immigrant backgrounds. In France's previous parliament, only 12 of the 577 deputies came from those groups.
World news in pictures

Show all 50
Djamila Haddad, 50, is an example of the fresh faces competing for Macron's party.
Ms Haddad arrived from Algeria as an infant in 1963. Years ago, she served on her regional council in Aube, in east-central France, as a member of the Socialist Party. But she became disillusioned because the party never implemented any of its promised reforms, she said.
She was inspired by Macron's candidacy, she said, because of his promises for political "renewal." She was most struck by his pledges to "recover the grandeur of France" and to "moralize public life" – in other words, to hold public servants more accountable and restore public trust in government.
The details of some of Macron's proposals remain vague, but the party has campaigned on a blend of social liberalism and fiscal responsibility. Its platform includes a slew of controversial labour reforms designed to jump-start the country's stagnant economy.
Ms Haddad began volunteering for Mr Macron during the presidential campaign. She eventually put her name forward as a potential parliamentary deputy. Several weeks later, she was interviewed by Mr Macron's representatives and was added to the ballot.
The party "brings a certain freshness," she said. "Finally, there are younger candidates. Finally, there are more women. And finally, there are new ideas in a staid, stolid system. That's renewal."
Others are more skeptical about the sea change underway in French politics, expressing concern that the country is moving toward a virtual one-party state with little room for serious opposition. And they note that Mr Macron will have tremendous control over his new lawmakers.
"The new members of parliament have been chosen personally by the president," said Patrick Weil, a leading French constitutional scholar, noting that En Marche's candidates would never have been on the ticket without the endorsement of Macron. "Donald Trump never chose any Republican members of the House."
In the French news media, commentators have noted that the initials of Mr Macron's party are the same as his, suggesting that he is the essence of the party.
"We know that En Marche! has been very, very centred on Macron, and I think that's going to be reinforced by the fact that most of these people are political novices," said Hugo Drochon, a French historian and political analyst at Cambridge University.
"It will likely just mean that they will apply Macron's programme [entirely] as opposed to the compromises that typically go with the left-right politics. The line is going to be coming very much from the top down, rather than from any kind of compromise," he said.
For Ms Haddad, however, this is a gamble necessary for remaking France's economy and image.
"Macron was like a third kind of political character," she said. "He came out of the water and positioned himself outside the system."
"We could not find that freshness in the existing parties as they stood, so we had to find it in a new terrain."
© Washington Post
Register for free to continue reading
Registration is a free and easy way to support our truly independent journalism
By registering, you will also enjoy limited access to Premium articles, exclusive newsletters, commenting, and virtual events with our leading journalists
Already have an account? sign in
Join our new commenting forum
Join thought-provoking conversations, follow other Independent readers and see their replies