Emmanuel Macron says France will set up refugee 'hotspots' in Libya
Speaking to reporters on the sideline of an event, the President later downplayed his comments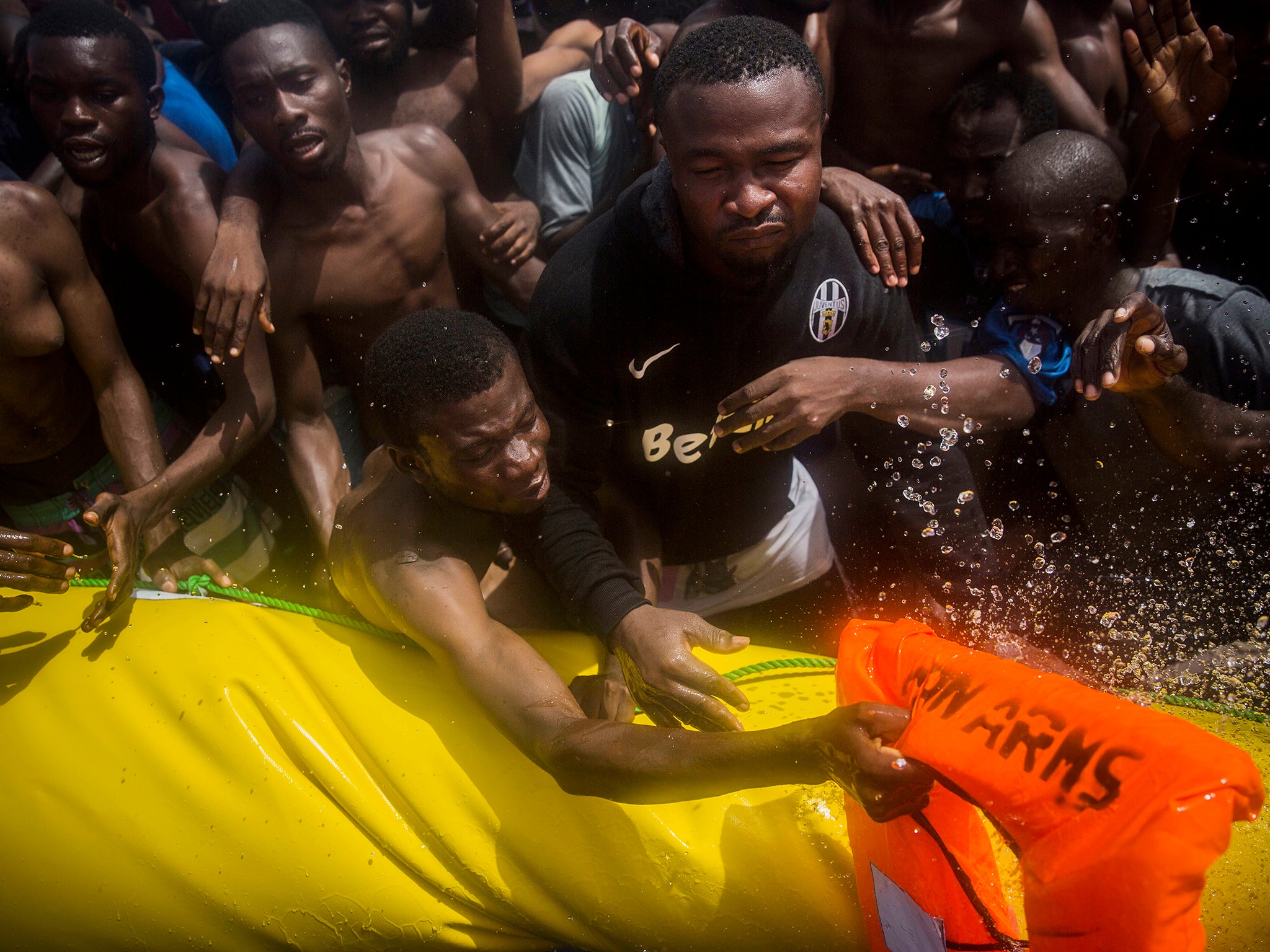 French President Emmanuel Macron has announced his intention to set-up "hotspots" to handle asylum requests in Libya, where thousands are fleeing fighting in the country.
He said he hopes the plan will deter people from taking "crazy risks" and attempting the perilous journey across the Mediterranean.
He made the remark on the sideline of a visit to a refugee centre in Orleans this week, before he presided over a citizenship ceremony.
"The idea is to create hotspots in Libya so people avoid taking crazy risks when they are not eligible for asylum. We'll go to get them," Mr Macron told reporters.
His comments followed a speech to a group of new citizens in Orleans, in which he said that France wanted to create ways for Africans to seek asylum in safe countries "on African soil" to avoid dangerous journeys across the sea to Europe.
He said that for many, Europe "from the start is impossible to attain," adding: "I hope that the European Union, and at least France, will be able to treat asylum seekers as close to their country of origin as possible.
"As I speak to you, between 800,000 and one million women and men are waiting in camps in Libya."
However, he later downplayed the plans, saying there were no question of "hotspots" in Libya if "security conditions are not met" – and that currently they were not.
A source in Mr Macron's entourage later told the Associated Press the plan included "advance points" in Libya, as well as neighbouring Niger and Chad.
They added that the work would be overseen by French and international organisations.
World news in pictures
Show all 50
A recent report from the UN refugee agency noted that 90 per cent of the 181,400 people who irregularly reached Italy by sea in 2016, departed from Libya.
By mid-May this year, an 30 per cent increase from the same period last year had already been reported.
It also found that as of April this year, more than 531,000 "people of concern" including refugees and internally displaced people were deemed to be living in Libya.
Mr Macron wants France to play a bigger role in persuading Libya's factions to end the country's political crisis and armed conflict that has has allowed Islamist militants to gain a foothold, and migrant smugglers to flourish in the absence of a strong central government.
Earlier his week, the French President also welcomed Libyan Prime Minister Fayez al-Sarraj, leader of the UN-backed government in Tripoli and General Khalifa Haftar, commander of the Libyan National Army, which controls the eastern part of the country.
They saw both men commit to a conditional cease fire and to work towards holding fresh elections next spring.
Additional reporting by agencies
Join our commenting forum
Join thought-provoking conversations, follow other Independent readers and see their replies