Emmanuel Macron consolidates lead over Marine Le Pen in French presidential election polls
However, the race remains difficult to call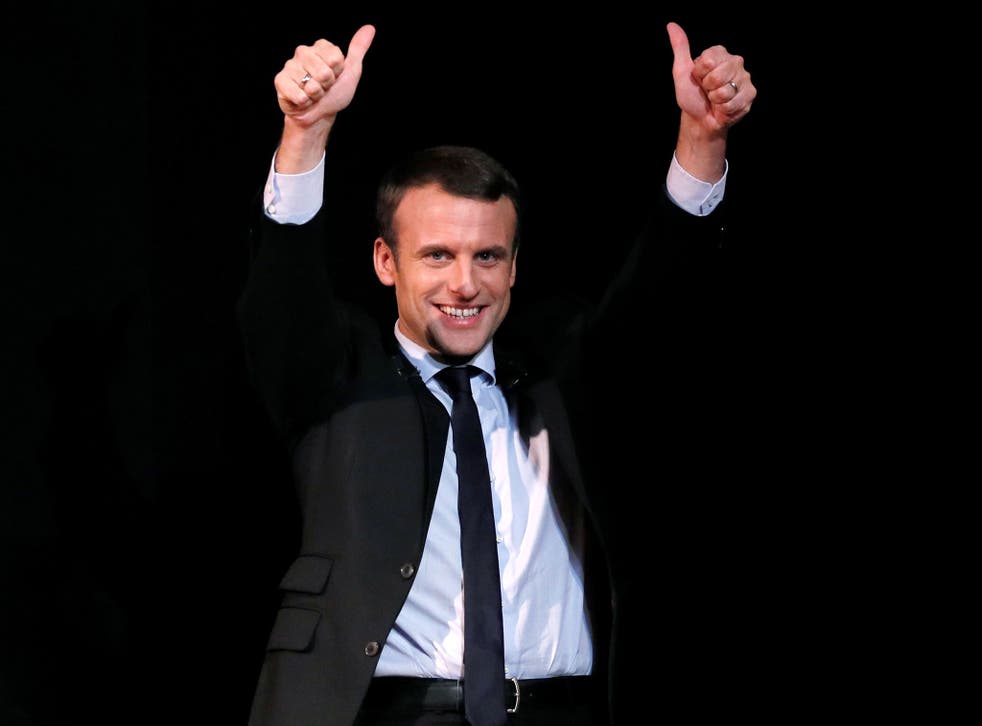 Emmanuel Macron has seen his position as favourite to win France's presidential election boosted in two polls, with one showing him ahead of far-right leader Marine Le Pen in the first round of the two-stage contest.
A monthly Cevipof survey, seen as the most authoritative because it has a far bigger sample size than most polls, put Ms Le Pen well ahead in the 23 April first round, though Mr Macron was seen easily beating her in a 7 May run-off.
However, a Harris Interactive poll showed Macron winning the first round with 26 per cent of votes, with Ms Le Pen taking second place on 25 per cent, setting him up to trounce her in the run-off with a score of 65 per cent.
It was the second poll in the space of a week that put the 39-year-old ahead of Ms Le Pen in the opening round, a signal that the centrist former economy minister may be consolidating his position 45 days from the first stage of the contest.
The polls coincided with the release of a research note from Credit Suisse bank that claimed the risk of a win for Ms Le Pen, who wants to restore the French franc currency, was exaggerated.
Mr Macron's showing in the Harris poll helped ease investor concerns about the prospects of Ms Le Pen winning, with the gap between French and German bond yields narrowing on Thursday morning.
The race remains difficult to call, however, after a string of surprises, including Socialist incumbent François Hollande's decision not to seek a second term, and shock wins in primaries for contenders the pollsters had ruled out.
World news in pictures

Show all 50
Additionally, financial scandals have engulfed Ms Le Pen and conservative François Fillon, who after his surprise victory in the primary of The Republicans Party was the clear poll favourite to become president as recently as January.
The Cevipof poll for Le Monde showed Ms Le Pen with 27 per cent of votes in the first round, up one percentage point from last month, with Mr Macron stable at 23 per cent and Mr Fillon gaining one point to 19.5 per cent.
Mr Fillon was initially on 17.5 per cent when the poll was conducted between 1-5 March, but his score improved as pollsters surveyed an additional thousand people after he held a major rally in Paris and his party decided to keep backing him.
After a series of resignations, Mr Fillon's team announced senior appointments on Thursday to try to shore up his campaign, including former finance minister François Baroin in the special role of unifying the increasingly fragmented Republicans Party.
While Ms Le Pen's score in the Harris poll was unchanged from the last time it was conducted two weeks ago, Mr Macron surged six percentage points. In that period he published his campaign manifesto and veteran centrist François Bayrou gave him his support.
Ms Le Pen's campaign head, David Rachline, dismissed the Harris poll news, saying in reference to round one: "The reality right now is that Marine [Le Pen] is in front in almost all polls."
The Harris survey, conducted between 6-8 March with a sample of 4,932 voters, also showed that while Mr Macron voters were still the most undecided among those backing leading candidates, the proportion who were sure they would vote for him had risen by 10 percentage points to 59 per cent.
Mr Macron, detested by some leftists for pushing pro-business policies and liberalisation in President Hollande's government, is not without his detractors.
Vandals painted hostile graffiti on the walls of a public hall outside Bordeaux overnight on Wednesday where he was due to hold a campaign rally.
Reuters
Join our new commenting forum
Join thought-provoking conversations, follow other Independent readers and see their replies