EU considering 'partnership' with Eritrea on migration despite UN accusations of crimes against humanity
The UN said officials 'at the highest levels of government' were responsible for human rights violations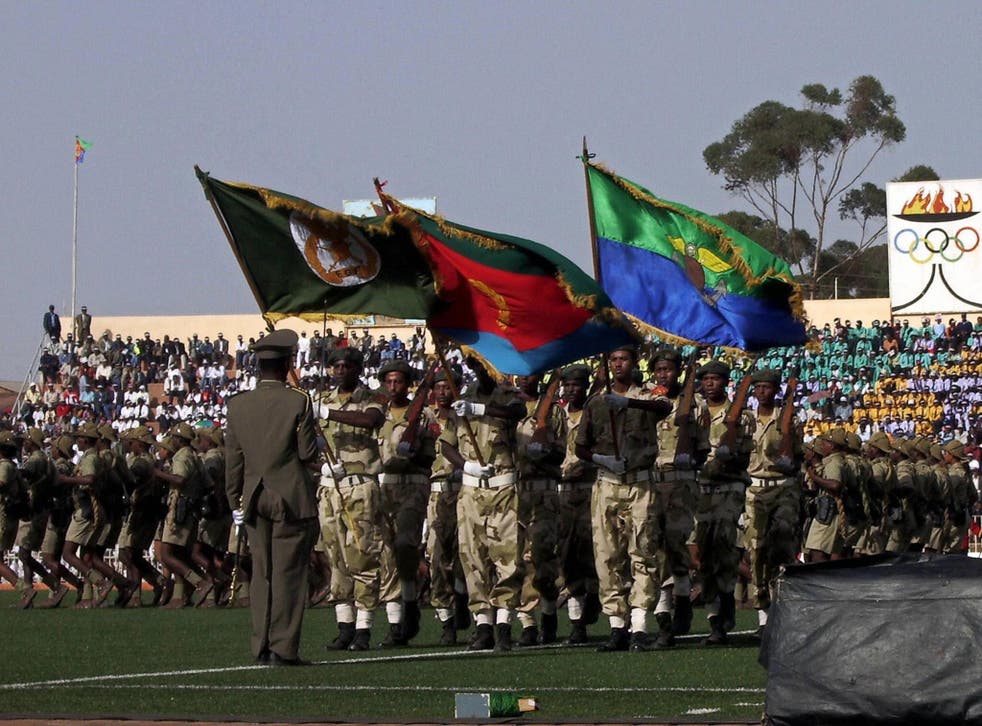 The European Commission is considering making Eritrea a partner for "managing migration" amid calls for its leaders to be tried for crimes against humanity.
The EU's executive body listed the East African nation among 16 possible countries in line for unspecified "packages" to increase co-operation as the refugee crisis continues.
Eritreans make up a significant portion of the asylum seekers crossing the Mediterranean Sea, risking their lives to escape a litany of human rights abuses documented in the authoritarian state.
A United Nations Commission of Inquiry found that crimes against humanity had been committed in a "widespread and systematic manner" in Eritrean detention facilities, military training camps and other locations over the past 25 years.
Its report listed enslavement, imprisonment, enforced disappearances, torture, persecution, rape, murder and other abuses as part of what investigators said was a campaign to control Eritrean civilians dating back to the country's foundation in 1991.
"Eritrea is an authoritarian State," said Mike Smith, chair of the UN Commission. "There is no independent judiciary, no national assembly and there are no other democratic institutions in Eritrea.
"This has created a governance and rule of law vacuum, resulting in a climate of impunity for crimes against humanity to be perpetrated over a quarter of a century. These crimes are still occurring today."
The UN Commission, which received thousands of testimonies and written submissions, called for perpetrators to be sent to the International Criminal Court and claimed there was no prospect of them being held to account under the current administration.
"Eritreans also continue to be subjected to indefinite national service, arbitrary detention, reprisals for the alleged conduct of family members, discrimination on religious or ethnic grounds, sexual and gender-based violence and killings," the report said.
It alleged that officials at the highest levels of government, in the ruling party, National Security Office and commanding military officers "bear responsibility for crimes against humanity and other gross human rights violations".
But a European Commission document on its New Migration Partnership Framework said it was testing a new approach to Eritrea and other selected countries to increase co-operation on managing migration.
Sudan, Afghanistan, Ethiopia, Somalia and Tunisia were among the other candidates, which include several listed as countries of concern in a human rights report by the British Government.
An EU report said research had shown a "direct link" between migration policies in Europe, the Middle East and Africa, and that flows were being driven by both conflict and economic factors.
Refugee crisis - in pictures

Show all 27
Major refugee routes run through Africa, with smugglers transporting migrants in desperate conditions through countries – including Ethiopia, Sudan and Libya – on lengthy journeys that not all survive.
Nations chosen by the EU will be offered diplomatic, technical and financial incentives and aid as part of the scheme, although no details have been announced.
A spokesperson said the policy aimed to save lives at sea, increase returns, address the root causes of migration and "enable migrants and refugees to stay closer to home".
Federica Mogherini, Vice-President of the European Commission, said migration could only be managed if nations "act globally".
"For this reason, we are proposing a new approach for strong partnerships with key countries," she added.
"Our goal, while staying focused on saving lives at sea and dismantling smugglers' networks, is to support the countries that host so many people and foster growth in our partner countries…our duty, and also our interest, is to give people the chance and the means for a safe and decent life."
Refugee shipwreck survivors arrive in Italy
More than 47,000 Eritreans applied for asylum in Europe last year, with many having made the deadliest sea crossing in the world between Libya and Italy.
The UN said many cited indefinite military service as the reason for their flight, with Mr Smith saying between 300,000 and 400,000 people were enslaved in Eritrea, mostly through conscription. The Eritrean government, which did not grant UN investigators access, has denied any wrongdoing.
"Eritrea rejects the politically motivated and groundless accusations and the destructive recommendations of the COI," presidential advisor Yemane Gebreab said a statement. "It believes they are an unwarranted attack not only against Eritrea, but also Africa and developing nations."
The EU's Emergency Trust Fund for Africa is being topped up with €1 billion (£800,000) – as the work continues.
The European Commission has not yet responded to The Independent's request for a comment.
Join our new commenting forum
Join thought-provoking conversations, follow other Independent readers and see their replies