EU 'leaving migrants to drown' say rescuers who saved 2,000 from Mediterranean in single day
'We are where we're needed, what's the EU doing?'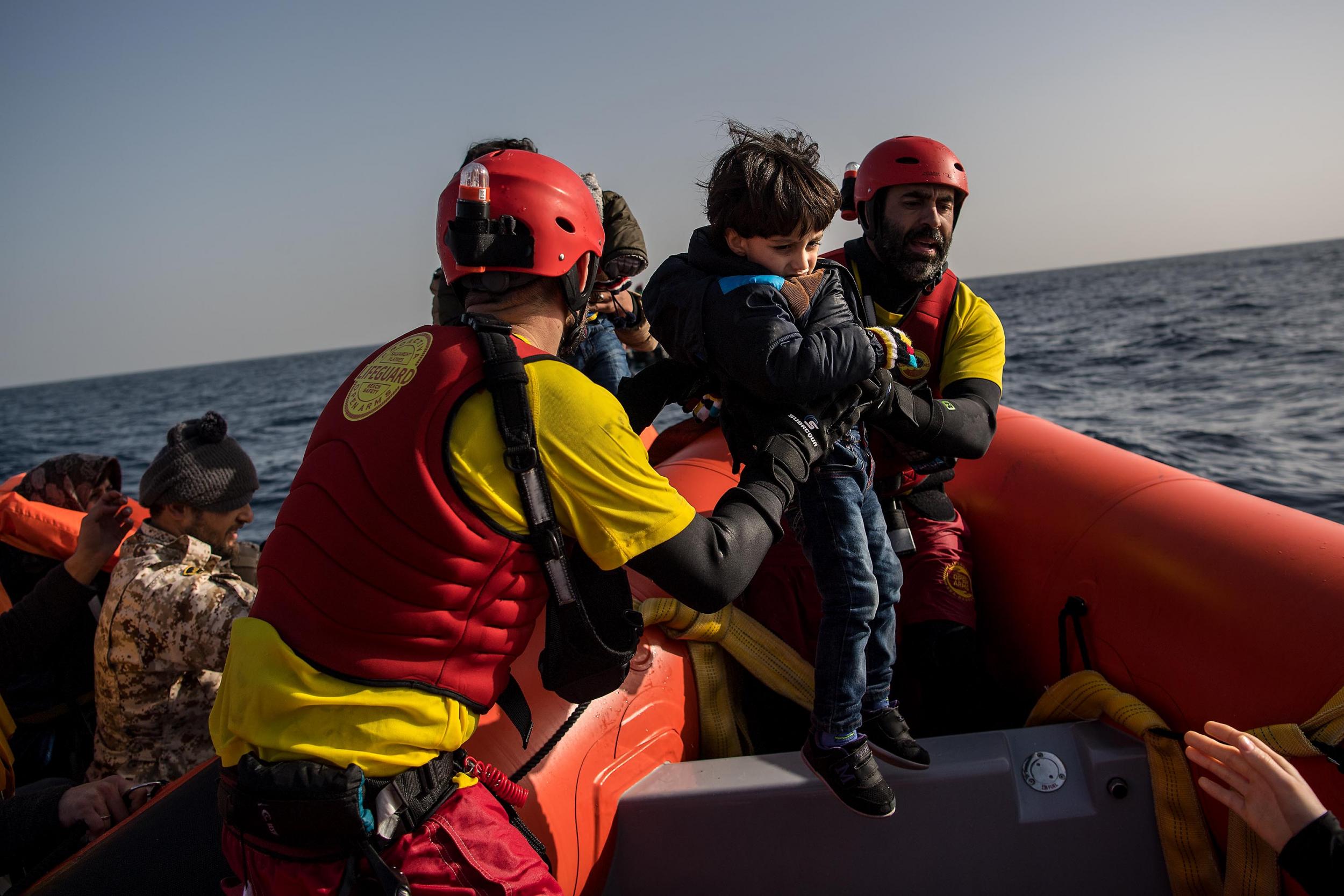 More than 2,000 migrants trying to reach Europe were rescued from the Mediterranean on Friday, while at least one person was found dead, the Italian coastguard confirmed.
A spokesperson for the service said 19 rescue operations by coastguards or non-governmental organisations had saved a total of 2,074 migrants on 16 rubber dinghies and three small wooden boats.
The coastguard also confirmed that one person had died when the boats sank, but gave no details.
The rescues come just days after a boat sank off the coast of Libya on Thursday. Ninety-seven refugees are missing, presumed drowned.
According to the International Organisation for Migration (IOM), nearly 32,000 migrants have arrived in Europe by sea so far this year. More than 650 have died or are missing.
The number of migrants increased to a high of 5,079 for 2016, according the the IOM - despite a huge decline in numbers of migrant arrivals since 2014.
Médecins Sans Frontières (MSF), a medical charity which has carried out hundreds of rescue operations in the Mediterranean since the beginning of the migrant crisis, has criticised Frontex, the European Border and Coast Guard agency, who operate official EU patrols on migration routes.
MSF said in a series of tweets that NGOs were being forced to fill gaps in service provision left by the EU coastguard.
"Frontex Director says it's a paradox that a third of rescues are done by NGOs. We agree. Where are Frontex boats in a day like this?" MSF tweeted.
"Many more people could have died in a day like this if we arrived a few hours later. We are where we're needed, what's the EU doing meanwhile?"
Friday's rescue operations were performed entirely by NGOs.
Mary Jo Frawley, a nurse who was involved in MSF's patrols this week, said: "Efforts by the European Union and its border agency FRONTEX to prevent loss of life at sea through strengthened border control, increasing militarisation and a focus on disrupting smuggling networks has only resulted in more people drowning not fewer and has had little impact on the flows of arrivals.
"This, combined with the lack of adequate EU search, and rescue operations has meant that MSF and other humanitarian organisations have – in an unprecedented move – been forced to step in to avoid further loss of life.
"People do not undertake this journey lightly, people do not risk their own lives and at times the lives of their children if there are easier options available to them.
"Whether people are allowed to stay in Europe or not, humane treatment and safe disembarkation is the least Europe should offer them."
The launch of Operation Triton in 2014 shifted the focus of EU efforts in the Southern Mediterranean from Search and Rescue (SAR) to border control.
Frontex has limited the majority of its patrols to within just 30 miles off Italy's coast, while NGOs venture much further, towards Libya.
The Frontex chief Fabrice Leggeri recently suggested in an interview with German newspaper Die Welt that NGO's rescue missions were "supporting criminal networks" of smugglers and traffickers.
Mr Leggeri has previously said saving migrants' lives should not be a priority for the border agency.
Frontex has been contacted for comment.
Join our commenting forum
Join thought-provoking conversations, follow other Independent readers and see their replies