EU's ultimatum to Germany: act now to save the euro
Barroso demands launch of joint eurozone bonds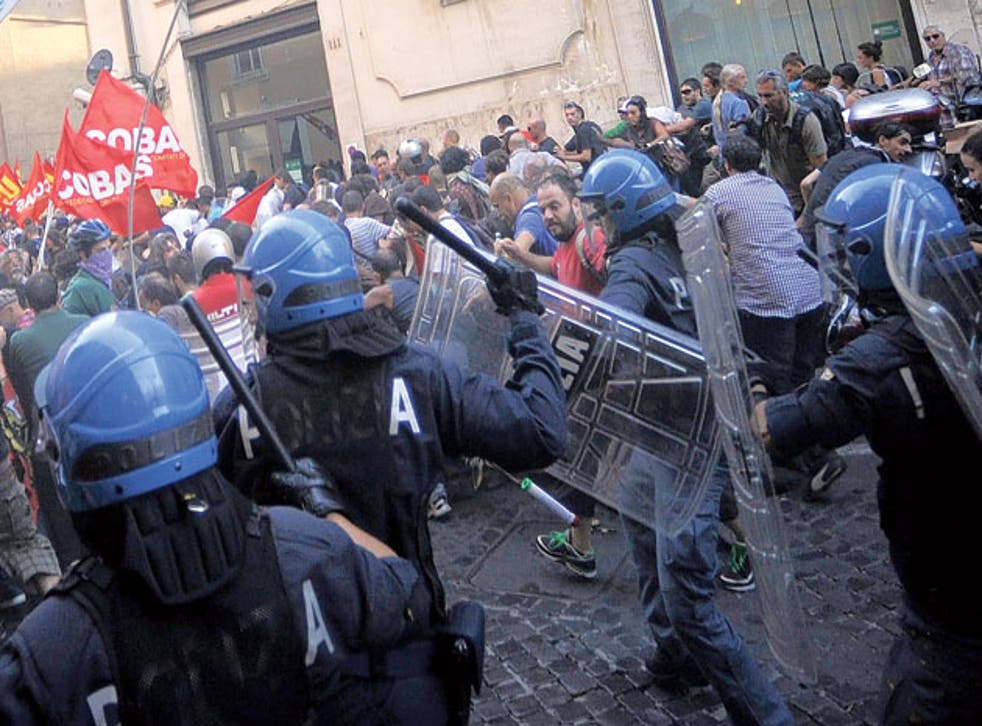 The president of the European Commission, Jose Manuel Barroso, issued a stark warning to Germany yesterday that eurobonds could be the price of preventing a break-up of the single currency. Addressing the European Parliament, Mr Barroso said the Commission will "soon present options" for the introduction of a common European debt union.
Stock markets across Europe rose following Mr Barroso's speech as investors interpreted it as a sign that the Continent's leaders are finally prepared to do what is necessary, in their view, to guarantee the future of the single currency. But any move in the direction of the issuance of government bonds underwritten by all 17 nations of the eurozone looks set to run into a brick wall in the shape of the German Chancellor Angela Merkel.
Last month, Ms Merkel described eurobonds as "exactly the wrong answer". And yesterday her Foreign Minister, Guido Westerwelle, said:"We are opposed as far as the instrument of eurobonds is concerned because we believe you can't fight debt in Europe by making it easier to take up debt."
Mr Barroso's call came as leading EU finance officials warned ministers in unusually strong terms that Europe faces a fresh freeze in lending unless a "vicious circle between sovereign debt, bank funding and negative growth" can be broken. They highlighted a sense of alarm in European capitals about the financial crisis which they fear could cause the system to collapse.
Speaking after several days of rising panic in financial markets, Mr Barroso stressed eurobonds "will not bring an immediate solution for all the problems we face", and accepted that their introduction would probably require a new EU treaty. But the Commission's President insisted that "deeper integration is part of the solution".
Ms Merkel and the French President, Nicolas Sarkozy, held a conference call with their Greek counterpart, George Papandreou, yesterday evening, to discuss Athens's progress on reducing its deficit, which is required for the release of a new tranche of eurozone/IMF bailout funds. Fears that Greece could be about to renege on its agreement and embark on a disorderly default on its €350bn of borrowing have been driving debt and equity markets down since last week. Last night a spokesman for the Greek government confirmed that the country will stay in the eurozone.
Eurobonds pose a potentially lethal threat to Ms Merkel's coalition. The junior coalition partners of her Christian Democrat party, the Free Democrats, have indicated they would walk out of the government if there was any move down the road of a common debt union. The Social Democrats (SPD) and the Green Party support eurobonds provided they come with strong conditions attached. And a new opinion poll yesterday put the SPD on 29 per cent and the Greens on 19 per cent, which is enough to give them a comfortable majority in the Bundestag in the event of an early election.
Yet the picture is further complicated by the verdict last week of the German Constitutional Court, which indicated it might regard a common eurozone debt union illegal.
The US is also stepping up pressure on European leaders. The Treasury Secretary, Tim Geithner, made some of his strongest comments to date, urging bigger and faster action to prevent a full-blown financial crisis. He accused the eurozone of "terribly damaging political dysfunction" and said: "Ultimately, what you have to do is put the economy above politics."
Mr Geithner is flying in to join a meeting of European finance ministers tomorrow, in part to share the US experience of dealing with the financial crisis of 2007-09.
Speaking in New York, he predicted Europe would avoid a bank collapse like the Lehman Brothers bankruptcy three years ago, because of "a tradition of indulgence and support for their institutions". He said: "I remember the Chancellor saying to the President of the United States repeatedly in private meetings, and in public, 'We are not going to have a Lehman Brothers'. She recognises she has got to do more to make that commitment credible in the eyes of the world."
The US has watched the gathering financial crisis in Europe with increasing alarm. Last month, the Federal Reserve held meetings with senior executives at some of the eurozone financial institutions with major businesses in the US, to get a clearer picture of their liquidity position and their contingency planning in case of a Greek default and other problems.
And Mr Geithner said that what happens in the eurozone will be critical for the world economy. "Europe matters to us mostly because it adds to a caution around the world at a time when we are still healing from the crisis," he said.
An extraordinary day in Euroland
09:20 The President of the European Commission, José Manuel Barroso tells European Parliament that he will draw up proposals for Eurobonds – an idea previously ruled out by Angela Merkel and Nicolas Sarkozy. Stock markets temporarily rally.
12:00 The European Central Bank announces that two banks have tapped its emergency borrowing facility. $575m was lent from the liquidity fund, operated jointly with the US Federal Reserve. The two bidders were not named.
13:15 The government of Silvio Berlusconi narrowly wins a vote of confidence in Parliament, by 316 votes to 302, paving the way for vote on austerity measures. News of the vote's success leads to anger outside the Italian parliament in Rome, where protesters are involved in clashes with riot police, above.
15:35 Austrian parliamentary committee delays a vote on ratifying changes to European Financial Stability Fund. Ratification of the bailout fund – established in July alongside the second Greek bailout – could be delayed until October.
18:00 German Chancellor Angela Merkel, French President Nicholas Sarkozy and Greek Prime Minister George Papandreou hold conference call on Wednesday evening to discuss unfolding crisis, at the end of another day of market turmoil.
Q&A
Q. Wasn't this eurozone crisis supposed to have been sorted out already?
Yes. There was an emergency meeting of eurozone leaders in Brussels in July. This produced an agreement to sanction a new bailout for Greece and to allow a special eurozone fund, the European Financial Stability Facility, to buy up the sovereign bonds of distressed eurozone nations.
Q. So why hasn't this done any good?
Because the July agreement hasn't been ratified by the eurozone's national parliaments yet. This delay forced the European Central Bank to step in and buy Spanish and Italian bonds last month. The Bundestag is due to vote to increase the powers of the EFSF on 29 September. But Chancellor Merkel is facing an increasingly difficult job to get her coalition to vote for the deal.
Q. But if that's passed it will all be OK, right?
No. There are increasing signs that the huge spending cuts and tax rises that Athens agreed to implement are killing, rather than curing, the Greek economy. And even if austerity works and Athens gets its new bailout loans, it is becoming clear that Greece's total debt burden, at around 160 per cent of GDP, is simply too large for it to cope with.
Q. So what is needed to solve the problem?
A larger EFSF would help. So would an agreement to recapitalise Europe's banks. Many argue that a collective eurozone debt union is the only thing that will calm investors.
Register for free to continue reading
Registration is a free and easy way to support our truly independent journalism
By registering, you will also enjoy limited access to Premium articles, exclusive newsletters, commenting, and virtual events with our leading journalists
Already have an account? sign in
Register for free to continue reading
Registration is a free and easy way to support our truly independent journalism
By registering, you will also enjoy limited access to Premium articles, exclusive newsletters, commenting, and virtual events with our leading journalists
Already have an account? sign in
Join our new commenting forum
Join thought-provoking conversations, follow other Independent readers and see their replies