Euro 2016: Russian insider reveals hooligans are 'more than Ultras' trained in martial arts and boxing
Exclusive: Kim Sengupta talks to a young Russian who explains how the culprits behind the Marseille thuggery are well-trained combatants unlikely ever to face sanction, and finds that some in the country are revelling in the violence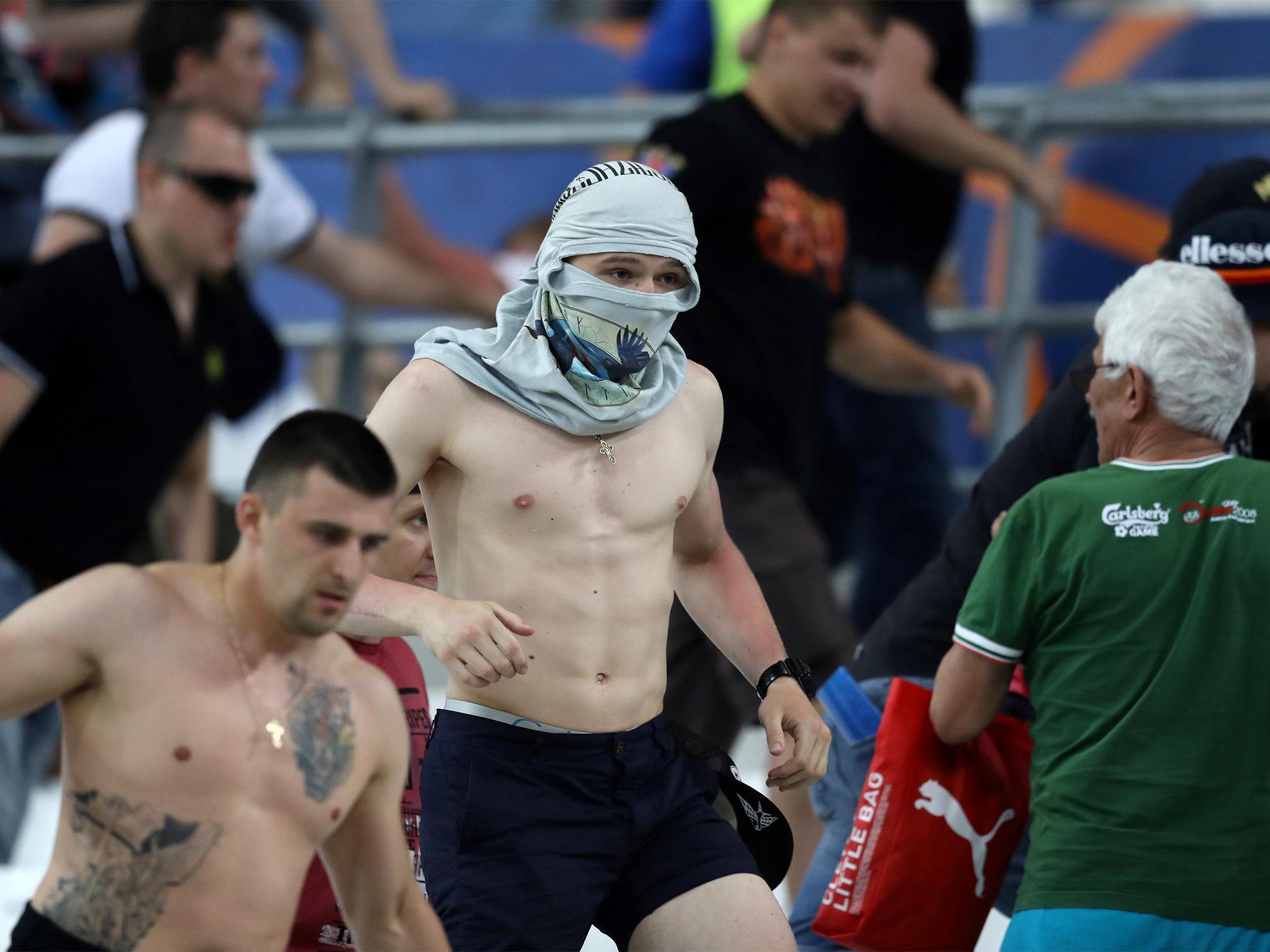 Nikolai cannot understand why so much fuss is being made about the violence during the Euro 2016 championship. He has, he said, seen far worse. That, indeed, is the case – the young Russian had served as a "volunteer" with separatist forces in Ukraine's bloody unrest.
Two years ago, at the towns of Slovyansk and Kramatorsk, in rebel eastern Ukraine, Nikolai had claimed to me that he was there to distribute aid and help those injured in the fighting, rather than take part in combat himself. Now he insists that he is in France simply to watch the football and not to seek any trouble.
The French authorities have announced that 29 Russian supporters were being deported following the strife in Marseilles before and during the game with England. Uefa has also fined the Russian Football Federation and imposed a penalty of suspended disqualification.
DO NOT USE Russians hunt down and attack England fans in Go Pro footage
"They are trying to kick out more than 50 people, not 29 as they are saying, and this includes women. These people were travelling with the official party. If they are after violent troublemakers don't think they have got the proper people," Nikolai maintains.
"The French have already stopped six people from entering the country. There was a charter flight to Marseilles from Russia when the French wouldn't let these six people in because they said they were some kind of hooligan bosses. This was last Friday, the day before the game with England, but English fans had already been fighting by then and blaming the French supporters.
"So why is it just the fault of the Russians? They are now saying that there may be fighting in Lille. Russia is playing in Lille, not England. We are going there, so if the English turn up there, who is responsible for the provocation? People should be careful about provocation, some people get angry when they are provoked," he warns.
"I am not denying there are Russian supporters who like a fight and some of them were being overaggressive. That shouldn't have happened. But that is the same with English supporters and other nationalities as well. I was in Warsaw at the last one (Euro 2012) when we were attacked by Polish fans. It was a well-organised attack, lots injured, but there wasn't much publicity about that."
When I first met him two years ago, back in eastern Ukraine, dressed in camouflage uniform, Nikolai – in his late twenties, of medium height, physically fit but not steroid-muscled as some of the Russian football supporters look in France – had been happy to talk about his home at a southern suburb of Moscow, his deeply held Orthodox Christian faith, his previous service in Russia's naval infantry and his empathy with the Donbass Peoples Militia. Now in Marseilles, in T-shirt and shorts, he does not want to go into any of that, because, he is convinced "the British media want to show all Russian supporters in a certain negative way".
Nikolai wants to stress that he is not a member of an organised football gang, but, he says, he knows about football hooliganism in Russia and the motivation of the violent Russian fans. "Maybe it's not known in the West, but the Russian authorities are actually quite hard on the gangs now. There isn't much fighting in the stadiums and in the cities. They now have to arrange fights outside, in the woods. They train for these fights, they do boxing, martial arts, that is why they move in formations and can carry out ambushes," he explains.
"In Marseilles they found themselves and the English were on the same streets. That's how trouble started. Maybe the French should have studied how fighting supporters behave. The media have also got basic things wrong. They are calling everyone 'ultras'. But the real fighters do not call themselves anything. The ultras just do a little bit of fighting and shout a lot."
The Russian authorities may have clamped down on football hooliganism at home, but statements by officials have overwhelmingly ranged from defending the violence to glorying in Russian machismo. The day 49 people were murdered at the Pulse nightclub in Florida, Vladimir Markin, the spokesman for the Russian equivalent of the FBI, was declaring the fault for what happened in Marseilles lay with the French police: "A proper man comes as an amazement to them. They are used to seeing 'men' at gay parades," was his view of law enforcement.
Russia and England fans clash at Euro 2016 – in pictures
Show all 15
So there is no incentive for those who are taking part in trouble at the Euros – mainly supporters of Lokomotiv Moscow, Spartak Moscow, CSKA Moscos and Zenit St Petersburg – not to boast about their proclivity for violence as it is highly unlikely they will face any sanctions back home.
Videos and accounts of fighting are being widely disseminated on Russian social media. One man, calling himself Molodoi, describes how "there were eight of us, moving around central Marseilles near the Old Port in two cars, bathing in the atmosphere of good old street violence". There was a skirmish with English supporters, but "when they realised there were only a few of us, they got cheeky and swarmed us. Pure English style, but that is their right, our low numbers are our own problem."
On The Orel Butchers website, a Russian football supporters' forum, there are colourful accounts of assaults and, at the same time, protests about the criticism received over the violence. One man has posted: "The British press are calling us animals, saying that their fans, women and children were running from us. But we all know the British are far from being children."
In Nikolai's view, "It's a bit like the way it was in Ukraine. Those who boast the most are not the most dangerous, nor are they the leaders. The most dangerous ones, and the real leaders, are the ones not saying much and making sure their faces remain hidden." A bit like Nikolai, some may think, but of course he was only there to enjoy the football.
Join our commenting forum
Join thought-provoking conversations, follow other Independent readers and see their replies