Far-right activists 'impersonated police to attack refugees for money and mobile phones' in Calais
The group (not pictured) allegedly formed a chain to intercept asylum seekers trying to board lorries to the UK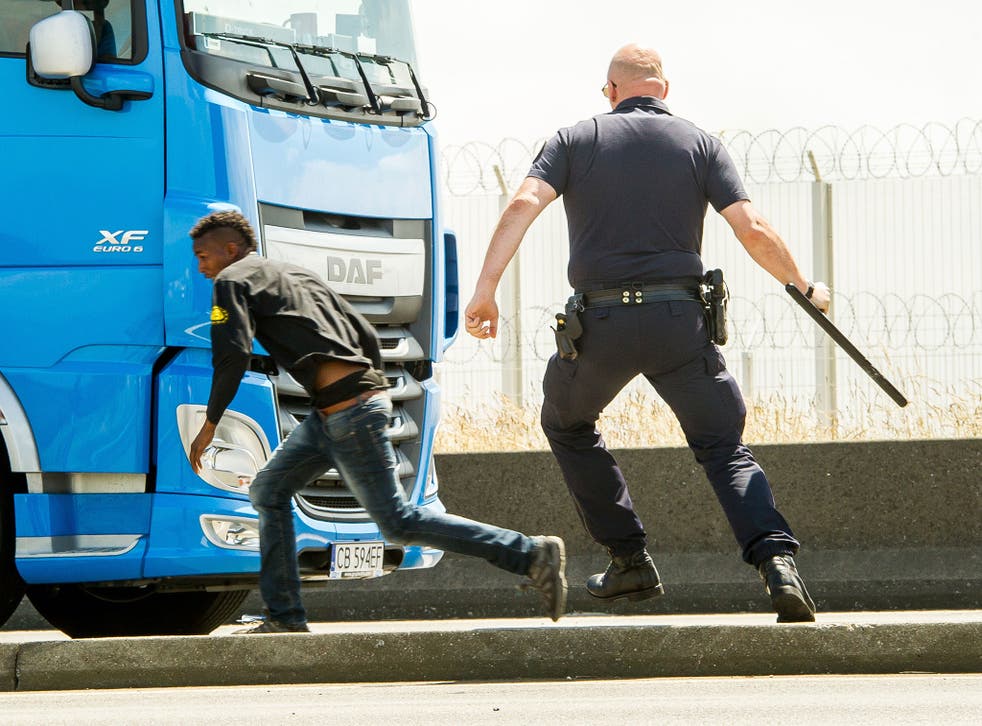 A group of far-right activists have reportedly admitted impersonating as police officers to attack and rob refugees in a series of attacks in Calais.
The five local men, aged between 19 and 14, were arrested on Wednesday and include the founder of an anti-immigration movement and protest organisers.
In up to seven attacks since the start of the year, the gang allegedly formed a human cordon, donning combat boots and wielding iron bars to intercept asylum seekers attempting to board lorries entering the Channel Tunnel, French broadcaster iTele reported.
Demolition of France's 'Jungle camp' continues
The men proceeded to demand money and steal cash and mobile phones valued at an estimated €4,000 (£3,150), shouting "police!" when anyone attempted to intervene.
They have reportedly admitted the assaults, theft and impersonating police officers, and are awaiting a court hearing in Boulogne-sur-Mer.
It is the latest in a series of reported attacks on refugees across Europe, including a "clean-up" operation by vigilantes in the German city of Cologne that saw at least 11 victims targeted in a single day.
In pictures: Calais crisis intensifies

Show all 20
Calais, which is the home to "the Jungle" camp, has seen months of disruption as thousands of refugees make repeated attempts to reach the UK on lorries and ferries, sometimes with fatal results.
Far-right activists blocked bridges leading from refugee settlements to the town centre on Saturday morning while claiming to defend Europe against a "migrant invasion".
Protesters from the Generation Identitaire group burned tyres and clashed with police after setting up barricades emblazoned with their logo and the slogans "go home" and "no way".
Police arrested 14 members of the group and seized one of their vehicles, with officials saying they would not "let extremist movements manipulate the migrant crisis".

Register for free to continue reading
Registration is a free and easy way to support our truly independent journalism
By registering, you will also enjoy limited access to Premium articles, exclusive newsletters, commenting, and virtual events with our leading journalists
Already have an account? sign in
Register for free to continue reading
Registration is a free and easy way to support our truly independent journalism
By registering, you will also enjoy limited access to Premium articles, exclusive newsletters, commenting, and virtual events with our leading journalists
Already have an account? sign in
Join our new commenting forum
Join thought-provoking conversations, follow other Independent readers and see their replies