Faycal Cheffou: Who is the 'freelance journalist' charged with terrorist murders after Isis Brussels attacks?
Prosecutors have not confirmed reports he is the missing 'man in the hat' seen before airport bombings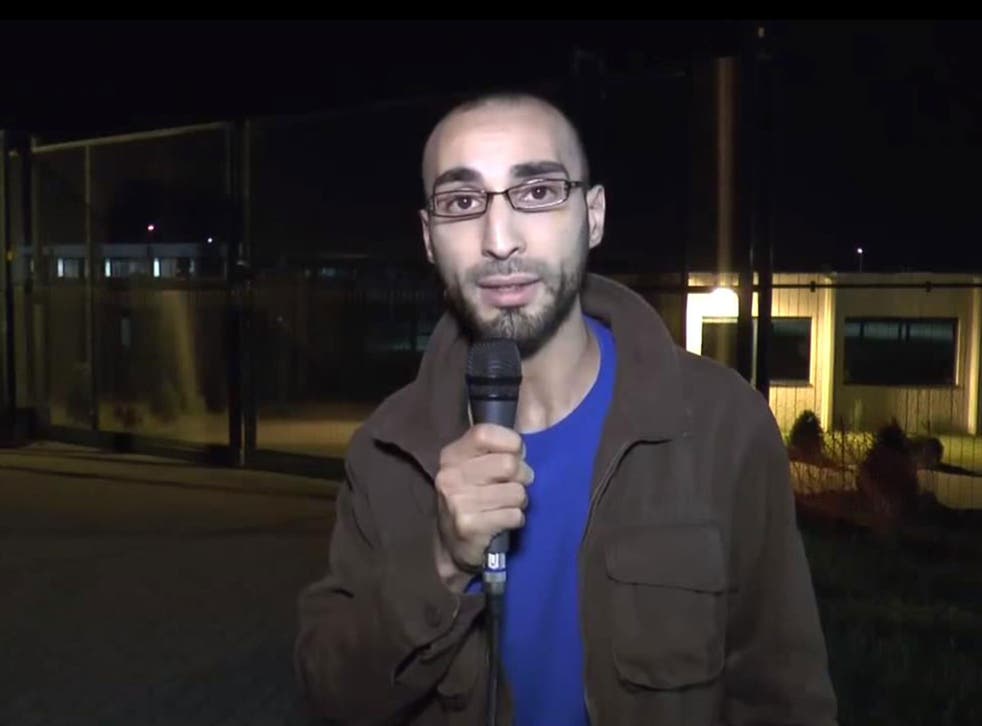 A man who once claimed to be a freelance journalist has been charged with "terrorist murders" following the Brussels attacks.
There is growing speculation that Fayçal Cheffou could be the fugitive "man in the hat" seen with the two airport bombers on CCTV but prosecutors have not confirmed his exact role.
A statement on Saturday said that he had been charged with "participation in the activities of a terrorist group, terrorist murders and attempted terrorist murders" in connection with the explosions at Brussels Airport and Maelbeek Metro station.
Fayçal Cheffou: 'Freelance journalist'
Belgian media report that Mr Cheffou is the man pictured wearing a distinctive white coat and hat alongside suicide bombers Najim Laachraoui and Brahim el-Bakraoui in the departures terminal on Tuesday morning.
The suspected Isis militants died when they detonated the suitcase bombs they were wheeling on luggage trolleys but the third and most powerful device, believed to be the third man's, was found unexploded after he fled the scene.
Little over an hour later, Khalid el-Bakraoui blew himself up at Maelbeek Metro station.
A taxi driver who drove the trio to the airport identified Cheffou as one of his passengers from photographs, Belgian newspaper Le Soir reported, but prosecutors have not confirmed the claim.
Cheffou was arrested near the federal prosecutor's office in Brussels on Thursday evening alongside a man and woman who have since been released.
Their relationship and the reason for their presence in the area was unclear.
A search conducted at Cheffou's home found no weapons or explosives, according to the federal prosecutor's office.
Little appears to be known about the man, who has no Facebook profile under his name and despite apparently claiming to be a "freelance journalist", is known for only one report.
In a video uploaded to YouTube two years ago, Cheffou reports from outside an immigration detention centre in the Belgian province of Steenokkerzeel.
With shouting and banging clearly audible from the building in the background, he claims the migrants and asylum seekers are protesting inside because they have not been fed.
In pictures: Terror attacks at Brussels airport

Show all 30
After reporting that meal times at the centre mean dinner stops at 10pm, meaning that Muslims fasting for Ramadan cannot eat, Cheffou tells the camera they have been "totally forgotten by the rest of the world".
A description beneath the video said "fundamental freedoms" were being violated, adding: "Belgian Muslims must act urgently to stop the abuses."
It was unclear if Cheffou wrote the description for the footage, which was posted in July 2014 on a YouTube channel whose name translates as "The Oppressed".
With more than 900 subscribers, the most recent video was uploaded in February and subjects include alleged human rights abuses against Palestinians, the Quran, police brutality and reporting on Hasna Ait Boulahcen, who died in a raid linked to the Paris attacks.
Cheffou has allegedly been watched by Brussels police for months after being accused of attempting to radicalise refugees at a makeshift camp in Maximilien Park, Le Soir reported.
The mayor of Brussels, Yvan Mayeur, alerted prosecutors to Cheffou's activities but did not secure any charges and took out an order banning him from the area.
He also has previous convictions for offences including receiving stolen goods dating back more than a decade, another Belgain newspaper, La Capitale, reported.
The report added that Cheffou's older brother, Karim, was shot dead by police during an arrest in 2002. A Kalashnikov and grenades were reportedly found at his home in Schaerbeek.
Prosecutors did not confirm the claims or whether Cheffou is believed to be the third airport bomber.
Nine people have been arrested in Belgium and two in Germany as the investigation continues into the attacks, which killed 31 people and injured more than 300 more.
Two other suspects linked to the case and anther alleged plot in Paris have been charged with participation in the activities of a terrorist group.
Join our new commenting forum
Join thought-provoking conversations, follow other Independent readers and see their replies