FC Lampedusa Hamburg, and the inspirational refugee football project cropping up around Europe
'When I play with FC Lampedusa, I don't feel like I'm alone'
Zachary Davies Boren
Saturday 17 October 2015 17:09 Comments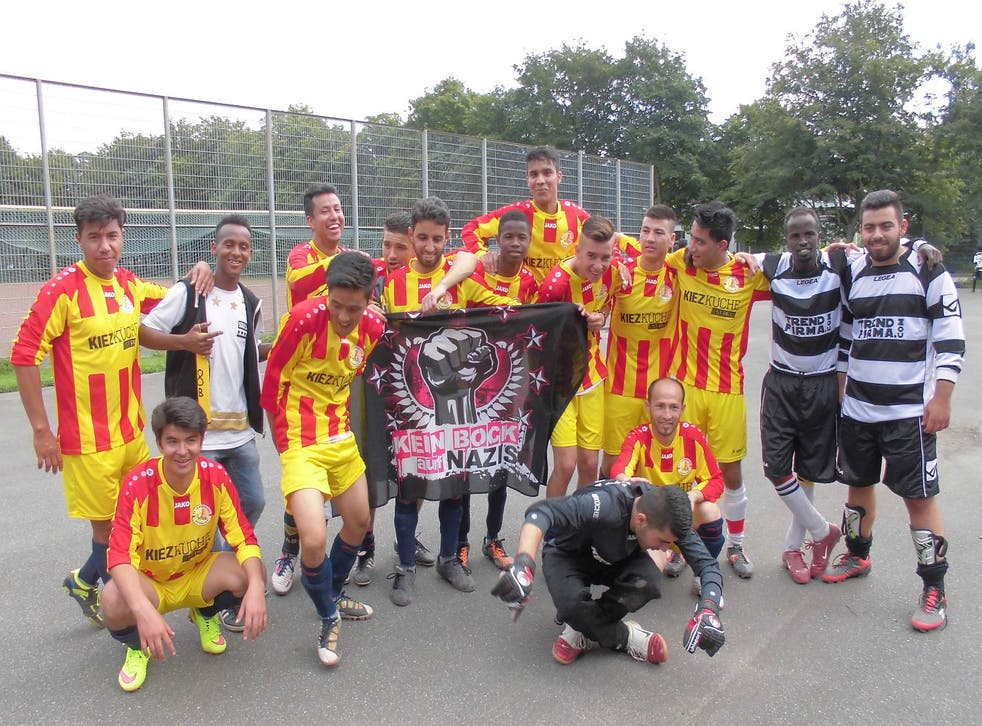 For the hundreds of thousands of refugees arriving in Europe, making a home, finding friends and keeping busy can be incredibly hard things to do.
Though they are celebrated in some corners of the continent, in many others there is great anger at their very presence — with locals fearful of the implications on their own lives.
But there is project emerging in countries ranging from the UK to Germany to Italy to France and Spain that sounds like it's really making a difference: refugee football.
A powerful piece from Quartz focuses on FC Lampedusa, an amateur team based in the northern German city of Hamburg and comprised exclusively of refugees relocated from the notorious Italian island-cum-refugee camp.
Alee, an 18-year-old asylum seeker from Afghanistan, is one of their players.
"I love to play football, but I couldn't play for local teams because I don't have any documents," he said.
Like many others in similarly desperate situations, Alee doesn't have a registered address, and that means he can't sign up for other local teams.
But that's not the case with Lampedusa, one of a growing number of clubs designed to support newcomers who have fought to reach Europe only to find themselves without anyone or anything.
Alee confessed to missing his mother - "only God can help her now" - but says his football team has become a family of sorts.
"When I play with FC Lampedusa, I don't feel like I'm alone. I have many friends here."
The team mostly comes from West Africa, the players leaving Libya for Italy once the country collapsed into civil war.
After living at the EU detention centre on the Italian island of Lampedusa, they were ultimately allowed to leave, given a small amount money and permission for residence.
Upon their arrival in Hamburg, the 300 or so refugees were not greeted warmly — like some of those who this summer reached the southern city of Munich.
The Hamburg government tried sending them back to Italy, but they resisted and in their struggle coined their symbolic chant: "Here to stay, here to play."
With the help of anti-racist team St Pauli, FC Lampedusa was born.
Hagar Groetke, one of the team's coaches, all of whom are women, said: "These are people who have lost everything — their homes, families, normal lives, and they're excluded for not having shoes."
They normally face off against other refugee or anti-racist teams, the number of which growing as the current crisis - the world since World War II - continues.
There's a team like Lampedusa operating out of Lyon, there's Atlético de Pinto in Spain, Liberi Nantes in Rome, United Glasgow FC in the Scottish capital, and the Young Caritas Käfig League in Austria.
In this moment of suffering, with record numbers fleeing their own countries, the universal language of football is bringing people together.
Register for free to continue reading
Registration is a free and easy way to support our truly independent journalism
By registering, you will also enjoy limited access to Premium articles, exclusive newsletters, commenting, and virtual events with our leading journalists
Already have an account? sign in
Join our new commenting forum
Join thought-provoking conversations, follow other Independent readers and see their replies