Trump 'working on' extraditing Islamic cleric Gulen from US to Turkey
Turkish foreign minister's comments come as US seeks to reduce Turkish pressure on Saudi Arabia over Jamal Khashoggi murder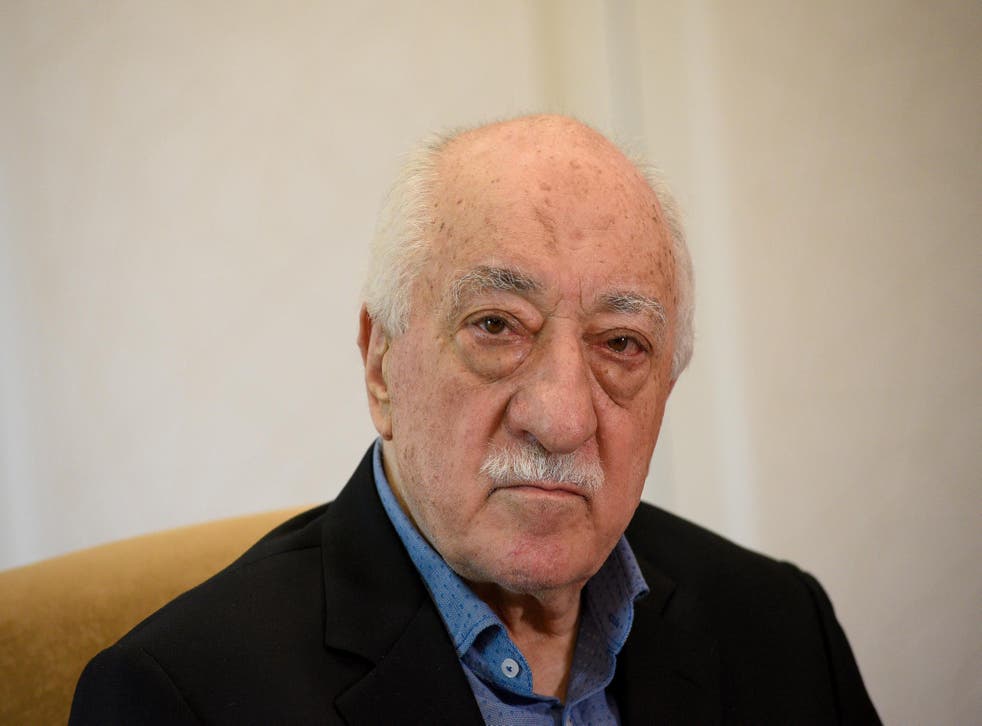 Donald Trump told Turkey's president Recep Tayyip Erdogan that Washington is working on extraditing an Islamic cleric self-exiled in the United States, according to Turkey's foreign minister.
The extradition of Fethullah Gulen would be a strategic effort to persuade Turkey to lessen scrutiny on Saudi Arabia over the killing of journalist Jamal Khashoggi.
Mr Gulen, a former ally of Mr Erdogan, is blamed by Turkish authorities for orchestrating a failed coup in 2016, when rogue soldiers commandeered tanks and helicopters, attacked parliament and shot unarmed civilians. Mr Gulen denies any involvement in the coup.
Speaking at the Doha Forum in Qatar on Sunday, Turkey's foreign minister Mevlut Cavusoglu said: "In Argentina, Trump told Erdogan they were working on extraditing Gulen and other people."
Mr Cavusoglu was referring to the G20 summit where the leaders met two weeks ago.
He added: "I have recently seen a credible probe by the FBI on how the Gulen organisation avoids taxes."
Turkey has long sought the extradition of Mr Gulen, who has lived in self-imposed exile in the US for nearly two decades.
Mr Erdogan said that Turkey will start new initiatives abroad to target the financing of Mr Gulen's supporters during a speech in Ankara on Thursday.
However, last month, Mr Trump said he was "not considering" extraditing the Islamic cleric.
World news in pictures

Show all 50
The foreign minister's recent comments about Washington now working to extradite Mr Gulen come after Mr Erdogan on Friday renewed attacks on Saudi Arabia over the Khashoggi murder.
Mr Erdogan accused Saudi Crown Prince Mohammad bin Salman's "closest" associates of being behind the killing of Khashoggi, in an apparent attempt to keep the pressure on the oil-rich kingdom.
"We have learned this from the audio recordings: of those who arrive, those closest to the crown prince played the most active role," Mr Erdogan said, according to the official Anatolia news agency. "The perpetrators are clear to me."
Mr Erdogan's statement comes after the US Senate passed a resolution saying Crown Prince Salman is responsible for the murder of Khashoggi following the CIA's assessment of the case. Riyadh maintains that the murder, which took place at the Saudi consulate in Istanbul on 2 October, occurred at the behest of "rogue elements" – not the Crown Prince.
Support free-thinking journalism and attend Independent events
Mr Trump and a number of administration officials have sought to play down the CIA assessment, with Secretary of State Mike Pompeo saying this week that it has been reported "inaccurately".
In recent months, the Trump administration has been vigorous in its defence of Saudi Arabia and the crown prince, in an effort to maintain close relations including lucrative weapons deals.
Additional reporting by Reuters
Join our new commenting forum
Join thought-provoking conversations, follow other Independent readers and see their replies