Former Nato commander's new book predicts invasion of Baltic as Putin bids to 'make Russia a great power again'
2017 War with Russia, by General Sir Richard Shirreff, paints a disturbing picture of potential nuclear conflict taking place next year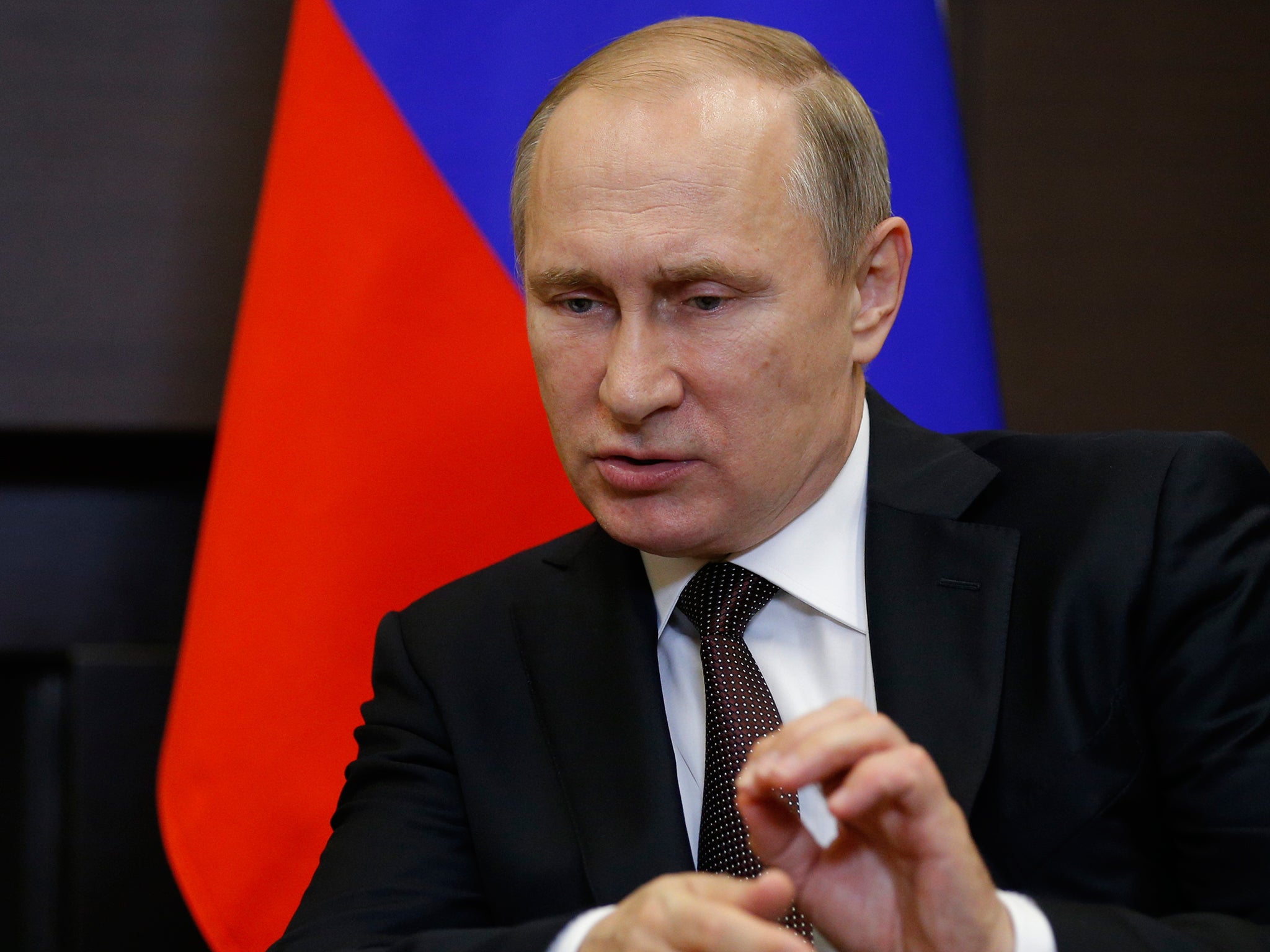 General Sir Richard Shirreff's book deals in specifics. The West, it says, would be at war with Russia within the year. The Kremlin will invade the Baltic States through Latvia and threaten to go nuclear if Nato attempts a military response. "A hesitant Nato will face catastrophe; the day of reckoning for its failure to match strong political statements with strong military forces finally arrives."
It is these specifics that are seen as the selling points in 2017 War with Russia written by Gen Shirreff, a former deputy commander of Nato. The war will begin in May next year, which happens to be 12 months from the launch of the book this week. Vladimir Putin, who is "aggressive and opportunistic", will take advantage of weak political leadership in the West to "make Russia a great power again".
Gen Shirreff points towards the short war between Russia and Georgia in 2008, the annexation of the Crimea two years ago and the separatist strife in eastern Ukraine as part of a grand plan of Russian expansion. But a lot of what happened in these conflicts – each of which I covered – was due to changing dynamics on the ground rather than a grandmaster Putin sitting with a chessboard in the Kremlin.
Furthermore, these are now frozen conflicts, something that suits the Russians who have what they wanted. Indeed, in my trip to the Donbass last autumn, I found that the Kremlin was removing hotheads among the separatist leadership who wanted to continue the fighting and replace them with more pragmatic figures. Why should the President risk all the gains with a risky hot war with an invasion of the Baltic States which, unlike Ukraine and Georgia, are members of Nato and can invoke Nato assistance?
What happens if Sir Richard's doomsday scenario fails to take place? Well, there is a get-out clause. Speaking at the launch of the book at the Royal United Services Institute (RUSI) at Whitehall, in London, he said that war can be avoided if the West began to position personnel and weapons in the Baltic States and eastern Europe. Nato is, in fact, in the process of doing just that to the chagrin of the Kremlin which holds this breaches the pledge made by the Alliance to Boris Yeltsin's government in 1997 that it will not have permanent troop presence in any of the former Warsaw Pact states.
There is concern among Nato commanders that their governments are not fully aware of advances in Kremlin's military capabilities. However, Western military leaders have themselves been in the practice of sneering at Russian forces. Their army's equipment was said to be "outmoded", their air force's bombs and missiles were "more dumb than smart", their navy was "more rust than ready".
What they have seen in Ukraine has come as something of a shock. Russian military jets have carried out more sorties in a day in Syria than the US-led coalition has done in a month. The Russian navy has launched ballistic missiles from the Caspian Sea 900 miles way. The air defences installed by the Russians in Syria and eastern Ukraine would make it extremely hazardous for the West to carry out strikes against the Assad regime or Ukrainian separatists.
Lieutenant General Ben Hodges, the commander of the US army in Europe, has described Russian advances in electronic warfare – a field in which they were typically supposed to be backward – as "eye-watering". The chief of US Air Force operations in Europe and Africa, Lieutenant General Frank Gorenc, has said that Russian anti-aircraft systems installed in Crimea and Kaliningrad, an enclave between Lithuania and Poland, makes "very, very difficult" for Nato planes to gain access safely to areas including parts of Poland.
But Russian advances in military technology does not mean that Kremlin is about to launch an attack, although it may add to the argument for increased defence spending.
Putin celebrates his 63rd birthday playing hockey
Show all 5
It is the case that Western politicians have talked up military action while failing to invest in the military. David Cameron, brushing aside advice of caution from commanders during the Libyan intervention declared "I'll tell you what, you do the fighting and I'll do the talking". We all know now, of course, the outcome of the Prime Minister's Libyan adventure.
Gen Shirreff has been severely critical of Mr Cameron saying that he has " made himself increasingly irrelevant on the international stage". He has also revealed a clash with then Defence Secretary Philip Hammond about a newspaper article he had written criticising military cuts.
An infuriated Mr Hammond apparently wanted to take formal action against Gen Shirreff. "However, formal action would have involved a court martial and, fortunately for the latter's political reputation – it also seems he had not appreciated that I reported to Nato and not to him – wiser counsel prevailed", said Sir Richard.
Join our commenting forum
Join thought-provoking conversations, follow other Independent readers and see their replies