Former neo-Nazi jailed for Auschwitz sign theft
Two-year sentence for Swede who masterminded the crime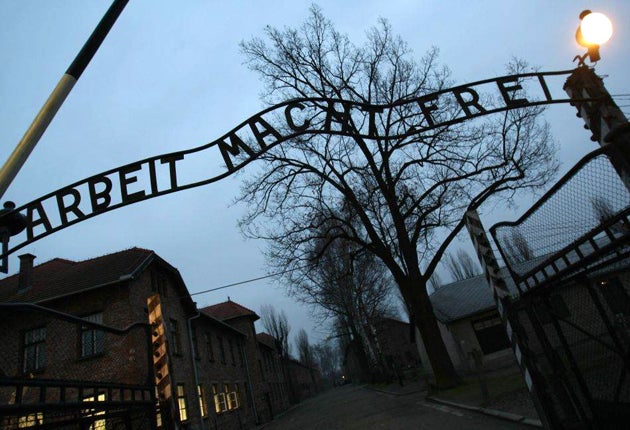 A former Swedish neo-Nazi was yesterday jailed for more than two years for masterminding the theft of the infamous "Arbeit Macht Frei" sign from the entrance of memorial museum on the site of the Nazi death camp at Auschwitz.
The 16ft wide sign, a lasting symbol of the Holocaust which states "Work Sets You Free", was removed from the gate of the former Auschwitz camp more than a year ago and found in woods in northern Poland three days later.
A gang of five Poles with a so-called "Swedish connection" was held responsible for the theft. They had planned to ship the sign to Sweden where it was to be sold. The theft provoked international outrage and protests from Israel and Jewish groups worldwide.
An estimated 1.5 million people, most of them Jews, were systematically murdered at Auschwitz. The camp site is now a museum and serves as one of the world's most chillingly powerful Holocaust memorials. It is partially funded by the German government and it attracts thousands of visitors annually.
Yesterday, a court in the southern Polish city of Krakow, sentenced Anders Hogstrom, 34 – a former Swedish neo-Nazi who is said to have turned his back on the far right a decade ago – to two years and eight months imprisonment for his role in the theft.
Hogstrom, who helped set up a far right, anti-immigrant group called the National Socialist Front in Sweden in the 1990s, told the court calmly after he was sentenced: "Yes I accept the verdict."
A Polish court spokesman said Hogstrom had reached a deal with prosecutors which would allow him to be sent to Sweden to serve his sentence.
The court also sentenced two Polish men identified as Marcin Auguscinski and Andrzej Strychalski to jails terms of 30 months and 28 months respectively for stealing the sign and cutting it into three pieces to get it into their getaway vehicle. Auguscinski apparently met Hogstrom more than two years ago while doing odd jobs on his family estate in southern Sweden.
Despite his sentencing, Hogstrom's exact role in the theft remained unclear. The former neo-Nazi, who lives in the southern Swedish city of Karlskrona, is said to have renounced the far right more than a decade ago. He now claims to be a member of a group which helps ex-Nazis to return to normal life.
Poland convicted him of masterminding the theft after prosecutors failed to turn up any evidence which supported Hogstrom's claims that he was acting as a middle man in a plot to steal the sign for financial and possibly political gain.
Swedish police arrested him early in 2010. Hogstrom also claimed that rather than being arrested, he had turned himself into the Swedish authorities after he realised that proceeds from the sign's sale was meant for a political campaign to disrupt Swedish general election in September which saw huge gains by the right-wing Sweden Democrat party. No evidence has emerged to support his claim that there was a political element to the theft
Polish prosecutors said Hogstrom had admitted his guilt at the last minute. The most likely cause for Hogstrom's change of heart appears to have been the settlement reached with prosecutors which allows him to return to Sweden to serve his sentence.
But whether the motives behind the sign's theft were political or linked in any way to the election gains by Sweden's anti-immigrant Sweden Democrats, remains a mystery. Robert Parys, the Polish prosecutor who headed the investigation, said he was convinced the main motive was financial.
What is clear is that the gang, whose members were aged between 25 and 39, had clearly not bargained for the international outcry and nationwide manhunt the theft provoked.
Avner Shalev, chairman of Israel's Yad Vashem Holocaust memorial was one of the many Jewish leaders who felt outraged. He said the incident had given "pain to Holocaust survivors and people of conscience everywhere."
Despite the rediscovery of the "Arbeit Macht Frei" sign soon after its theft, its place remained occupied yesterday by a copy. The original – under lock and key at the Auschwitz memorial museum – is being repaired and will eventually take its place.
Join our commenting forum
Join thought-provoking conversations, follow other Independent readers and see their replies