Gang 'hunting refugees' beat man to death in Germany
Attack comes after vigilante gangs targeting asylum seekers form across Germany
Lizzie Dearden
Wednesday 03 May 2017 13:51 Comments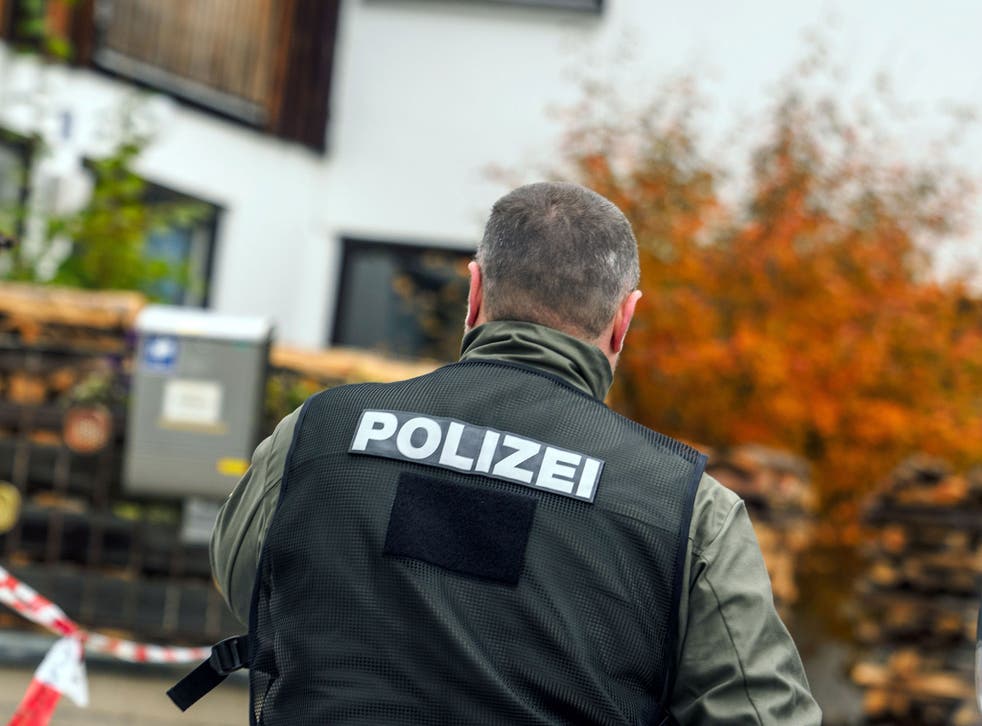 Four men are on trial in Germany for allegedly beating a man to death after setting out to "hunt refugees".
The case is one of several linked to vigilante mobs that have emerged in the country since the start of the refugee crisis, intensifying since mass sexual assaults in Cologne.
Prosecutors said the gang in Waldbröl, North Rhine-Westphalia, drank together before heading into the town centre to "hunt for refugees" after hearing reports a girl had been harassed, WDR reported.
Armed with a baseball bat and knuckle duster, they found several groups of asylum seekers who managed to escape without serious injury while roving the streets on 1 September.
At least one man was beaten before they came across their final victim, a 40-year-old from Kazakhstan named as Klaus B who was known to the suspects and had fought them days before.
The gang, aged between 19 and 35, set upon the victim in a car park after he had also been drinking.
The teenager was allegedly the first to hit Klaus B, before the others joined in, continuing to beat him as he lay on the ground and at jumping on his back as he tried to flee.
He died in hospital nine days later, leaving a wife and two children after suffering severe head injuries including a fractured skull.
Following Klaus B's death in September, police said they were investigating "connected events" in Waldbröl including assaults, harassment and robbery.
Germany: Far-right vigilante group "Die Rechte" patrols Dortmund's migrant communities
"The prosecution assumes that their primary objective was to go out into Waldbröl and pick a fight with refugees," a spokesperson for Bonn district court said.
Relatives say the victim's children have been left traumatised by their father's brutal death.
The family's lawyer, Christina Dissmann, said his wife "cannot comprehend how the perpetrators could continue attacking him when he was already lying on the ground…again and again they went after him and beat him".
The four suspects have been charged with dangerous bodily harm resulting in death and participation in a fight, with the court expected to reach a verdict on 30 June.
It is one of numerous attacks linked to the refugee crisis last year in Germany, amid record levels of politically-motivated crime, attacks on asylum accommodation and clashes between left and right wing groups.
Vigilante gangs were roaming the streets of Cologne on a "manhunt" for asylum seekers as part of a backlash mass sexual assaults by migrants in the city on 31 December 2015.
Among victims recorded last January were Pakistani men beaten by a 20-strong mob and Syrian refugee targeted minutes later by a smaller group nearby.
Germany reacts to Cologne New Year's Eve attacks

Show all 13
Police were forced to increase officer numbers in the city centre after receiving warnings about a group searching for "provocation".
It came after a Facebook page created by a gang of "rockers" and football hooligans called for supporters to "clean up" Cologne.
Later that month, a man wearing a swastika-emblazoned helmet and "Hitler moustache" attacked two Afghan refugees on a ski slope near Dresden.
Then in June, a group of suspected vigilantes beat a mentally ill Iraqi refugee, dragged him out of a supermarket and tied him to a tree in Arnsdorf after he was accused of shoplifting.
Hundreds of attacks including firebombings and arson have been recorded on migrant accommodation in Germany, which has also been the target of far-right terror plots.
Police recently foiled a planned attack by a German soldier accused of registering as a Syrian refugee for a "false flag" attack to generate hostility against asylum seekers.
A series of Isis-linked terror attacks have been seized on by right-wing groups who blame Angela Merkel's decision to open the country's borders to refugees in 2015.
The reaction to the arrival of more than a million migrants has raised tensions leading into September's federal elections, where Ms Merkel is battling to win a fourth term as Chancellor.
Register for free to continue reading
Registration is a free and easy way to support our truly independent journalism
By registering, you will also enjoy limited access to Premium articles, exclusive newsletters, commenting, and virtual events with our leading journalists
Already have an account? sign in
Join our new commenting forum
Join thought-provoking conversations, follow other Independent readers and see their replies