France gets a €30bn austerity shock from François Hollande U-turn
John Lichfield
Tuesday 11 September 2012 13:44 Comments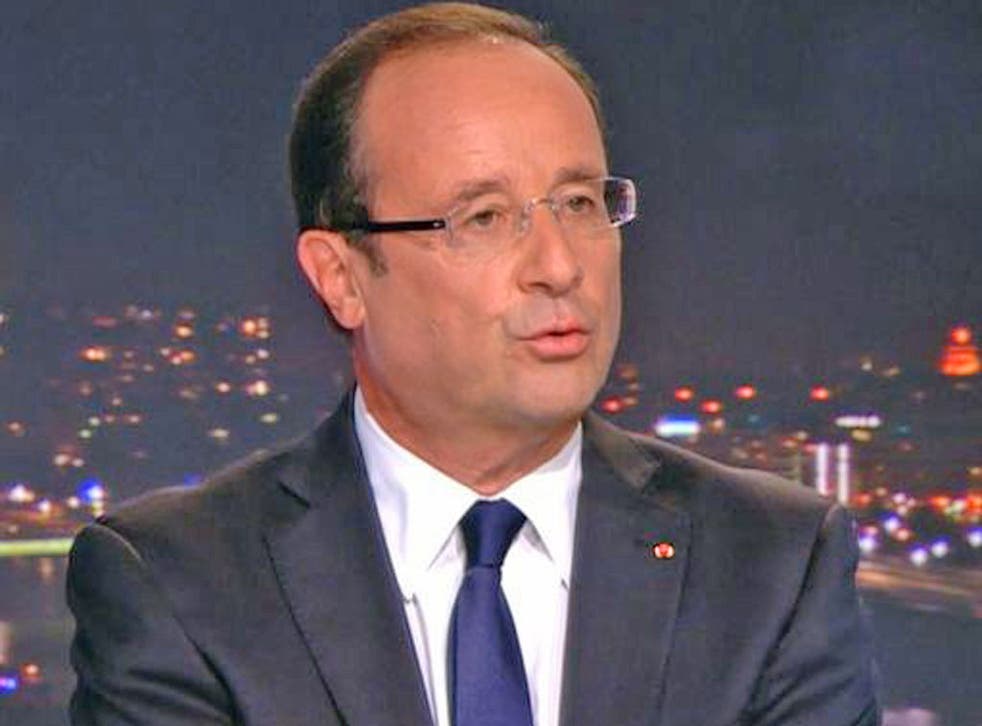 President François Hollande, confronted with a floundering economy and shrinking popularity ratings, has promised to put France back on its feet within two years.
In a live television interview billed by the media as a "re-launch" of his four-month-old presidency, Mr Hollande warned that France faces €20bn (£16bn) in tax rises and €10bn in spending cuts next year.
Mr Hollande has been criticised for being too indecisive and detached, but on Sunday night he presented himself as an active, personally engaged leader who could rescue France from deep economic crisis by 2014.
"I am in a battle … two years to create a policy for work and competitiveness. I am accelerating," he said. "I know where I am going. I will assume all the responsibility and I will talk regularly to the French people."
In other words, Mr Hollande, who had sworn to abandon the frenetic, can-do style of his predecessor, Nicolas Sarkozy, promised to be more like Mr Sarkozy. His performance was criticised on the right as limp and vague and aroused fears in his own left-wing camp of a shift towards austerity and market-opening reforms.
Of the €30bn needed to reduce France's state deficit next year to the eurozone target of 3 per cent of GDP, Mr Hollande said two-thirds would come from tax rises. This would include his threatened 75 per cent tax on income over €1m. Sports and film actors would not be exempted but earnings from productive investments would be.
President Hollande gave little detail of how €10bn would be cut from the draft 2013 spending plans – already billed as the most austere for three decades. He spoke only of a freeze on hiring in all government departments, save those dealing with security and education. It was announced yesterday, however, that a series of high-profile cultural projects launched by Mr Sarkozy would be scrapped.
During his election campaign, Mr Hollande suggested he could cut the budget deficit while promoting growth, a magic formula that has eluded all other developed economies. Since his victory, the economy has slowed to a standstill and unemployment has topped 10 per cent. As a symbol of his new blood, sweat and tears approach, Mr Hollande said the government would lower its growth forecast for 2013 from 1.2 per cent to 0.8 per cent.
Register for free to continue reading
Registration is a free and easy way to support our truly independent journalism
By registering, you will also enjoy limited access to Premium articles, exclusive newsletters, commenting, and virtual events with our leading journalists
Already have an account? sign in
Join our new commenting forum
Join thought-provoking conversations, follow other Independent readers and see their replies