France launches war crimes and crimes against humanity investigation into Bashar al-Assad's regime
The announcement came as the Russian Parliament approved military intervention to support Syrian regime against Isis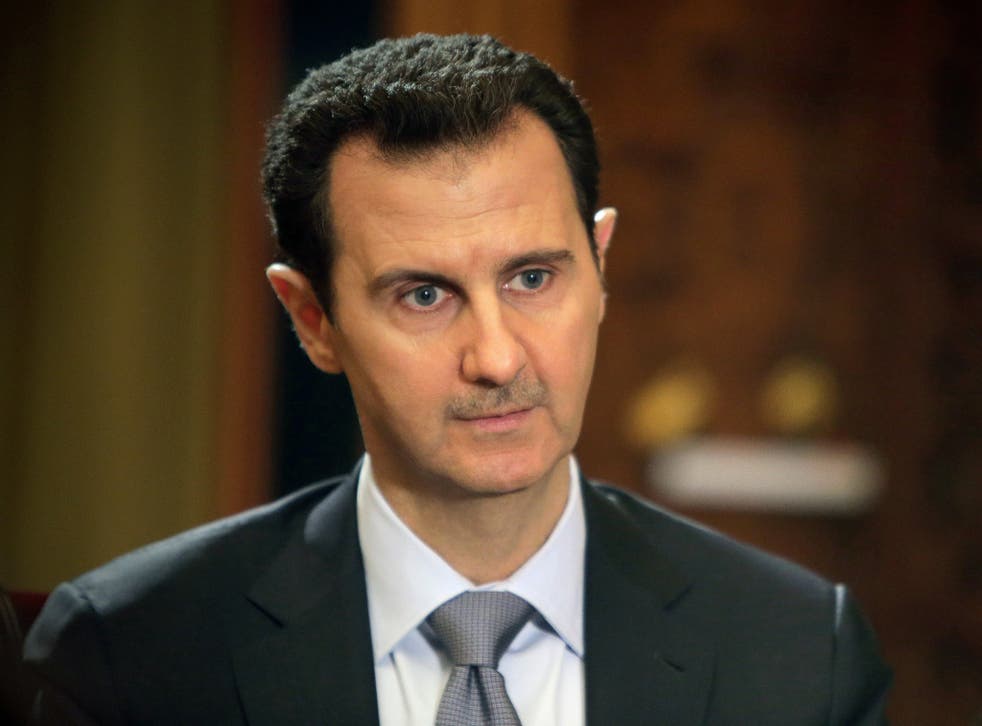 France is investigating Bashar al-Assad over alleged crimes against humanity perpetrated by his regime during the Syrian civil war.
The national prosecutor's office announced it was launching the case on the morning Russia's parliament approved military intervention supporting its controversial ally against Isis.
France's investigation, which is also examining claims of torture and kidnapping by President's Assad's forces, was opened "on the basis of indications received from the foreign ministry" on 10 September, an official said.
A dossier compiled by the French government used 55,000 photos smuggled out of the country by a former Syrian army officer, showing 11,000 alleged victims of forces loyal to President Assad, according to various media reports.
The ability of French courts to try those held responsible may hinge on the identification of French nationals among the victims, but the prospect of a trial outside Syria appears remote.
In the face of sustained Russian support for the Syrian government, France recently joined other western powers in softening earlier demands that President Assad leaves office as a precondition for peace talks.
Speaking on his way to address the UN on Sunday, David Cameron dubbed the Syrian leader "one of the great recruiting sergeants for Isis", arguing his atrocities were driving people to join the jihadist group.
"He has butchered his own people," the Prime Minister added. "He has helped create this conflict and this migration crisis."
At a counter-terrorism summit at the UN, Barack Obama also said President Assad must go.
USA: We're ready to work with Russia but not Assad over Syria - Obama
"In Syria...defeating Isil (Isis) requires, I believe, a new leader," he told the gathering.
The UN, world leaders and human rights groups have long condemned the Syrian regime for alleged atrocities including barrel bombings and chemical attacks on civilians, as well as kidnapping, torture and extrajudicial executions.
A report by the UN's human rights commissioner accused all parties of involvement in a lengthy catalogue of massacres and abuses.
"The Government continues to commit violations, including war crimes and crimes against humanity, with impunity," the report said.
"Government forces have systematically targeted civilians and civilian infrastructure, demonstrating the intent to kill, wound and maim.
"The apparent objective of the Government's military operations is to render life unbearable in areas out of its control."
Outrage over the Ghouta chemical attack in August 2013, which killed at least 350 civilians, almost drove Parliament to approve British military intervention against President Assad in Syria but international focus on regime atrocities faded as Isis started its bloody campaign to establish an Islamic State.
Russia's parliament formally approved military intervention against Isis today, after the country sent some of its most advanced fighter planes to Syria.
The Federation Council considered a request from Mr Putin to deploy the country's armed forces abroad, reportedly in air strikes and intelligence gathering missions.
Russia has already sent at least 28 planes, reportedly including six of its most advanced Su-34 Fullback bombers, to President Bashar al-Assad's strongholds.
The US and Russian leaders had agreed on Monday to look for a diplomatic end to the war but clashed over whether the Syrian President should retain power.
An estimated 250,000 people have been killed in Syria's four-year civil war, where the government, rebels, Islamist groups and Isis are fighting for territory.
A further 11 million people have been displaced from their homes, with hundreds of thousands of refugees risking their lives to seek safety in Europe so far this year.
Additional reporting by Reuters
Register for free to continue reading
Registration is a free and easy way to support our truly independent journalism
By registering, you will also enjoy limited access to Premium articles, exclusive newsletters, commenting, and virtual events with our leading journalists
Already have an account? sign in
Register for free to continue reading
Registration is a free and easy way to support our truly independent journalism
By registering, you will also enjoy limited access to Premium articles, exclusive newsletters, commenting, and virtual events with our leading journalists
Already have an account? sign in
Join our new commenting forum
Join thought-provoking conversations, follow other Independent readers and see their replies