France shooting: Three police officers shot dead after responding to domestic violence call
President Macron calls dead policeman 'heroes'
Emily Goddard
Wednesday 23 December 2020 20:06 Comments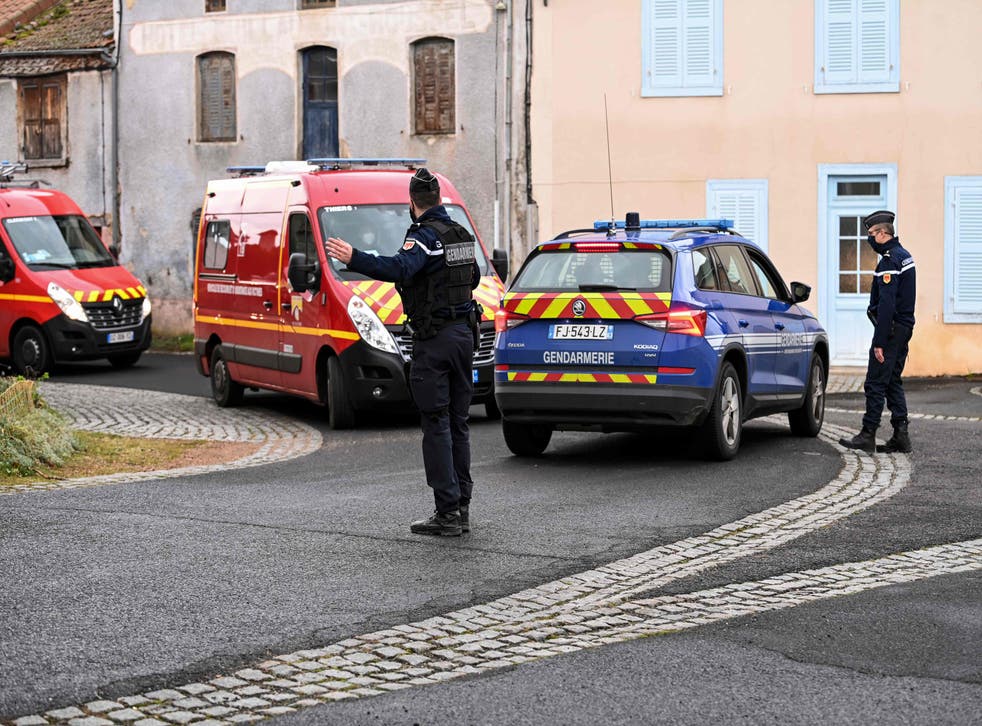 Leer en Español
Three French police officers have been shot dead, and a fourth wounded, while responding to a domestic violence incident in the Puy-de-Dome region.
The gunman, 48, was later found dead.
The French president, Emmanuel Macron, described the gendarmes as "heroes" and said the nation mourned for their families.
Gerald Darmanin, France's interior minister, named the officers who died as Lieutenant Cyrille Morel, 45, Adjutant Remi Dupuis, 37 and Brigadier Arno Mavel, 21.
"The nation bows before their courage and commitment," said Mr Darmanin, who was en route to the site of the shootings in the remote village of Saint-Just, southwest of Lyon.
Police attending the domestic violence incident approached the house just after midnight and faced a lengthy standoff.
The suspect opened fire, killing three officers and injuring another, before fleeing the scene.
A rapid-response unit of 300 officers was deployed to the area in a wide-ranging manhunt. The gunman was subsequently found dead in his car in circumstances that remain unclear, a spokesperson said.
The suspect was known to authorities because of at least one past case involving non-payment of child maintenance, according to an official in the prosecutor's office in the nearby city of Clermont-Ferrand.
The woman was rescued from the scene and taken into police care.
An investigating source said: "A woman was on the roof screaming for help, and as two gendarmes got close, a man opened fire, killing one officer instantly.
"Another was hit in the thigh and rushed to hospital, where he subsequently died.
"The woman managed to escape, but then there was more shooting, in which another gendarme died, and a fourth was wounded."
The suspect also set fire to the house, which burned to the ground, according to French news channel BFM TV.
France has one of the highest rates of murders linked to domestic violence in western Europe.
The interior ministry said 146 women were killed by their partners in 2019 – a statistic that has prompted a nationwide campaign against domestic violence.
Register for free to continue reading
Registration is a free and easy way to support our truly independent journalism
By registering, you will also enjoy limited access to Premium articles, exclusive newsletters, commenting, and virtual events with our leading journalists
Already have an account? sign in
Join our new commenting forum
Join thought-provoking conversations, follow other Independent readers and see their replies