France prepares to fight back: Defence minister says Isis' international army must be wiped out
Jean-Yves Le Drian showed no sign of reducing France's military commitments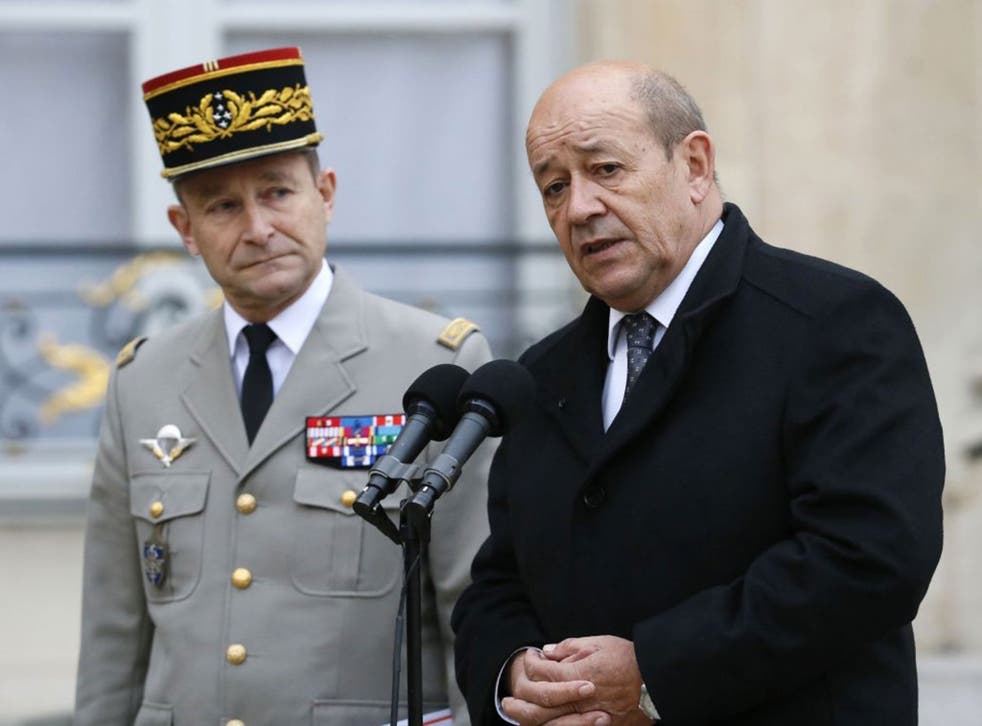 France's defence minister has vowed that Isis must be "wiped out" as the country mounts its response to three days of terror attacks.
An Isis-inspired gunman was among the three extremists who carried out co-ordinated atrocities that left 17 people dead in Paris.
Amedy Coulibaly, who killed four hostages at a kosher supermarket a day after shooting a police officer dead, had pledged allegiance to Isis, while Charlie Hebdo gunmen Said and Cherif Kouachi claimed to represent al-Qaeda in Yemen.
Following the US, France has the largest number of planes and troops involved in the coalition fighting Isis, which last year took control of large swathes of Iraq and Syria.
It has also sent about 3,500 troops and special forces to operate in the Sahel-Sahara region of northern Africa hunting down al-Qaeda affiliated militias.
France intervened in Mali, its former colony, to oust Islamist militants in January 2013 and the Defence Minister Jean-Yves Le Drian claims forces are now fighting the "same threat" on home soil.
About 10,000 soldiers and police have been deployed to sensitive areas, including synagogues, mosques and airports, in the wake of the Paris attacks.
"It is the same enemy. Our forces are on the ground here because...for our troops it's the same fight," Mr Le Drian told Europe 1 radio.
"The response is inside and outside France. Islamic State (Isis) is a terrorist army with fighters from everywhere...it is an international army that has to be wiped out and that is why we are part of the coalition."
More than 1,120 French extremists are believed to be involved in jihadi cells linked to Iraq and Syria, of which about 400 have travelled to the region.
In a video released after Coulibaly was killed in a shoot-out with police, he pledged allegiance to Isis and blamed France's intervention in foreign conflicts for his actions.
What we are doing is completely legitimate, given what they are doing," Coulibaly says in fluent French. "You cannot attack and not expect retribution so you are playing the victim as if you don't understand what's happening."
In pictures: Kosher grocery attack in Paris

Show all 25
Parliament will vote today on whether to extend France's military mission in Iraq, four months after its launch.
It has 800 military personnel, nine fighter jets, a maritime patrol aircraft and a refuelling plane at its base in the United Arab Emirates as part of its Chammal Iraq mission, as well as an anti-aircraft warship in the Gulf. It also operates six Mirage fighter jets from Jordan.
It is due to send its aircraft carrier to the Indian Ocean on Wednesday and Mr Le Drian previously pledged 120 military advisers to train Iraqi and Kurdish forces fighting Isis.
The government has so far ruled out striking Isis in Syria, where it instead provides equipment and training to "moderate" militias fighting President Bashar al-Assad.
Coulibaly's girlfriend, Hayat Boumeddiene, was sought by French police as his suspected accomplice but had fled to Syria ahead of the killings.
She was recorded on CCTV arriving at Istanbul airport on 2 January and is believed to have travelled across Turkey to the Syrian border and disappeared six days later.
Additional reporting by Reuters
Join our new commenting forum
Join thought-provoking conversations, follow other Independent readers and see their replies