French election: Petition for Barack Obama to run for President garners more than 40,000 signatures
Campaign garners support as candidates hit by wave of scandals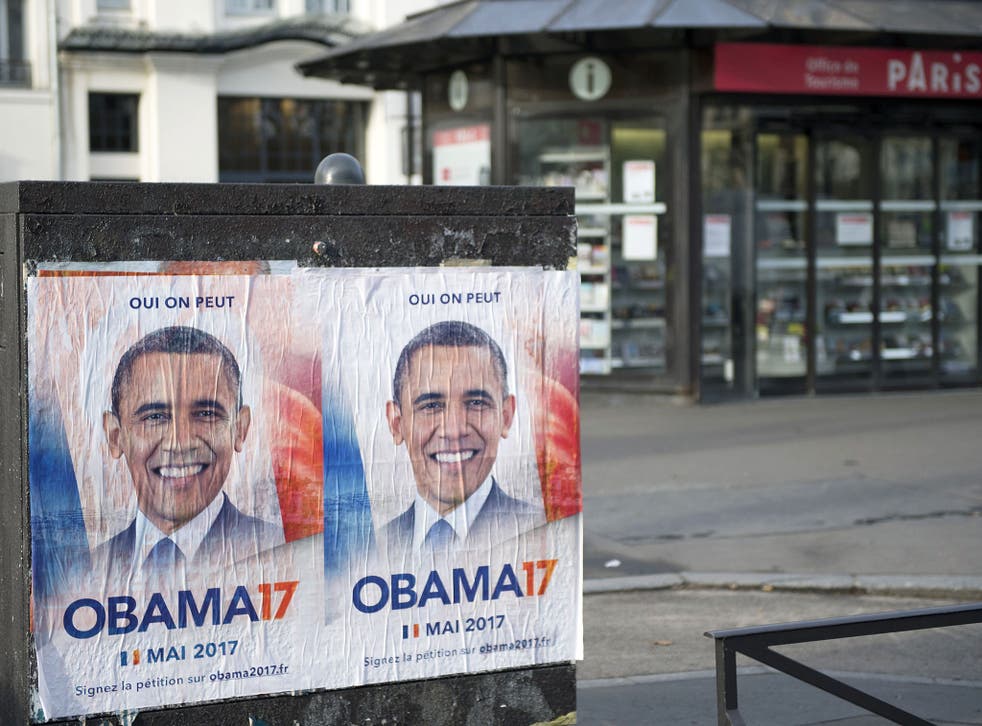 More than 40,000 people have signed a petition attempting to convince Barack Obama to run for the French presidency as voters face an increasingly dire choice between scandal-hit politicians.
The unofficial Obama17 campaign is attracting strong support, despite the fact it would be impossible for the former US President to run as a foreign national.
Organisers, who have spread posters across Paris carrying the slogan "Oui on peut" ("Yes we can"), are aiming to garner a million signatures by 15 March.
Marine Le Pen launches presidential campaign with hardline speech
"The French are ready to make radical choices - that is good because we have a radical idea to propose to them," says a statement, promising to jolt France out of its "lethargy".
"To launch this 6th Republic, we wish to strike a blow by electing a foreign President at the leader of our beautiful country.
"Barack Obama has completed his second term as President of the United States on 21 January, why not hire him as the President for France?"
Calling the current election campaign a "failure", the group contends that Mr Obama has the "best resumé in the world for the job" - a sentiment that at least 42,365 people currently share.
The petition comes after polls gave far-right candidate Marine Le Pen a lead in the first round of voting in April, although she is expected to lose the decisive second round to a more establishment candidate.
World news in pictures

Show all 50
The Front National leader, who is pledging to slash immigration, hold an EU referendum and ditch Nato, has been accused of racism and xenophobia despite her attempts to distance her party from her father's anti-Semitism convictions.
Her main competition is the independent Emmanuel Macron, Francois Hollande's former economy minister, who resigned in August to launch his own liberal En Marche! party.
His campaign suffered a setback earlier this month when he was forced to deny rumours of a gay extramarital affair, but has recovered to lead recent polls.
Francois Fillon, the former centre-right Prime Minister, was the clear front-runner until January, when a scandal broke over large payments to his wife for work she may not have done.
He denies any wrongdoing but suffered a further blow on Friday when a prosecutor appointed judges to investigate the allegations.
Ms Le Pen, meanwhile, has been hit by a separate scandal over alleged misuse of EU funds to pay parliamentary assistants.
She refused to respond to a police summons for questioning last week and her lawyer said she would not comply with any such orders until after the election.

Join our new commenting forum
Join thought-provoking conversations, follow other Independent readers and see their replies