France pledges to take in 100 Yazidi women after appeal from Nobel-winning activist Nadia Murad
Refugees are living in camps after suffering at the hands of Isis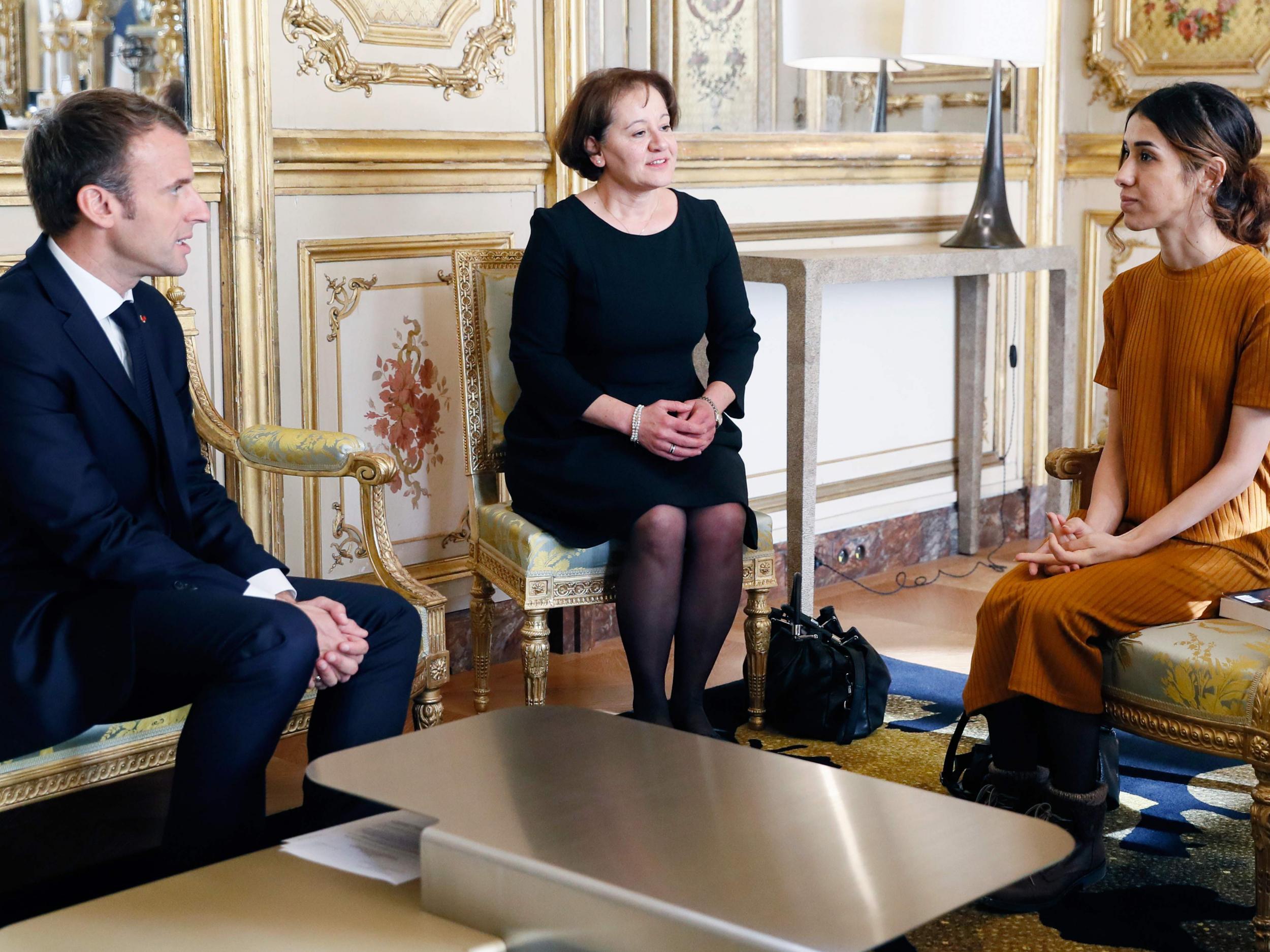 France has pledged to take in 100 Yazidi women who have suffered at the hands of Isis and are living in Internally Displaced Persons camps in Iraq.
French President Emmanuel Macron agreed to accept the women after meeting with 2018 Nobel Peace Prize winner Nadia Murad, a Yazidi human trafficking victim who campaigns to end sexual violence as a weapon of war.
Ms Murad presented the premier with a report by the International Federation for Human Rights (FIDH) that said the campaign of violence against the Yazidi people in Iraq, which involved the mass enslavement of women and children, amounted to genocide.
When Isis attacked settlements in Sinjar district in northern Iraq in the summer of 2014, 130,000 Yazidis were forced to flee to Kurdish areas.
Tens of thousands of members of the community took refuge in the Sinjar mountains, where at least 1,700 people died due to a lack of water, food, shade, and medical equipment, according to the FIDH report.
More than 6,800 Yazidis were kidnapped, of which 4,300 either escaped or were bought as slaves, while 2,500 remain missing, the report said.
Mr Macron said 20 of the refugees would settle in France by the end of the year, while the remaining 80 would arrive in 2019, AFP reported.
World news in pictures
Show all 50
The French president also said France would support a reconstruction fund for the Sinjar region that plans to build hospitals and schools.
FIDH is calling for national courts around the world to prosecute fighters who fought for Isis for sexual crimes, rather than just terror charges.
Join our commenting forum
Join thought-provoking conversations, follow other Independent readers and see their replies